13-Ounce USB-Rechargeable Fruit Blender
Regular price $0.00 $38.99
If you order within
Arrives by
Juice and smoothies in a flash
Need that morning fruit smoothie? Rushing to the gym but need your protein drink? You could get it in as little as one minute. Our 13-Ounce USB-Rechargeable Fruit Blender utilizes an ultra-powerful copper-build motor and six SU304-stainless-steel sawtooth blades to whip up anything in record time.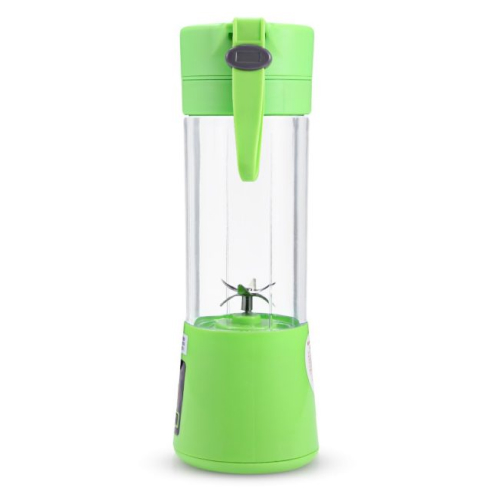 An on-the-go solution
The best part about our blender? It's small and portable (3 x 13 inches) -- you can carry it with you anywhere. Plus, the blender, when detached from the blender chamber, doubles as a drink cup! No bulk makes this device great for camping trips, picnics, beach trips, and more.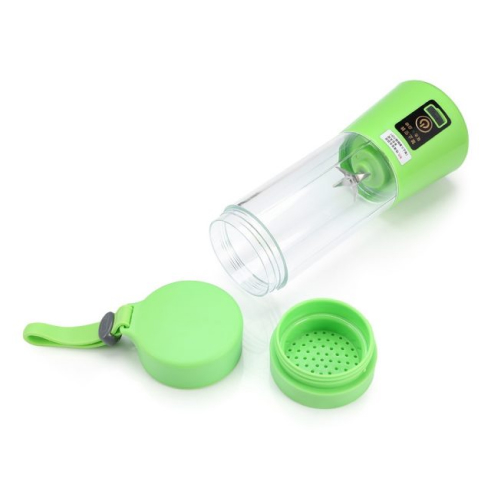 Marvel at 22,000 revolutions per minute
Our blender's sawtooth blades move super fast, whipping up smoothies and seamlessly blending ice, powders, fruit, and vegetables for a chunk-free finish. Best results come from solid ingredients cut into 0.5in (1.27cm) chunks.
Food-grade safe for high performance
Made of eco-friendly, non-toxic thermoplastic polymer and ABS plastic, this blender is created to meet food-grade standards. A sturdy silicone bottom ensures a non-slip and shock-absorbing base as you blend away.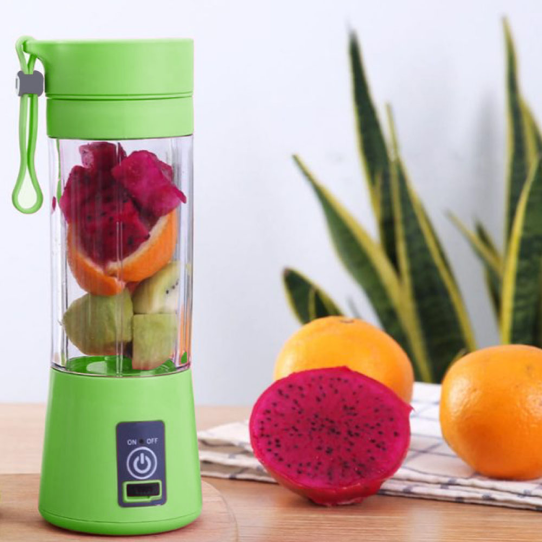 Battery powered and USB rechargeable
Our 13-Ounce USB-Rechargeable Fruit Blender is powered by a built-in, rechargeable 2000mAh 3.7V. Each blender comes with a USB cord for your convenience: you can charge your blender up from your laptop, a portable power bank, car port charger, or outlet charger. It's just the ultimate convenience for you to enjoy your favorite drink wherever you are.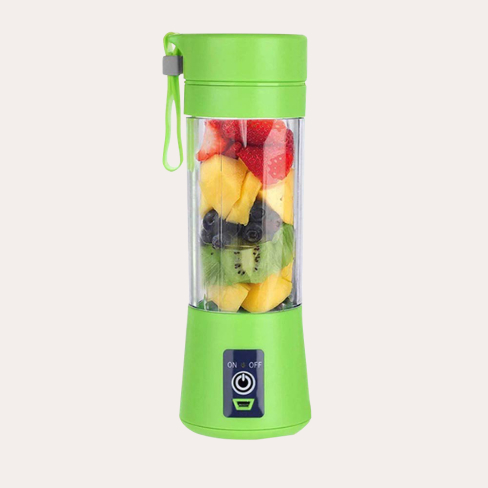 Bright LED display
A LED-illuminated power button helps you turn on (or turn off) at a glance. From a dim campsite to dark early mornings in the kitchen, start your morning with something convenient and easy to use.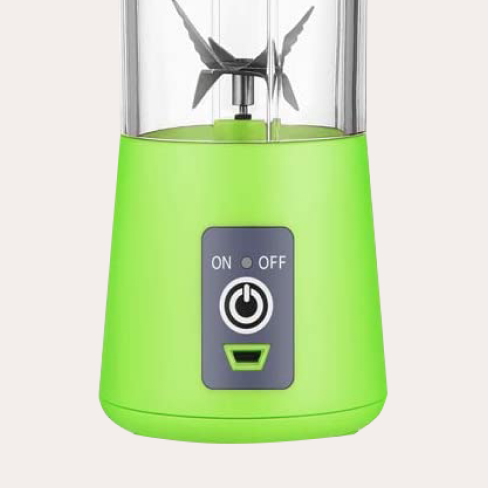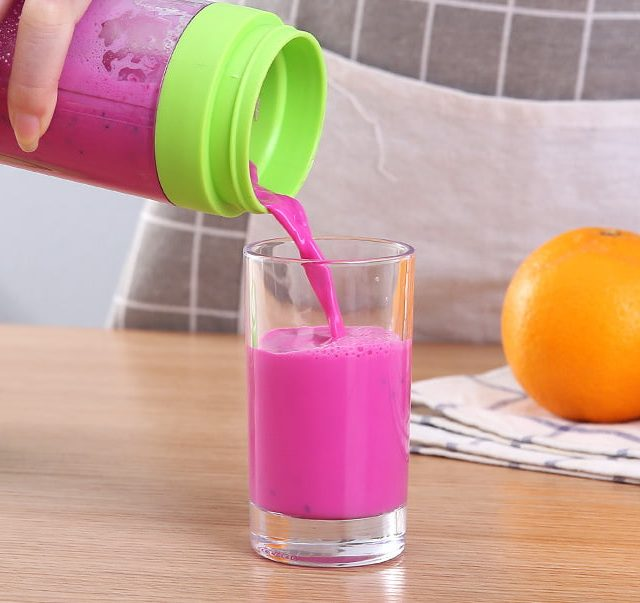 Safety-sensor protected
To deter from potential messes or accidents, a built-in safety sensor in the blender prevents the machine from powering on if the cup isn't fully closed or tightened enough.
Protect your base
Enjoy your 13-Ounce USB-Rechargeable Fruit Blender and wash it after every use to maintain cleanliness. Cleanup is easy, and washing after every use ensures no build up of mold, bacteria, or attraction of flies and bugs. Make sure though to keep the blender base where the blades and power port are away from water to avoid damage.
Have had it a few weeks and have been very satisfied with it so far. It blends well, and it does it quickly. I have not had any issues with the battery running out too soon. It is not easy to clean, though. This is my one complaint. It's a pain to have to take off the body of it and clean the bottom part. I know you can clean it with it screwed on but if you have chunks of fruit that get stuck in the blades, you really need to be able to scrub in there. Not sure if this is something that can be fixed for future models but overall, I'm happy with this little machine. It's great for travel.

I received my portable blender in the mail today and the first thing I did, was clean it really good and made a smoothie with my daughter. This is a great blender for the price! It blends nicely. Dont over fill the blender due to it being a smaller blender, it'll have trouble blending all the fruit. My daughter absolutely loves this portable blender. its a money saver, blenders can be super expensive. Overall, its awesome. I highly recommend!

Amazing tool for quick results

The box has come pretty badly beaten but inside is fine, it has good speed. not to try. arrived soon, recommend store

works good only with fresh cut up fruits. no ice or frozen fruit's

Fast shipping and nice package with a great functional portable blender. Nothing else but multiple five stars. It work really well to turning the fruits with a cup of juice. Nothing else to say but a GREAT

Lots of work to combine and blend. Had to rock upside down many times to assist blending.

This blender is more powerful than i expected. Also, it is very light and easy to carry to use it in outdoor. It is easy to use and easy to clean. highly recommended to buy for everyday use.

Nice portable blender. Love that you can take it with you. Only problem, battery life span is not so great.

This is an excellent portable and personal blender, this was for my daughter as she lives in dorm in Pakistan, she just loves it, easy to use and clean, and she take it woth her to school too. She loves it.

The item look nice so far and I believe it'll work good but overall I love the design the box came a little dented but it's okay

Very easy to use. Be careful when cleaning the blade because water can get into the charging port. Only can blend soft food such as fresh bananas, protein powder, fresh blueberries and raspberries. No apples or frozen fruit.

I absolutely love this little blender. It is so awesome. At first I wasn't sure of what to expect because a lot of times when you order something going off of what the description says you are disappointed. Well honestly there is NO disappointment with this. It is great. I used fruit that I bought already packaged up for drinks m, I just cut some of the bigger pieces of fruit of and I added almond milk and it worked unbelievably great. I am going to use this quite often. It's so easy to use, cleaning is very easy. Between making my drink and cleaning the base after use took maybe 10 minutes and none of the hassle or mess of using a regular size blender it's awesome. I highly recommend this product.

Of course you cannot expect a high gucci Ninja Blender here (for a ton more of money). But I actually was very surprised how well this portable blender works. Good job guys! I did Coctail mixing and smoothies , with frozen fruit and with ice cubs (the big ones out of the fridge). Wow, there is really power going on. After charging the battery via mini usb port, I did 6 different kind of mixings / blendings and it worked very well. It is easy to clean and after put together, there is no dripping or leaking what so ever so far. I am very happy with the product.

I have a fast paced routine. With this blender, I make pre and post shakes for working out. And can charge it on my way to the gym! This company has a good thing going, will definately get my family these blenders for gifts. It works great, and convenient!

I have one already and I love the convenience it creates. I actually purchased this for my aunt in Mexico as they don't have these that accessible or are way too expensive. My aunt is older but still loves going out to do her routine or sports. I live that this gives her the chance to set up her smoothie before going to swim class and she can make her smoothie fresh after class and she can have it on her way back home. They are very easy to clean and it comes with the straws/cleaning brush.

I love this portable blender, making a personal serving is great on the go. When mixing it is important to flip over before turning on, I moved it around to ensure it blended well. Easy to clean, the pieces come apart and are easy to reattach.

This is a GREAT little blender I will be sending it with my husband's who is a truck driver. Most portable blender need to use the truck battery and they blow fuses this has a usb adaptor and causes no issues. I only wish that the inner kid came with a hole for the straws that came with it(not pictured). It holds 8 oz of milk two scoops of protein and a small amount of fruit. All in all a great value for the money

This blender is really awesome.. it's perfect for shakes on the go, I use it a lot for my baby's purée and formula and it works excellent You can also blend frozen foods is small pieces and is not loud which is great too. I'm giving it four because I wish I can remove the blade for a better and faster cleaning.. Great for presents and for a good price It's made of a good and strong material and it comes with straws, cable, everything you need

I have been using this everyday to make the same drink. It is sooo easy to clean and my little one loves making her own drink. Don't expect the motor to be as strong as a vitamix or nutribullet, but this thing does it's job. I have grinded clementines, pineapple (including core), frozen berries and had no issue. We have been using it daily for about two weeks. Battery life is long and we haven't experienced leakage though we have not taken it out and just thrown in my backpack

I bought this blender for grinding some items for cosmetic purpose. It grinds very well and works well without the power cord which I was looking for to use it outside home. Since I'm not going to use this for any other purpose I'm very satisfied with what this offers to me. I use it for like 5 minutes daily and charging once a week. Been using it for couple of weeks. So far so good. It's very handy and small size which is very convenient to take it to any place outside of home.

I love this product for several reasons. Utilizing and controlling my own ingredients gives me opportunity to create amazing smoothies and maintain healthy weight control. It is compatible with purses carrying and backpacks for storage. Love this product. Perhaps you may need to consider a rechargeable battery attachment for major outings. Great product!

This blender is awesome. I have been using it for a while and I simply love how convenient it is. I can charge it and bring it to work or leave it on my desk. Whenever I am feeling hungry and want something to drink, I can blend some fruits in it and have a smoothie. The charge lasts for a while and the blender itself is not very big in size which makes it convenient to bring around everywhere. In fact, you could even use it as a water bottle if you want. This product is a great idea and I am surprised that the idea is not more popular.

So I tested out my blender today and I made a couple smoothie is it honestly works like a dream I absolutely love it it's so small and compact. The fact that it has a detachable cup is absolutely perfect for my needs. Some of the little cup blenders I have had trouble, with this one I had absolutely no trouble. It didn't overheat and blend it up frozen fruit really easily I really really enjoy this appliance I would 100% recommend it. Especially for the price point you can't go wrong.

This blender is surprisingly strong and I was happy to receive everything needed to maintain it. I like how small it is and easy to carry around it is. I agree with others that it's pretty easy to use and it breaks down easy to clean as well. However I used chia seeds in one recipe and I did feel like it took me a minute to clean it up. If using the blender to mix power shakes or fruit up for one person, this is pretty awesome.

This is one of my most favorite purchases. I had every intention of giving this to my daughter but changed my mind lol! I love this cup/blender. I have a mini fridge in my room, so everything is easy to get and blend without the mess. The straws are made from good material and everything is easy to clean. I guess I have to buy a few more, to keep from losing this one to the kids! I did let my 14 yr old daughter use it at cheer practice. She said all the other girls wanted it, after seeing her blend ice in the cup.

Sometimes the blades get stuck even when there's a tiny piece of ice and I have the blender upside down. Finally, I wish the charging port had a cover over it for easier cleaning. I'm scared I will get water in it because it will stop working.

So this uses a charger to use and love that! Can simply plug into my car on go to give it that charge it needs when I go to use it when I get to work. In the package it came with three silicone straws and a straw cleaner brush, also a sponge brush to clean the blender! I sewed a pouch to keep everything in, only thing I wish this had, but still amazing for price and what it can do!
Guaranteed Safe Checkout