360° Bicycle Phone Holder
Regular price $0.00 $16.99
If you order within
Arrives by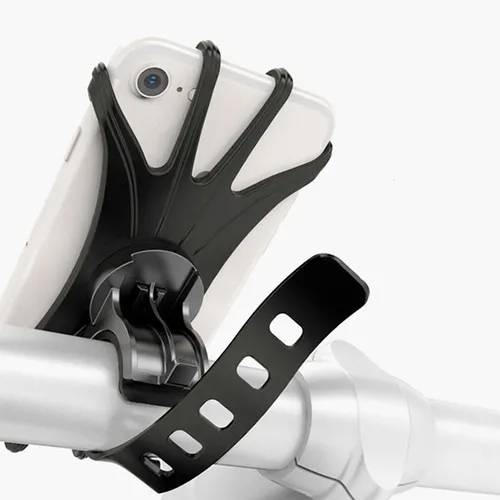 Keep the phone out of your hands and bike safely
Fumbling behind the wheel? Not cool. You could get into an accident. So put the phone down -- but keep it secure and steady as you bike your way to your destination. No more serious text-and-bike accidents or "oh crap, I dropped my phone" moments!
A cinch to set up and applicable anywhere
Use the holder's watch-like button strap to clip the holder to a bike handlebar, shopping cart handle, treadmill handle, or baby stroller handle. Our handle is ultra adjustable for a versatile use -- you don't need to have a bike to use this smartphone must-have.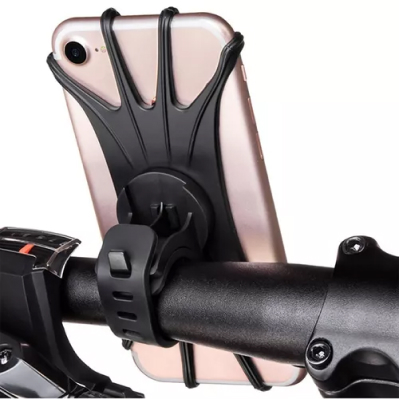 Fit to most smartphones
Our 360° Bicycle Phone Holder measures 2.5 x 4.5 inches and fits any smartphone that is 4 to 6.5 inches in height. Note for most phones, you might have to remove any thick protective casing to fit the device into the holder.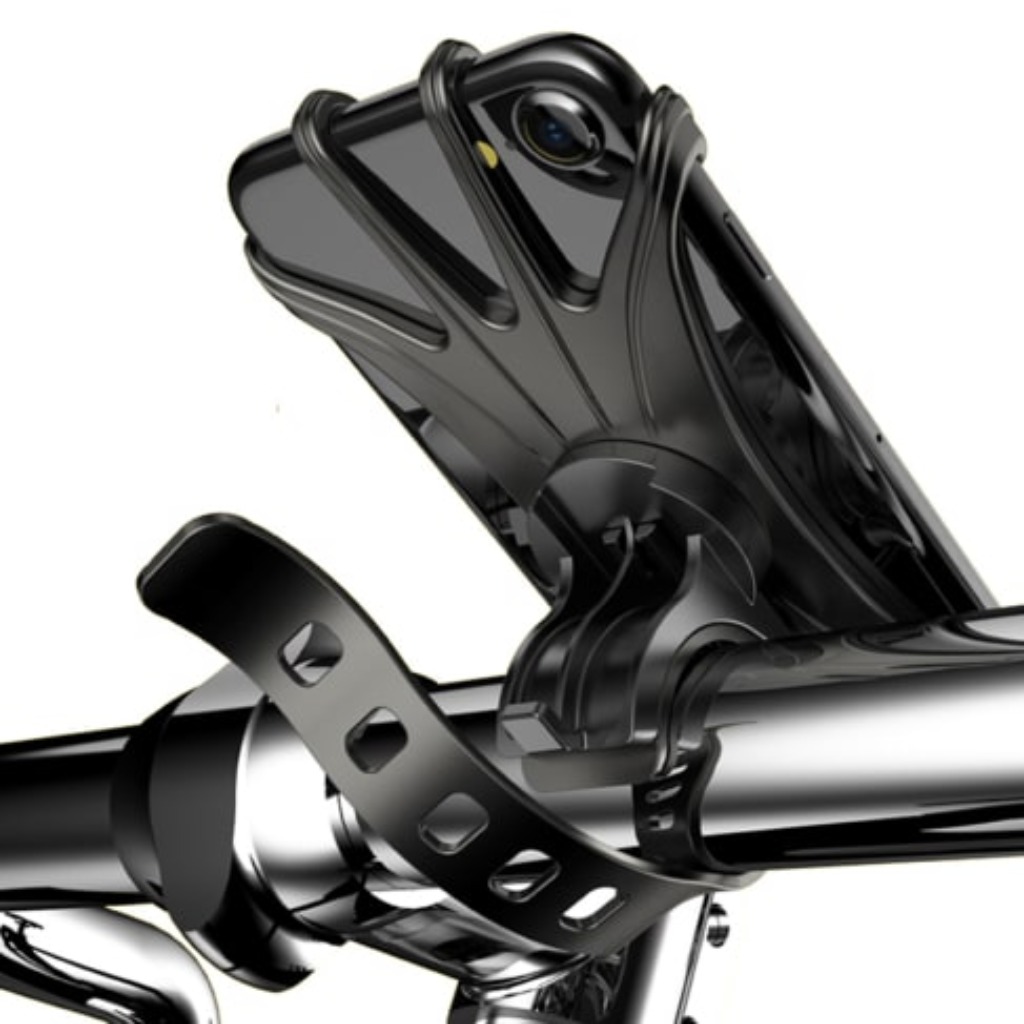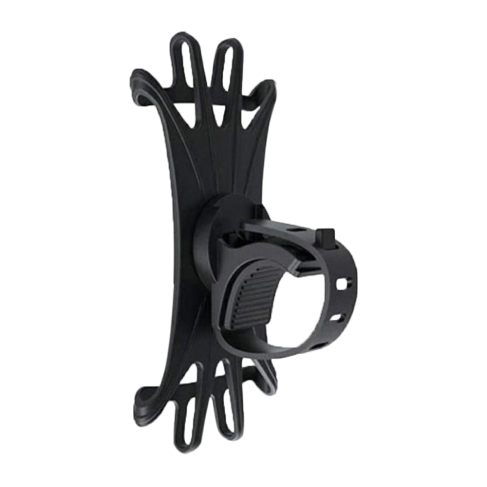 Turn it any direction
With 360-degree rotation, you can angle your phone any way without restriction. Discover ease in following a GPS map or reading a text however you want.
Super durable for trusty hold
Our phone holder is made from high-quality silicone that holds on tight and strong, all without scratching or clipping your handles of your bike or equipment of use. It's a great alternative to hard plastics used by many other competitor products or similar phone-holding solutions.
I bought this with some reservation as I wasn't sold on the rubber band style phone holder, and the clamp doesn't wrap all the way around the bar, so I was skeptical that it would hold my phone securely on a bumpy trail. However, the latch on my rigid phone holder interfered with the handlebar on my new mountain bike, and this holder is inexpensive, so I took a risk. On my first ride I found that the holder is so secure that I quickly went from being careful over obstacles so as not to dislodge the phone holder to intentionally hitting them hard to see if I could dislodge it. It held securely regardless. Nice product.

My previous (different brand) bike mount broke. The plastic and spring components lasted only about two years. What I love about this mount as a replacement is how easy it is to mount (took seconds, literally), and the phone holder is just stretchable rubber instead of tiny plastic components. As long as the rubber holds up, it seems like it will provide a strong grip

I love going for bicycle rides. I use an app on my iPhone to show my time and distance. I did not have a good place to hold my phone while riding. If it was in my pocket I couldn't see it while riding. The Cawcar handlebar mount is the perfect solution for me. My iPhone 11 fits nice and snug in the easy to use holder. The whole unit attaches very quickly to the handlebars by turning the knob. That's it! Now I can see my progress as I ride. Great product, thanks!

All I wanted was a secure way to keep my phone handy while I'm on my bike and this was a great option for the price! My phone feels secure so I don't worry about it falling even if I go over bumps. It's "just" hard enough to get the phone in and out that it can be a tiny bit annoying when I get on and off each time, but if it were any easier it wouldn't feel secure. I like that it was SUPER EASY to install (and that's coming from someone who's not that handy) and I could place it and adjust it so it's easy to see but not distracting. Basically, just as advertised.

Installed this on my bike stem which is larger in circumference than the clamp. Nonetheless, was able to clamp it quite securely around 3/4 of the stem, pinching it in place. I could tighten it enough that it didn't move or vibrate. The rubber traps also held the phone in place quite well. I took it on its' inaugural ride this morning which was an hour long cross country mountain bike ride that featured climbing, descending, rocky river crossings, and a pretty rigorous downhill complete with intermediate jumps and drops. All in all, it performed like a champ.

This mount is incredibly simple in design and installed in seconds. It feels sturdy. I like that the rubber bands don't come in contact with the buttons on my phone and the description was accurate about securing a phone even with a protective case and pop socket. I would feel better about it if the claw grip wrapped all the way or at least a bit more around my handlebars , but it still feels nice and tight and secure so we'll see what happens.

Having gone through several other bike mounts that broke in less than a year, I decided to try this one because of the good reviews. So far, I am impressed with it so far after a few rides. The mount is super easy to install on any handlebar and has a great grip that doesn't slip. The actual phone holder is a nice silicon web that fits almost any phone. This model does not have the plastic side bars to hold the phone, which actually is good as they have been the source of other bike mount failures I've experienced. I should say that while the mount will accommodate a phone with a case, it can be a bit tight depending on the thickness of your case. So you may want to take your phone out of the case before placing into the mount. T

Just received this mount today and installed in less than 15 seconds on my handlebar. Luv the way it Clamps onto the handlebar with a few quick turns. My iPhone 8 Plus fit pretty securely although it seems that you have to stretch the rubber a bit too far and I worry about it snapping, but didn't happen. Road about 10 miles with it and it felt pretty sturdy. Just make sure the adjustment is tight on the ball mount for the bracket to keep the phone from slowly tilting down when riding over bumpy areas and not sure if this may be a problem as I'm still testing it for the second ride.

I got this mount because it said it would work with a pop socket. I have an iPhone XS Max with a case and a pop socket and finding a decent mount to fit only the phone wasn't easy. I was a bit skeptical that this mount would be as good as it says, but it surprised me! Not only does my phone fit well with both the case and the pop socket attached, but it's also extremely secure. The clamp that holds it to my bike is solid and easy to install. The rubber grips hold my phone securely with no bouncing around, even going over 20 mph on my e-bike over torn up city streets. I've been using this mount for about a month now and I'm not at all concerned about my phone coming loose or being shaken so hard that it breaks my screen. It's easy to put the phone into the mount and easy to remove. Even high speeds and rough roads have not caused the mounting clamp to loosen on the handlebar. I would not hesitate to use this mount while mountain biking on rough terrain. It is most definitely the best phone mount I've ever purchased (and there have been many over the years.)

The clamp is narrow enough to fit in among things like a front reflector, etc. The clamp is VERY sturdy, well built, and holds tightly. The design to hold down the phone is great. I have an OLDER holder on my bike, the kind that clamps the phone from the sides along with rubber holding straps for the corners, and it constantly turns down the volume as the phone edges down (because of how I have to mount it high up in the cradle to try and avoid that in the first place, the rubber pulls it down back to a 'middle position'), or activates the phone assistant by squeezing the sides too hard when I DO mount it high in the cradle in the first place. THIS holder does NOT use side clamps. It only uses the corner rubber holder that stretches out and hooks the corners of the phone. We ride on VERY bumpy roads, hitting max speeds of 35.6 mph on big downhills, and so far we have had no issues with how securely it holds the phone. This is a great holder.

I haven't had this clamp very long, but I can alredy tell you that it is simple to use and effective: twist the wingnut to open or close. Not a lot of pressure is needed to keep it in place. For me, the only thing that will take some getting used to is inserting the phone in the cradle, since it requires that the bands be stretched completely around each corner....it almost feels like they're going to break - but they don't. For receiving or making calls on the go, it's probably best to leave the phone in the cradle and either use speakerphone or remove the entire unit by loosening the wingnut. I'm happy so far. I'll update if I encounter any issues.

I just received my phone mount yesterday. I was excited to install it on my commuter road bike. The gripping claw is thick solid plastic. Very solid. You can attach the claw to a large variety of tube sizes. I'm glad about this because I intend to interchange it between my road bike and mountain bike. The phone mounting point has an adjustable collar that allows you to tighten or loosen the friction for tilting or rotating the phone. The elastic material that holds the phone on the deck will be seeing a lot of stretching and stress. It seems sturdy, it is a bit of a tight fit for a large phone (using a Note 10+), but it does work and... better tight that than loose. I put my phone on and grab the phone - I think you could steer the bike with the phone once it's mounted. I like how little of the phone screen the sling covers. My overall review, very pleased. I'll update if more features come to light with use.

I just installed this and am very pleased with how easy it was and how sturdy it feels. The padded material inside the grip cushions the handlebar and provides extra security. The socket where the ball sits also tightens nicely. They way the ring is shaped makes it easy to grip it to get it nice and tight. I haven't tested it yet on the road, but am looking forward to it.

I shopped around before choosing this cell phone holder. I bike on dirt roads quite a bit, and I wanted to be sure that I purchased a product that would be sturdy enough to handle frequent bumps. This product was it! It was easy to attach to my handlebar, and easy to place my phone, complete with OtterBox case, in the rubber guards. Both case and phone have remained stable for 2 weeks of pretty challenging tests. There is no movement of either, and I am never worried about the phone falling. I highly recommend this product.

I have been using this on a Specialized Rock Hopper mountain bike which has tapered bars a non-round stem and mounting a Samsung S9+ with a Spigen case (2 piece construction- TPE inner body with the rigid plastic frame). The claw style clamp makes it easy to attach and reposition and it hold well on irregular shapes. The phone can be easily rotated to any angle and can be tilted with the locking ball swivel joint. The nut on the back can be hard to get a grip on sometimes depending on the mounting location but I like the fact that it is low profile with so much adjustability so I'll deal with the minor inconvenience. Have been using it so far mainly on roads and have been trying to go through construction areas with the street torn up and it holds it's position well. Also stands up to the impact of hopping curbs. I was worried about the elastomer cage that holds the corners of the phone would get in the way of the screen or side buttons but it really has not been an issue. I was also worried that when removing the phone it would also pry off my case but that has not been an issue. Will be hitting the trails soon to test but with how it's performed so far, I think it will work well.

The claw grip secures this mount very well to various parts of your handlebar. The swivel joint allows for a wide range of angles and rotation. The only downside I've had is that when I installed it on the center of my handlebar stem, I noticed that trail vibrations would cause the swivel to joint to move and my phone would "droop" and lose its angle. I've moved it directly to my handlebar and it seemed to minimize the droop. As with most things, you have to experiment and find the optimal setting. The only suggestion I'd have is to offer a way to lock/stiffen the swivel joint once the user has installed it where they want it.

What I love about this mount the most is that it is very configurable. It can be mounted in many locations, including my treadmill) and I can adjust the position of the phone screen to fit my preference. Also, it has a serious grip. If you properly tighten this thing it will not come off.

There are certain things where the risk of loss requires a hard look at how to prevent it from happening. The thought of losing my phone at 50 mph made me uneasy. The Crab Grab is a great solution for anyone looking for an easy to use holder that keeps your phone in the perfect position. Installation and adjustment could not be easier, it took less than a minute for the whole operation. Every situation is unique, my handlebars are close to the gas tank, so I needed to move the unit further up. It has the flexibility to deal with almost any mount.

The rubber grippers require a FIRM stretch to expand around corners of phone, but once pulled on, hold phone very securely. I got if for my wife, as she has to do looong walks with our baby. I don't know if this would fit a larger phone, but it seems to be perfect grip for her samsung.

I am in a major city and I am using this phone holder on my bicycles. It is way better then I expected. It holds the phone very very strong and avoid vibrations while riding. It stays in place even over bumps. It doesn't move. If you aren't looking to spend 40 dollars for something that does the same thing, then go ahead and get this one and use the money you save to buy a snack for your ride. Or get two, one for your friend or second bicycle.

The phone holder looks to be made well with high quality materials. My phone fits pretty tight which is great as long as the bands aren't too stressed to the point they break early.

I actually got this phone mount for my golf cart. I have a more expensive one in the front but wanted to find something less expensive to use as a phone mount for the rear seats. This works perfectly. Easy to install and has a firm grip...it's not going anywhere! We've made a few trips on the cart since installing it and it's stayed in place. I will most likely be buying another so I can have two mounts for the two rear seats.

I needed a place for my phone when riding indoors and outdoors. I didn't want to store my iPhone 8 Plus in my pocket and I wanted to be able to view my heartrate as I ride. This handy contraption fit the bill. It is hefty and sturdy on both bikes. The rubber grips are a bit troublesome to get around my phone, but then again I do have a protective case on my phone. A great feature is that you can place your phone in either vertically or horizontally position and even tilt the phone towards you. I totally recommend this product!

this product is easy to recommend with the claw grip being the key. I'm a casual bike path/bike lane rider owning a simple commuter bike so I look at my phone quite often during my rides and this holder is the most efficient I've used with no slippage. It appears sturdy enough to recommend to mountain bike riders..., I'll be purchasing a second one as a HS graduation present to my son for his mountain bike.👍🏾👍🏾👍🏾

Purchased this for my wife so what she could mount her phone to her bike and utilize her music and GPS. The mount is simple to install on a bike handle bar and does a good job holding the phone in place. The only minor complaint she had was that her Otter box phone case increased the dimensions of her phone such that the holder was stretched a bit more than she would have liked leaving her concerned that it might fail a bit prematurely. So far it is working well but only time will tell how well it holds up.

Ordered this mount to help me while I'm out cycling with my son. Came fast, installed in seconds and holds my Google Pixel 2XL perfectly!!

I specifically bought this for my iPhone 7 Plus that I have in a fairly slim case and with a Popsocket on the back. I was happy to see that it does in fact fit my phone and holds it securely. This is so easy to install on a bike and then be able to move it to another if you so choose. Initially, putting my phone in the holder was tough. It does fit tightly. After putting it in and removing a couple of times, it seemed easier but without losing grip. The case seems like it will hold up and doesn't look like it's overstretched. Overall, I'm really pleased with this product.

This is a decent little phone mount that is pretty cheap. It grips the handlebars tightly and won't fall towards or away from you while you ride. Being able to rotate the screen is a nice feature also. Face ID doesn't work because of the silicone bands, but they seem sturdy enough. When you are on a bumpier road, your phone will flop around some, but I haven't at all been worried that it was going to fall out. Overall, it's pretty solid.

The best part, I can also use this in my car! It fits into the grab handle in the middle of the dashboard between the seats. It'll be fantastic for road trips, whether I'm on my bike or in my car. Can't wait!

I ride a road bike and wanted a quick mount for my Iphone xs in a Lifeproof Case. This filled the bill. The clamp just screwed on the handlebars and it was ready to go. On my first ride I noticed the phone battery ran down quickly with the screen on all the time. I was trying to figure out how to attach a Anker tube shaped phone phone charger. My husband came up with the idea of cutting an old road bike inner tube. With 2 bands one wrapped around the mount (not over the phone) on the top and bottom of the mount, the charger slips easily but firmly under the phone mount. I'll test it out tomorrow.

Perfect for motorcycle . It is helpful for this small bike that likes to have destinations of fun and enjoys getting lost but needs directions home. Keeps your phone safe and accessible. If your phone has cover it takes a little wiggle to put on but no biggie.

It came fully assembled and has an easy to use method to tighten it. I have been using it now for about 2 weeks daily and my phone stays snuggly in place and does not seem to bounce around. I was afraid that I would not like the lack of arms on the side but the rubber fits perfectly and keeps the phone in place while providing access to the screen and all buttons

I think the mount is great. It allows for a variety of sizes to grasp onto. The phone holder itself at first I didn't think much of it, but it actually grips the phone (iPhone 7 and 8 plus) very well. Attached to my bike, the phones were snug and easy to function.

Well so far so good. Just a few issues. Pros: 1) It fits large phones with otterbox cases - even though it seems too small. 2) It fits handlebars 3) It seems to stay put even over bumps for the most part Cons: 1) It seems floppy and loose (but it somehow stays put just fine). I am concerned this will get worse. It really needs some rigidity. 2) It does not fit larger posts (it says it does but it wont wrap around the frame) 3) I am worried the straps that hold the phone will break eventually, they are very thin. 4) The handlebar strap is not 100% solid. It still rotates around the handlebar even when strapped down to the max. Its OK for the price, but if you want something rigid and solid keep looking. This mount has zero rigidity, its basically 100% silicone except for the rotating mechanism.

I put it on my suzuki maruader 800. Is really great at speeds under 50. However going 50 and above there was tons of vibrations in the rubber mount. So good for around town.

Really love the simplicity of the installation. You just hand turn the knob to tighten the mount on the handle and you're done (plus it makes removal just as easy). My previous mount had rubber pieces you needed to stick in to fit different sized handles plus you needed a screwdriver to tighten it in. There is an additional rotating knob on the back of the actual phone mount which secures the phone into any position. You are trading some ease of movement (since you need to loosen/tighten each time you want to rotate your phone) for stability as it does seem to lock it into place well and you can still set the phone in any position horizontal, vertical, or other. Overall seems very well made and thought out.

I had a different phone holder for my bike but it has a strap across the screen that gets in the way. This phone mount allows me to see the entire screen. The mount is solid while still allowing me to change the orientation of my screen. Now my husband has phone mount envy. Looks like we need a 2nd one...

I bought one for me and one for my boyfriend. We have different phones and this fits both types. Mine tilts a little while I'm riding, but other than that, it's awesome.

The good parts: - it's cheap - it does the job The bad parts: - it doesn't do a great job. The phone is wobbly and it's shaking too much on a bumpy road. I think this is due to the rubber design. In order to be better at this it needs to be more firmly fixed and made of only solid parts, no rubber.

Lightweight and easy to put on and takeoff. I live in an urban environment and have had screw on phone holders stolen so this helps prevent theft by taking it off easily. Not quite as sturdy as I was hoping for so the holder moves around a little when riding vs. others that I've had where the phone stays more fixed and sturdy.
Guaranteed Safe Checkout