6-1 3.0 USB Mac Adapter
Regular price $0.00 $36.99
If you order within
Arrives by
The ultimate media powerhouse
Get the support you need
From video memory cards to USB for files, get support for up to six plugs-ins with this 6-1 3.0 USB Mac Adapter, compatible with all Mac laptops and desktops with Type-C charger heads.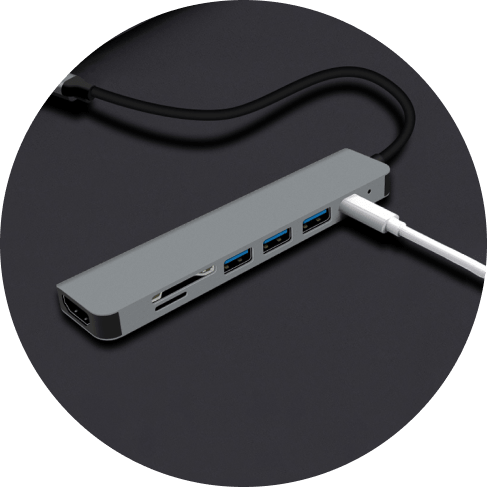 From video editor to account manager
(Everyone can use a helping hand)
Need something? Just plug it in.
Yup, that's right. Our adapter features three USB slots, slots for TF and SD cards, an HD TV plug, and a power plug.
Power up with a charger
Our adapter requires power to work -- so make sure you have a Mac Type-C charger head on hand.
Sleek + sturdy
Our adapter is crafted from aluminum alloy and is thin and high-powered for the ultimate performance.
Small but powerful
Our adapter has a built-in Type-C charger head that measures 4.7" that you can plug into your laptop or desktop.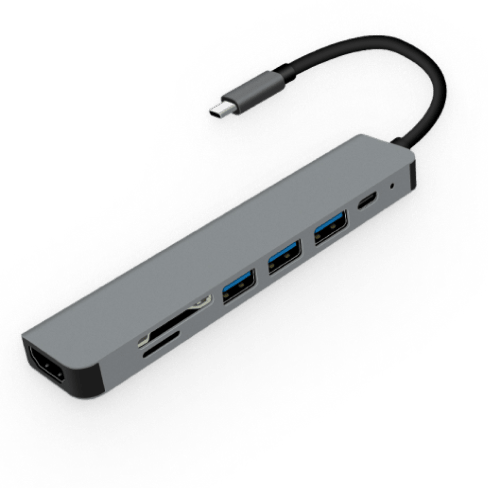 An office and at-home essential
Get the extra performance help you need with this six-function add-on that helps entertaining, working, and getting access to the files you need so much easier.
I am very impressed with the quality of this adapter I purchased! It has been completely reliable for backing up my computer on external hard drives and printing tasks. This is the 3rd time I have purchased a multi-port hub for my MacBook Air which I purchased in 2018. The others failed to consistently print or connect with my external hard drives. When using one of the older ports, it is very concerning when a message comes on my screen saying I failed to eject my hard drive correctly - when instead I am trying to access the HD! It was well worth paying a little more for excellent quality.

My husband and I have new Macbook pro laptops and they do not have the standard USB ports or card reader slots. As we are amateur photographers, we need these to plug our cameras into the computer to charge or transfer photos or the card reader to transfer photos for the cards in our cameras. These are perfect for what we need and are small and compact to slip into our laptop carrying cases. Great product and the price was amazing. I had already bought a simple plug in card reader from Apple for $48 before I saw these.

As the default "tech guy" for my office I've bought 3 different USB to USBC adapters for new MacBook Pros. I'm loving this adapter the most. It's much smaller, lighter than others, matches the "space Gray" perfectly and was less expensive. They have a great line of options too, so think through what you need to plug in before you buy and chances are they'll have it for you.

I've had this device for about a month. I need to connect my MacBook Pro to my peripherals (a TV monitor, a printer, a scanner, iPhone). I've been able to connect them all and work without even thinking about it. The device is small, does not require its own power connection and does what it's supposed to do. I'm satisfied with this purchase so far.

Perfect, great price. I had an adapter that had two rigid connectors plugging into the MacBook Pro (MBP). I always wondered with that double connector adapter if the MBP connectors were being stressed, normal devices that plug in to the MBP only have single connectors. I prefer the single connector design, and having a short flexible cable also reduces the stresses on the MBP connector.

Honestly for the price and what it does I wasn't expecting much. Just hoped it would function and I would just have to put up with the fact that Apple forced me to buy this. But it impressed me. Its lightweight but very sturdy. Has the same machine cut feel to it that the laptop has. It wont bend or crack under pressure. And the cord is thick and makeable enough to last. It feels like I bought an apple product. Very well done and with the money.

I recently bought a new MacBook Pro and needed a multi port adaptor. I am pleasantly surprised by the quality of the material of this product—the metallic like weight gives it a nice gravita and it stays "put" nicely when connected to the computer. I especially like that it has multiple memory cards and USB slots. Highly recommended.

I liked everything about this product. Sleek, well made packaging. Sturdy cord and connectors. Very well designed. Three USB ports are probably more than I need, but I use two fairly regularly. I am very, very happy with it!

This USB C hub works great with my MacBook Pro 16 inch. It's very light and compact, which is perfect for my travel needs. The space grey color matches the color of my laptop very well, which is an added plus. It is a good product and offers great value for its price.

Hooked this up to my MacBook Air using a USB C to USB adapter and it worked like a charm: All ports are functional and can be used at the same time. I would recommend this gadget.

I liked it a lot, it did exactly what it was intended to do. It's great 👌👌👌

Excellent adapter! Plug and play! Works great on my Mac Book Air.

Everything is just so well thought out. It's perfect thank youuu

It does the job and seems very well made.

I am a PC guy, but recently changed jobs and work on a Macbook Pro with only USB C ports. I bought this port expander so I could attach my HDMI monitor and 'square port' USB mouse. The monitor works fine, but the mouse cursor freezes briefly on the screen every few seconds, making it unusable. The mouse works fine on my PC. I'm not sure if this is a Mac issue or an issue with the hub, but thought I'd comment on it here for others to see. I bought a USB C mouse, and it works fine when plugged directly into the Mac. This hub is so inexpensive I can't really be upset, I'm happy to be able to extend the desktop onto a larger viewing area.

My only reason for giving this four stars is that it's a dongle that flops around making the MacBook less portable without un-tethering it from everything first. If I were KIng for a day I would have designed it so that it attached to the side of the computer as a permanent port expansion addition. Other than that it works perfectly. I should, "ask What was Apple thinking?"

Quality is good, the only thing is the wire it's too short. Not convenient for me

It only gets 3 stars because I'm concerned about its sustainability. I have used it about 5 or 6 times since I purchased it and I have already ordered another one that I can use for my other monitor since I usually use it longer than I do when I make presentations. Why? Because this adapter gets very HOT when I use it and I'm not sure why. So far, I've only used the HDMI part of it but I am hoping to use the other USB slots eventually.
Guaranteed Safe Checkout