Accordion-Style Windshield Sunshield
Regular price $0.00 $19.49
If you order within
Arrives by
It's like blinds for your windshield
Block out the harsh UV rays of the sun (and keep your car interior cool) with this Accordion-Style Windshield Sunshield.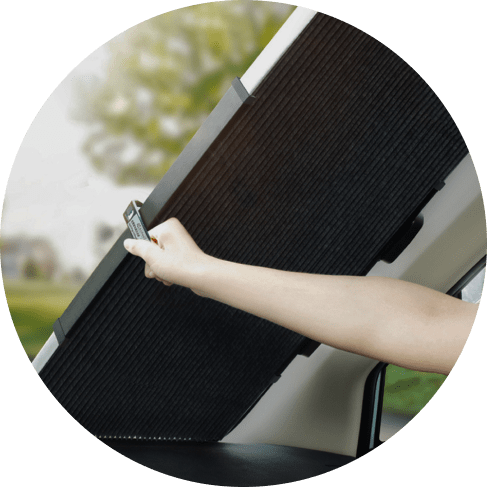 High-performing sun protection
For must-have summertime help
Just stick it on
Multiple suction cups allow for easy adherence to your window glass, so the sunshade stays put right on your windshield, all in a non-obstructive way.
Pull and roll
When you've parked your car and are ready to go, pull the tab of the sunshield to expand it. Lock the sunshield in by latching the end hook onto a suction cup.
Fits most cars
Our sunshield expands to a full 18" in length. Be sure to measure your windshield to ensure a proper fit before ordering.
Strong against the heat
Made of aluminum foil and aluminum alloy, our sunshield is durable and long-lasting, all while helping lower the heat inside your car when used.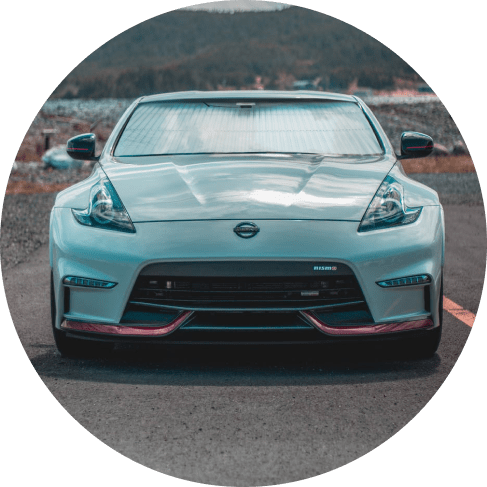 An essential for any car
No one's car should bake in the scorching rays of the sun in the summertime. That's why having a quality sunshade such as this Accordion-Style Windshield Sunshield is not compromisable.
With other sun shades you either throw it to the back seat or the passenger seat but this product was absolutely great!! Folds up neatly, into a small clean look, yet it still cover my entire windshield. It was so easy to install without much of a hassle! You would think that light would easily shine through but this sun shade product blocks out all the light perfectly!!! And this doesn't fall down like other products I've tried so far! Definitely Recommend!!

Product attaches easily and well to the windshield. It's easy to pull the shade across the windshield and attach it. Once attached it stays put! However, when you want to release it back to the original position it does not fold neatly but instead, it collapses into a jumbled heap and you have to spend maybe 30 seconds un-jumbling it so it fits back into the folded starting position.

This is the only sunshade I have ever owned and I have to say, I don't think I'll ever own another (at least until I get a new car). Very convenient to use, window mounts do not obstruct my view whatsoever, and definitely keeps my car much cooler than before (parked outside with minimal shade all day, so it saves both my life as well as my cars interior).

There is is a heatwave that is insane in my area. This sunshade was very simple to install and works great. the fact that i can slide it across makes it so much easier to manage and i dont have to find space to put it away. This is such an easier way to handle a sunshade. Way better than the fold up ones.

Ive figured out a way to make the opening and closing of the product go quickly, but sometimes it gets bunched and is hard to slide back to the resting position. I think this is a wonderful product and is easy enough to use and is always at the ready, so I use it whenever leaving the car

I got the shield for my van and I must say, it saved me during the hot days. It's big enough to cover the windshield. The suction cups are strong. I left the panel on as I can't be bothered to attach it each time and it's been about two weeks now, and it hasn't come off.

Before using it, I can't bear the high temperature of the car when I park the car outdoors for a while.But now it is great to cool the temperature of the inside of car. BTW, it's easy-use. The instruction is so clear.

Overall a good product, It is made of sustainable materials for direct sunlight, but it doesn't fold back properly it gets stuck in the beginning, maybe more string should fix the problem.

No more hassle on where to put your car sunshade, easy to use and takes less space. Install just less than 5 mins and very sturdy suction cups. I am impressed.

By far my favorite one I've owned. It's easy to use and works super well. My car is about 30° less with this over my windshield. Definitely worth the money.

Very comfortable. It does not cover 100% but to not let the solar light go through and therefore the temperature does not raise.

This is great. It holds very well in the glass and removes a lot of heat from the vehicle. I used it for the side windows of a van.

I have used it for a month. It protects my car from the sun and the temperature in the car is no longer so hot. Easy to use.

I bought it for a Ford Transit van, it's a little small but covers like 90% of the glass so it's perfect and very comfortable.

That's exactly what I wanted. It protects from the sun very well, and it's not that hot in the car as it used to be.

The goods surpassed my expectations, the quality is excellent, the best model of all offers.

Works well, adjusted by clipping off corners to meet the shape of the windshield. Thank you!

It is easy to install, and the temperature inside the car is much lower after being covered

It came quickly and in good quality. Works. It moves smoothly, folds automatically well.

Easy retractable windshield, and easy to install folds and unfolds in seconds

Protects from direct heat from the sun and conceals well

Works well and car is cooler after being in the sun.

All right, so far it's going great, and easy to install.

Recommended, very practical and simple to use.

Very good quality and easy to install and use

Very happy, it meets expectations perfectly.

The quality of the product is really good.

Very good quality. I recommend it

nice but a little small for my car

Great product, looks excellent

Super! Comfortable, wide!
Guaranteed Safe Checkout