Adjustable Aluminum Laptop Stand
Regular price $0.00 $34.99
If you order within
Arrives by
Want better work? Just ask for a raise
Producing quality work starts with a quality workspace. Re-energize your workspace, whether it's from home or at the office, with a lift. Take your work to new heights with our Adjustable Aluminum Laptop Stand.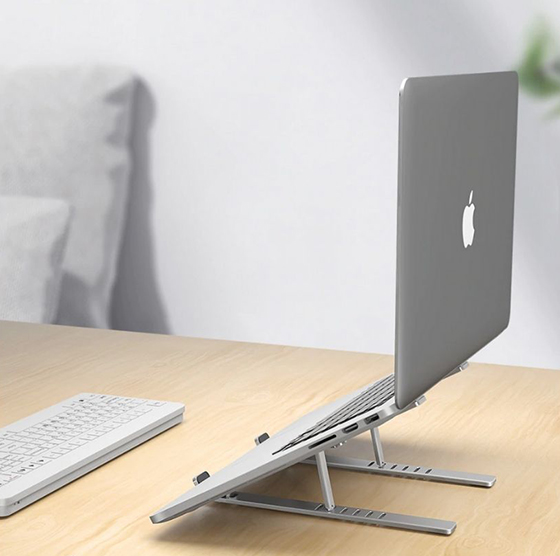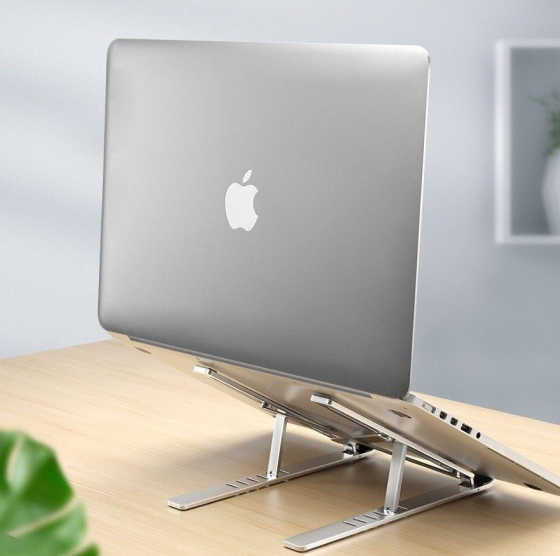 Versatile + multi-faceted
One accessory does all the tricks. Our laptop holder is made of anodized aluminum alloy that is sandblasted and brushed, for a smooth, easy-to-handle workspace accessory. The holder stand works for laptops and tablets up to 15.6 inches in size, making it fit for the Macbook, ThinkPad, Surface, Chromebook, iPad Pro, and more (just check your device measurements beforehand to make sure).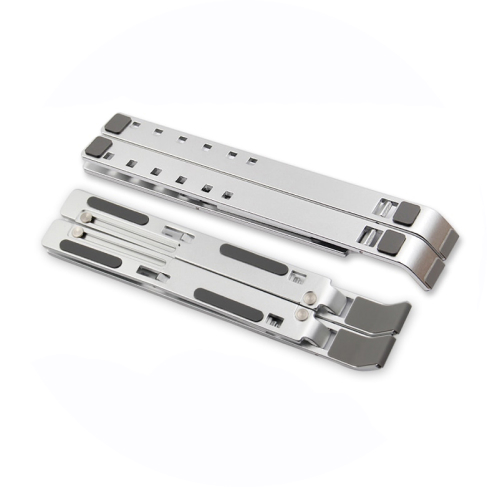 No more pains and aches
Raise your laptop up to six levels of adjustable height for improved ergonomic work use. Experience immediate relief with better angling of your screen so you won't be straining your neck, back, wrists, or eyes anymore. Improved work station ergonomics mean more comfort and well-being for you, even through all-nighters and hour-long meetings.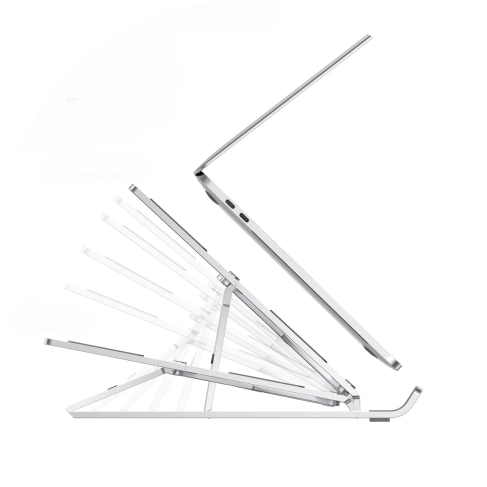 Compact and portable
Take improved well-being, on the go. A foldable design (and included storage bag) means you can fold, store, and take this laptop holder with you anywhere. When folded, the laptop stand measures just 9.4 x 1.75 inches.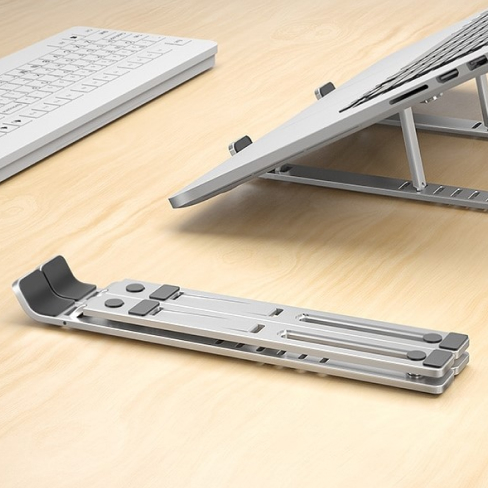 No heat
MBuilt-in air vents at the bottom of our Adjustable Aluminum Laptop Stand help ventilate hot air from your laptop or tablet, so you won't have to worry about overheating.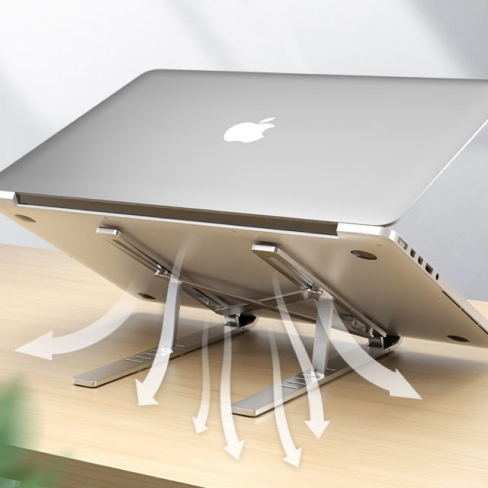 A smooth operator
Each laptop stand uses eight magnets to hold your device firmly in place (you may need to remove any cover or case you have for this functionality; if not, your device can still hold in place just fine). Plus, non-slip silicone matting at the stand's tray edges ensure zero scratches to your device.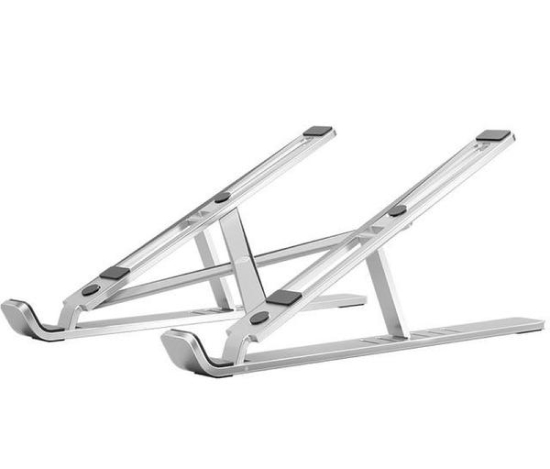 I originally bought this for my husband to setup his new office during quarantine. However, when it arrived, I decided to test it out and, let's just say, he had to wait an extra two days before he could get his own stand delivered 🙂 I've been using this laptop stand for a couple weeks and I love it. I don't have to hunch over my laptop as much or look down at the screen, which I know is helping my (already uncomfortable) back. I also love that it adjusts to different heights and, when I'm not using it, it can easily collapse! My husband loves his as well and is an excellent addition to our new workspaces. 10/10 recommend!

This item very well made and works very well with both of my laptops. It's compact size and light weight allows me to travel with it for added comfort while working away from home. Initially, I thought it would be too small for my bigger 15.6" laptop but it works great.

As a writer, I spend many hours a day hunched over my laptop. My chiropractor had advised me to get a laptop stand, and I only wish I had gotten one sooner! There are many choices out there, but I purchased this one due to its compact size, sturdiness, and portability. I immediately felt my posture significantly improved, and I am certainly more comfortable when using my laptop. I'm very, very pleased with this product!

I have a stand for my laptop that a friend's dad made me a long time ago. I left it at the office at the beginning of the COVID stay at home orders thinking it would not be gone that long. here we are 60 some days later and I still didn't have a laptop stand. I had been searching for one similar to the one I left at the office for weeks now and I am so so glad I finally found this stand. It is super lightweight, it is really easy to set up, it's sturdy, and I absolutely love that you can adjust the angle of your laptop and I like that it keeps your laptop on the desktop and not up super high like most of the stands I see. I think I like this one more now than my favorite one at work.

I should have bought it long ago! Thumbs up this makes my life easier. It fits my 13" and 16" MacBook perfectly. And it also fits my iPad 12.9" at the narrowest angle. Very sturdy and light weight. Foldable to a compact size and goes with you anywhere you want! The coolest part is you don't need to jump your back by raising your chin no more!!! Good for long time use!

I spent a long time looking for various stands. I finally settled on this stand because it met my need for slim portable device that I could tuck inside my laptop carrying case and still be stable and strong enough with multiple viewing angles. I got everything I was looking for and more. The stand is well made and very light. It is easy to open and close with minimal effort. It comes with a little pouch to tuck the stand into with drawstrings. The finish matches my HP laptop perfectly. The rubberized pads hold my computer nice a still, no concerns about slipping or moving while I type. I highly recommend this stand to anyone that needs a stable light weight stand for their laptop that is portable and compact.

Love how well engineered this piece is. Almost unnoticeable with multiple height settings and folds up into a tiny package when not in use. Sturdy enough to support a 17" laptop, but understandably because it's so light, doesn't do well when bumped into. I'll gladly take that instead of having a clunky addition to desk! With a USB keyboard and mouse makes it so much more ergonomical than staring down at your laptop! Love it!

This is the coolest thing! I bought this early into COVID for my new home office, I thought it might work, it's inexpensive, so who knows. It's perfect, doesn't take up space, allows you to adjust your laptop, Works on small laptops and big heavy gaming laptops.

I wanted a way to raise my laptop screen to eye height without taking up too much desk space and this was the perfect purchase to do that. It is well built, sturdy, no assembly required. I like how you can adjust the tilt level, that the laptop won't slide off due to the grippy areas, and most importantly that I can easily collapse it and put it away when not in use. Worth it!

My neck has been bothering me when using my laptop, since I spend hours video editing. This little stand has been a lifesaver. I even take it to coffee shops and other places I work. The stand folds up very small and is nice and durable. It has really helped out and my neck no longer is in pain. I did get a bluetooth mouse and keyboard that I use when it is propped up on the stand.

I love this stand! the bottom supporting hooks don't get in the way when I'm using the stand (Macbook Pro 13 in.), the stand is extremely sturdy (a plus since I'm a student and use my laptop often), and most importantly, is compact so I can put it in my backpack when traveling. However, setting up the stand takes some time - you have to move each part one by one and it's a little stiff. Overall though very satisfied, especially with the price range.

When i first got the box i was leery of how sturdy this stand would be. Its so compact and light. As soon as i took it out of the box, i was very impressed by the design and quality. It holds my fairly large laptop (15") very securely. It does not slip on my desk and i am confident it will work for me for a very long time. It's super portable and even came with a nice carrying bag. It really takes the strain off my back to have it raised up.

Really nice product for the price. After using it for a few months it still holds together really well. The two different heights are nice. The only thing I have the hunch that it will not last me a lifetime. If you want something heavy duty or more permanent I'd recommend investing in something else, but I use my lightweight laptop everyday and it works really well and is super easy to pack up

I love this laptop stand! It is lightweight and compact, which makes it great for traveling. It takes seconds to unpack and set up. I thought I would need to purchase a magic mouse and keyboard for my MacBook Air, but the angle of the keyboard is perfect for typing. I can already feel my posture improving as my screen is now at eye level. This will work out great for Zoom calls as well. I was using a stack of books to prop my laptop up before buying the stand! The stand is very sturdy and the padding on it is sufficient to protect my laptop. I highly recommend purchasing this great, little stand!

I was on the search for a small laptop stand/raiser that would still allow me to use the laptop while connecting a second screen for viewing zoom meetings, etc. This is absolutely perfect! I have a 14" HP notebook/tablet and this little stand handles it like a champ. It's quite robust and sturdy and has excellent height adjustment. Most importantly, the edges at the bottom that hold the laptop in place do not interfere with me typing at all, which most other computer stands I looked at seemed to. It's a smart, slim and portable design and it makes a huge difference in making sure my laptop can be comfortable and stay cool and not overheat. Excellent product!

I was totally skeptical of this item but I'm a total fan now! Due to the pandemic, I am working from home and have been doing so since March. I *finally* decided to buy something to help my neck and back issues without actually investing in a new chair & I'm totally glad I bought this stand! It's extremely sturdy and well built, it doesn't slide, it has plenty of angle options & has an overall minimalist look. It also comes with a small bag to carry it around in if you should need to transport this while on the go. This stand has 100% helped me not hunch forward towards my screen or crane my neck in odd ways throughout the day. It's improved my desk space as well and is great for virtual calls because the laptop screen can be adjusted to better angles versus sitting flatly on the desk. My neck didn't hurt my yesterday OR today and I am actually not dreading being at the computer because of it. This thing is awesome & I hate that I didnt think of buying this sooner.

I am not sure why I had never thought of purchasing one of these before as I deal with frequent neck pain, but boy am I glad that I did. It arrived this morning and I couldn't wait to put it to good use. It is so handy that I will be purchasing an additional one for my husband. Great product!

I never considered using a laptop stand until I saw an ad so I decided to try it. I can't believe I went without one all these years. What a difference in my posture and hand position when typing. I just love it. And there is literally nothing to positioning it anywhere or folding it up to take with you. Thank you.

I purchased 3 of these - one for myself, my daughter, and husband. We use our stands every day. It makes it very easy to conduct video calls and while using more than one laptop at the same time (e.g. - work versus home.) The stand also offers ergonomic support to accommodate sitting or standing. When others saw the stand, they immediately asked where we purchased them. This stand is definitely a must-have!

Just got this today and found its a breeze to set up. In the short time using my computer on the stand, I've found that I don't feel the neck and shoulder strain. Usually when I've been at the computer for any length of time my neck starts to hurt and my shoulders start to tighten. Really glad I found this and that it had a lot of great reviews. They were true.....

I never thought I'd need a laptop stand, but after getting this and using it I can see why so many people use them. This stand is extremely light but really sturdy. The rubber feet hold your laptop in very well and keep it from moving on your desk. I'm using it with a 2012 13" MacBook Pro and it fits perfectly. An added bonus is that it keeps the laptop much cooler and less likely to overheat. It has six different height levels. The second to lowest is the best in my opinion. It folds up nicely and comes with a faux-velvet drawstring pouch. Overall I'd highly recommend this for using as a portable laptop/tablet stand. Amazing value for the price.

I really like how durable and simplistic this is. It weighs almost about nothing it comes in a cute gray pouch. There's no parts to assemble it's durable Its made of metal. You can use it for more than just your laptop. It works well with a tablet, a book, and I'm sure you can even use it for landscape mode for a phone, you don't have to open it all the way for it to work. It's very versatile and definitely a must-have for trying to ventilate a laptop and get a ton of more different types of uses at it while you're on the go or in the kitchen. Absolutely must buy!

This elegantly simple, sturdy, and easy-to-travel-with laptop stand has six positions ranging from 10 degree tilt to 40 degree tilt. I originally bought this stand because I knew that angling the keyboard 10 degrees from level would make typing much more comfortable for the hands. As it turns out, however, the real ergonomic benefit is for your neck. With 10 degrees of tilt my 13" MacBook Pro screen is 2.5" higher. That changes the angle of your head enough to make the difference between neck ache, or no neck ache. The larger angles are to steep for typing, but the greater lifting of the screen has other benefits. At the highest 40 degree angle the laptop screen is raised by 6" compared to when the laptop is on a level surface. That makes game playing (when you are using a mouse more than the keyboard) much more comfortable. The higher angles also give you better options for positioning the laptop's webcam for video chat, avoiding that annoying "looking up at you" view. This is the biggest bang for a modest buck that I've ever had in a computer accessory.

In this situation when I have to teach from home, I need every little help I can get to deliver the material in an efficient way. To assemble my MacBook Pro (15 inch) with the second screen was a snap. However. I experienced significant overheating of the system that had to do several tasks at once. So I have decided to give a try to this laptop stand. Great choice. Ergonomic, foldable so it does not occupied space when not in use and allows for proper circulation of the air around the unibody. Getting another one sson for my wife.

Stand is fairly sturdy for what it is. Best part is just how easily it folds up and is not too hard to transport, unlike other laptop stands. The fact that it's metal gives it a more premium feel, and the build is alright for what it is. I'd say anything past a 13 - 14 inch computer may not be as stable as the width is significantly bigger than the stand, but if you do have a 13 - 14 inch laptop, then this should just fit the bill. Still, the portability is the best feature, as well as the heft of the stand itself, despite being a folding stand.

With staying indoors these days (Covid 19)… Zoom has become my new "normal". Having to put my laptop on top of a box (find the right size) to get the perfect angle has been a hassle I didn't need. I purchased this Stand… and I can't be happier! It gives me the perfect angle for viewing and typing. Then it folds up and I can put it in a drawer until I need it next. I am thrilled with this and highly recommend it to anyone. VERY sturdy, has rubber lined on both sides (for your computer AND your table), folds neatly in a little pouch (provided), and holds my laptop perfectly. I tried it with my 15″ PC and it was fine with that size as well. LOVE!!!

I wish I purchased this much sooner. My neck and headaches have stopped as soon as I put this up. Holds up pretty good as I have 2 kittens that just have to behind my laptop and play while I'm working. Some how it still stands and my laptop hasn't moved. Don't take me wrong they did hit one of the legs yesterday and it all came down. Kittens are getting bigger

Great product. My laptop is sitting in it now as I'm typing this. I had been thinking of purchasing one before recent world events, and said event caused my job to be much more online so I decided to take the plunge. I don't regret it. Six different angles allow me to find a good height for my webcam when I'm on video calls and another that's comfortable for typing. I have a 15" Lenovo laptop, the base of which does not move while typing. The screen sometimes moves a little, but I can be an aggressive typist when I'm in a rhythm. I think the best part is that it's so small! It folds right up and can be stored in this nice suede pouch right in my laptop bag, which is awesome since I have a very tiny workspace right now.

Using it with a 13" 2017 MBP with an external keyboard and mouse with the sole intent of raising the laptop screen to a more comfortable viewing level. And as a side benefit, raised the front camera to just a tad below eye level for better web conferencing (Zoom) video calls. Love the raised space underneath the bottom to add my own fan for increased air flow.

I received a link to this stand from my IT colleague who recommended it for working from home and I am already a HUGE fan 5 minutes in to setting it up. Took 5 seconds to assemble for me! I love that it is portable, though it does have some weight to it, which makes me believe that it is indeed sturdy. It is surely allowing me to hold my neck at a more ergonomic angle as well! I will definitely bring this back to when I am working in the office! I am using it on my MacBook Pro work computer and look forward to trying it with my personal computer which is a Lenovo!

I bought this to use with my 13" Macbook Pro and it has been perfect! I was hesitant to buy because of the way the prongs that the laptop sit on seem to stick out. I was concerned they would be in the way while I was typing -- I'm here to tell you that hasn't been an issue once. I do not even notice them when I am typing. It's great! I ended up buying anyway because I needed a lift that was adjustable and sturdy and I couldn't find a better option for the price. It has lived up to every expectation. It seems extremely durable (it's metal, not plastic) and it is extremely simple to set up or adjust (it literally just folds out straight from the box). I love this thing and would highly recommend it if you just want your screen lifted while still being able to use the keyboard!

The engineering quality of this really surprised me! Opening and closing it is very satisfying because of the smooth action. I'm using this as a 'monitor stand' with a 16" MacBook Pro. The abundance of angle settings ensures there is a perfect height for the max amount the screen will open. If you plan to type on it, I suggest getting a wrist rest. The laptop will be raised about 1/4", which makes it more uncomfortable.

I got this for a friend who is always moving his laptop from place to place. He uses his laptop for long periods of time for things like watching games and researching his family history. The stand has been very helpful is helping the computer stay cool when he watches his sports and the different angels have been a great benefit to his wrist. He is a low tech person, so the simplicity of the design is perfect. He also loves how he can slip it into his bag and take it with him anywhere. I have my own laptop holder, but it's a pain to carry around, so I plan on getting myself one of these in the near future.

Love the ease of use (open and close) and it fits in my laptop's backpack. The only thing that was just a nuance was taking off all the stickers/film covering the rubber parts (the small circle ones were the ones more annoying). Overall I'm satisfied with the product and would recommend it

I looked at many different stands before purchasing this one. I use a thin 15″ laptop and was primarily concerned that the front hooks would come in the way of the wrist resting on the palm rest. My other concern was that the laptop would wobble because the stand is small (which helps because it fits easily in the side pocket of a book bag). Fortunately the design takes care by providing low profile padded hooks which hold the laptop well without any shaking of the laptop while typing. I am using this stand on the first height adjustment and it is very comfortable as compared to laying the laptop flat on the table. I would recommend this stand and am glad I purchased it.

This is a pretty fancy laptop stand! Works very well, and is very handy. Unfortunately, I had to return it because I did not double check my desk dimensions before ordering it [not as much writing table space as I'd like if using this]. It is a good product, though, and if I had a larger table, I would buy this item again!

I would prefer if it had more height/angle.. I would have liked a greater angle so that the laptop screen is at the same height as my monitor which I use as my main screen.

This is my fourth purchase of the stand. I bought one originally for my laptop then 3 more for friends and family. I am on my laptop for quite some time all throughout my day just with the nature of what I do, and this product has truly been a life saver! It helps so much with keeping me with the right posture so that I'm not slouched over all the time and I love that I can adjust it to different heights depending on where and how I am positioned. I mainly got it to keep my posture as when you raise the laptop with this stand, you are looking at the screen from an eye level. Do get it if you are on your laptops a lot!

Warning: don't put fingers in between the metals. I know it's a given, but because of the design when you adjust the height and width of the stand, the stand tends to slide very quickly. I was trying to figure out how to adjust the angle and due to the poor instruction of the manual, I almost had a bruise on my fingers.

I recommend this product because of its price, sturdiness, and design.

The laptop stand is very stable and it only has two replacement parts. It is a little bit heavy, and it does not need to put it together, when you don't need them, you can close and they are small enough so can be stored easily.

Very portable and good to raise the height of the laptop monitor. Although I use it with a separate keyboard to keep working ergonomically, not sure how sturdy if you tap on your laptop keys. Great addition for working for home if you don't have a dedicated office desk. Wish there were more height or angle options, but all in all I am happy with the purchase!

This is great however it cannot go 90 degrees in the lower range. My husband does not like it being too high which maked the laptop sit high. If it could go down even 1 notch it would be at a level that's comfortable for him. Other than that it does work, just not at the angle for my husband.
Guaranteed Safe Checkout