Adjustable Laptop Stand
Regular price $0.00 $39.99
If you order within
Arrives by
Convenient aluminum laptop holder
Save extra space on your desktop
Are you tired of the mess on your desk? Optimize and accessorize your workspace with these nifty aluminum laptop stands.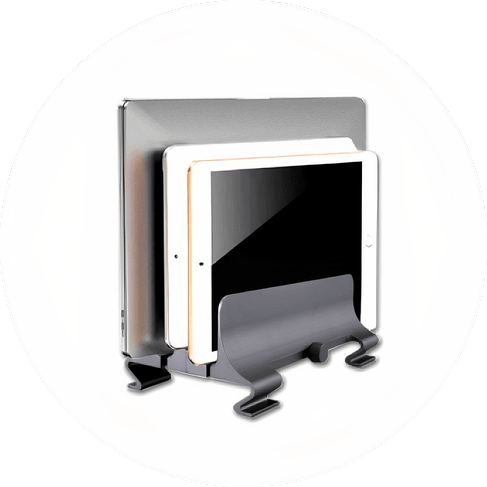 These holders are a solution you've been looking for
Durable
Made out of aluminium alloy, those holders ARE to last and serve you faithfully. All the parts of the structure are made to withstand long and active usage.
Capacious
The holders are adjustable and foldable, therefore, pretty much any device that you have can fit easily with a twist of a knob. The size limit of the device you can fit is: 4.45 inch * 5.45 inch * 4.42 inch.
Safe
Our holders are surely capacious, but they are also safe. They have non-slip silicone mats, so your holder won't fall, won't scratch your desk, and silicone rubbers won't scratch the device either, and they add additional grip.
Sleek design
These holders are a great addition to any interior, not only because they optimize the space on your desktop, but also due to the versatile and elegant design. 7.08 inches in length, 2.46 inches in width, 2.93 inches in height - perfect size for any desktop.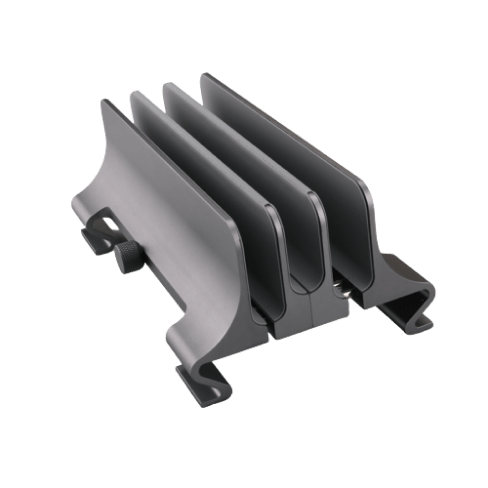 Neatness and order
Enjoy your neat and tidy workplace like never before with the help of our holders. Lasting, easy to use, move and customize according to your wishes.
Pretty good product, but I wish the center divider expanded as well.

Perfect for keeping the desk clean. Holds my MacBook Pro and HP laptop. Great adjustable design.

Perfect for tight spaces with multiple laptops and tablets. I have a gaming laptop, a work laptop and a tablet, it holds them all perfectly with the adjusting arms.

I got this stand because I constantly need to switch my work laptop and personal laptop through a USB-C plug. And this stand can hold my two laptops with ease. The stand can stand up two devices, and width can be adjusted with the twist easily, the color is looking good.

The stand is sturdy and holds my laptops well. Not afraid at all that any of the laptops will fall out. The only inconvenient thing is the center position is not as easy to adjust compared to the outer positions. I give it a 4.5

I recently reorganized my office and needed something to keep my laptops organized. I'm happy that this definitely answered the call! Each slot is adjustable to the width of the laptop, and the metal is stable and sturdy enough to keep them secure. An added bonus is that I can still charge the laptops while they're on this stand without cluttering my desk.

I highly recommend this product to anyone who wants to save space on their desk, and who have multiple devices in use, or they want a place to store a laptop or tablet while taking up minimal space. It is currently holding two laptops and a docking station.

I almost bought another one but it required a screwdriver to adjust it. When I saw this one, I was sold. It makes so much more sense to have this knob in the front for easy access to and ability to adjust it with ease. This design is so much better!

Ever since working from home, I needed to organize my desk. This 3-slot laptop organizer does help with that. The reviews influenced my purchasing decision and I hope this review does the same for you. The material is heavy with capabilities to stretch so that you can fit any size laptop. Overall 5-stars!

I use this stand to hold a MacBook Pro 13" next to a Lenovo Yoga 920. It does so perfectly! This vertical stand has the adjustment knobs I prefer, which lets me easily secure and release my laptops compared to other stands which have adjustment hex screws underneath the stand. Fit, finish, and functionality are all great on this stand.

This is way better than I expected it to be! I'm only going to use it with two laptops and see that some people had issues with the center slot (which isn't adjustable) but for my needs, this thing is great. The knurled screw is actually threaded through the base, so when you turn it, it pulls the base in or out, and it's got a pretty nice thread that adjusts the width at a nice rate. No sense of over-tightening, and no fear that it's going to work itself loose. The base has enough weight to keep from tipping over (at least with 13" macbooks). Totally recommended!

I have several laptops at home, and they were taking up almost the entire surface of my double-desk in my home office. This vertical stand was the perfect solution: I was able to adjust the slots to accommodate a Dell, an Acer, and a thick gaming laptop all at the same time. All three are snugly held and can be charged and/or connected to my monitor and peripherals and run in the vertical position. Best of all, I no longer have to rest my coffee mug on a closed laptop, because I got back my desktop. The knobs on each end make it very easy to adjust the size of the slots, no screwdriver needed. I had a little difficulty at first getting all three slots set to the right sizes for these three laptops (the gaming laptop is not only thick, but also has big rubber feet along the edge that rests in the slot, so it requires a wide space to fit), but a little trial-and-error finally got them situated and the easy knobs fixed them in place. I would recommend this if you have multiple laptops and do not have multiple desks. If my wife ever permits me to add another laptop, I'll be ordering another one.
Guaranteed Safe Checkout