Air Cooling Humidifying Fan
Regular price $0.00 $33.99
If you order within
Arrives by
Fresh and cool at any time
Are you sitting at work and breathing dry and dusty air? Or maybe you are feeling hot because of the weather? This fan will help you out. Cooling and humidifying – it'll become an irreplaceable helper!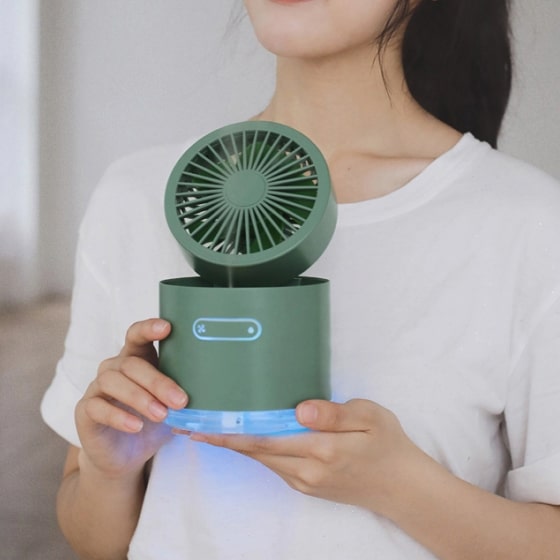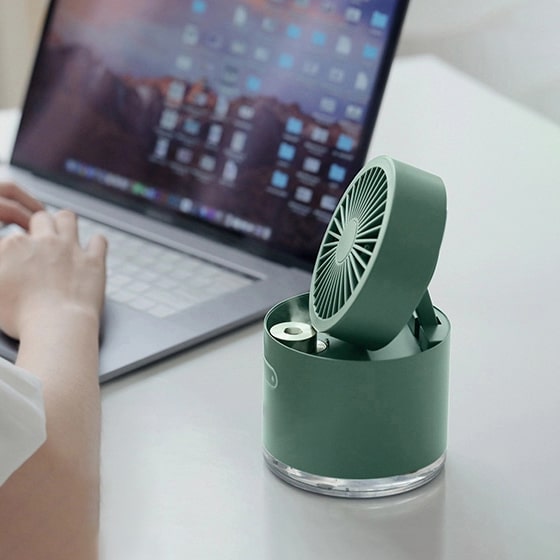 Breathe fresh air whenever and wherever you want
An ultimate gadget for any townsman
Smart design
This guy is so petite! 4.44x4.44x5 inches in size, it's portable and won't take a lot of space on a desk. A minimalistic look makes it suit any interior.
Capable
2000mAh battery gives you up to 5 hours of continuous use. 10.14 oz of water will last for 2.5 hours before you'll need to refill the tank.
Versatile
You can turn on and off the humidifying mode whenever you want. 3-speed modes allow you to adjust the airflow. A foldable holder makes it easy to find the best angle!
LED lights
Colorful and dazzling LED lights in seven different colors are captivating to look at. They can generate an immaculate atmosphere and look fantastic at night.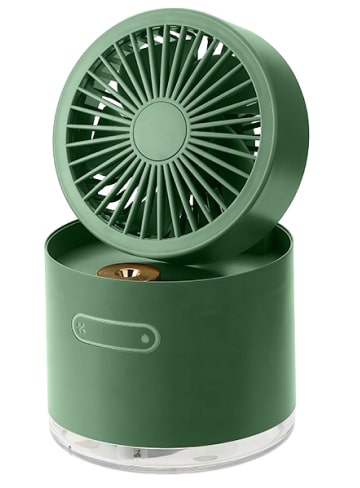 Enjoy the pleasant freshness at your whim
This fantastic humidifying fan will be a great helper in anyone's day-to-day life. A must-have for any city resident. Universal, good-looking, tiny, and light (13.29 oz). Never be bothered by the dryness of the air around you. Simply turn on the fan and relax!
While this mister is somewhat small, it does a good job of cooling the area nearby, but it also can help repel annoying flying insects. I add a few drops of emulsified natural essential oils. I use mint oils, eucalyptus, cedar, cloves and this makes the area very fragrant and controls the flying insects and fleas that might be riding on the cat.

This 2 in 1 humidifier is absolutely brilliant!! I have bad asthma and was finding it difficult to breathe in this heat. Within a few hours I was able to take really deep breaths and with the cooling fan which is better than my tall standing fan, this is a must buy.

Just got it yesterday... So far so good! I got it for my cat and he is fascinated with the cool water that evaporates from the unit. It works surprisingly well for such a small device

This air cooler fan and humidifier is fabulous & lets me feel a bit of coolness and humidity. Small but mighty, and super cute color too! The 3 speed feature works great.

This is a great little fan for personal use. It puts up quite a bit of air, which is nice. It is small enough that it does not take up too much space on a desk or on a table.

The battery on this lil wonder lasts exceptionally long, it's very cooling and I really like the misting option which I used with essential oils to repel mosquitoes.

Item is not as strong as I thought. However it does a decent job. Very easy to use. Wish it had a bag or pouch to carry and make it portable.

Love that it is portable and rechargeable. Just charge, add water and turn on. And fan is not even loud so it's perfect for my office

I bought this little fan to use in the RV on days we don't have hookups to run the air conditioner. I think it will work great.

If light waves of moisture and a nice fan is what you want, this is great. I'll add that it's most suited for indoor use.

It is light and portable to carry it around. And the water mist makes the fan wind way cooler than a regular fan!

So far, so good. Wish the mist was a little more intense, but the fan works well so far 1 week in on my work desk.

Small but efficient. If you add some ice with water it does blow cold air for good 4 hours at highest speed

This little fan is pretty strong and it does the job when needed. So I named it my mini storm

Love it. It's tiny, quite quiet, and powerful. The mist is very light and won't wet your desk.

You have to frequently fill it up with cool water, which disrupts any quality sleep.

Works good if you want to sit outside on a patio on hot days. Keeps you cool

This little fan is easy to carry and can be folded for easy storage! Love it ♥️

This is easy to set up and use but I still feel dried out in the morning.

The fan is very strong for the size and is pretty quiet at low speed.

It is the perfect size and keeps me cool in my office as I work.

Very nice quality fan! Charges up fast and works perfectly.

This is perfect for a little moisture at night. Works great

Satisfied with the mini cooler just what I needed

Great little fan mister! Works as designed!

Works well but fan could be stronger

It is too weak for outdoor use…

It works pretty good fan wise, but I don't really feel any mist coming from it even though I can see it.

I got this to help keep cool. The fan works great. The mist is so, so. But so far, I'm pretty pleased.
Guaranteed Safe Checkout