American Flag Heart Coaster
Regular price $0.00 $15.99
If you order within
Arrives by
Show some pride
In your ride
Give hot and cold drinks alike a cushion with our prideful American Flag Heart Coaster. Black silicone features the proud red, white, and blue of the United States flag in the shape of a heart -- for a fun touch.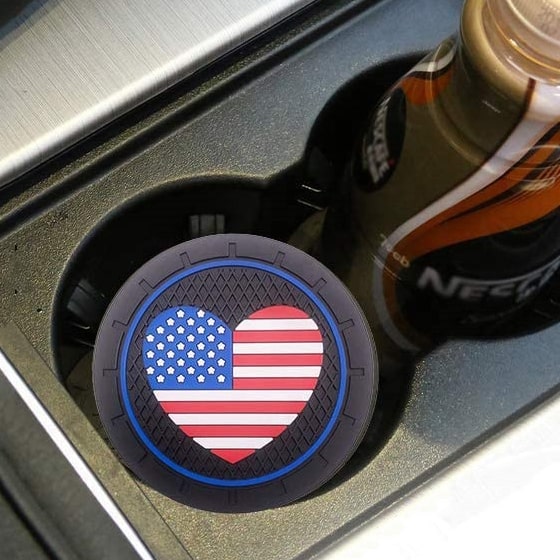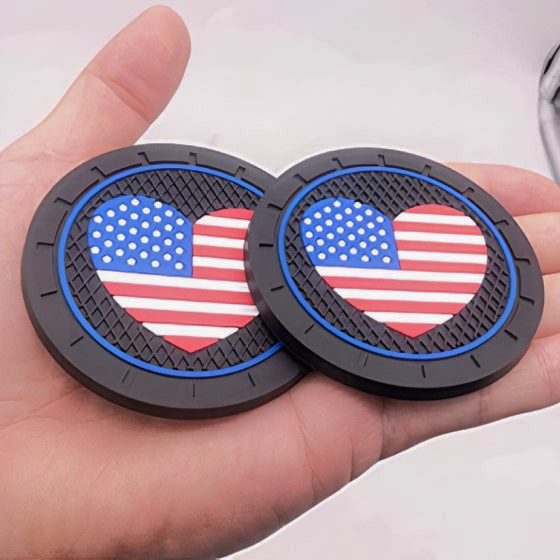 Keep your cupholders clean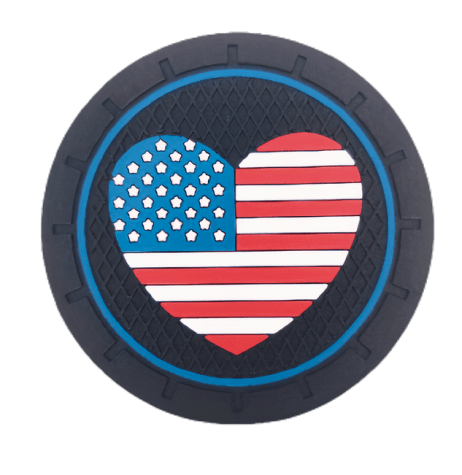 Prevent scratches and spills
The textured silicone coaster prevents drips and scratches to your car, for peace of mind.
A snug fit + feel
Our American Flag Heart Coaster measures 2.75" in diameter, making it a great fit for most vehicle models and makes. Please measure your cupholder to be sure before purchasing.
No hassle here
What's so great about a coaster? It helps prevent water from your beverage from dripping into your actual cupholder. It also acts as a barrier for dust and grime from reaching your actual cupholder bottom.
I purchased these for my car, and have been using them for several months now, and I can't complain. They fit perfectly, And they're a great way to eliminate the need to clean the inside of your car's cup holders if you have minor spills. The print also looks great and gives a nice touch to the car's interior.

I like these coasters a lot, they look how they should in the photo. I recommend measuring the space in your cupholder first. I didn't, and the coasters are a little small in my Scion Tc . I am still happy with their appearance and functionality.

I got these for my Chevy Malibu and they fit perfectly inside the cup holder spots! The product arrived on time, in perfect condition. The price was fair as well! Would definitely recommend

These items arrived super fast and they fit perfectly in the Subaru Outback cup holders. I have already seen them absorb coffee dribble and I just took the coaster out and washed and dried it.

Great product. Fits perfectly so I can put my drink in my cup holder and the coaster absorbs any of the condensation from the cup or can. Thanks!!! :-)

The color is vibrant and it works exactly as advertised. If you lost your cup holder inserts, like I did, this is a perfect replacement that adds style to your car!

I got these to go in my car cupholders to be able to clean my car easier. They work perfectly!

Love these. Bought them for my car and they soak up sweating and leaks from any drinks.

They are great. They look exactly like the photos. Fit great in my 2019 Rav4 cup holders. They absorb the sweat from cool bottles, or cups. I don't believe they are meant to absorb spills so if you get anything sugary on them I would guess they would be ruined. Overall I really like them.

Love them! They don't fit perfectly and leave a bit of a gap in the cup holder spaces, but they're still handy and work well!

Very nice. A bit too small for my cup holder but either way it's a nice pop of design for my car.
Guaranteed Safe Checkout