Anti-Shake Bike Phone Holder
Regular price $0.00 $16.99
If you order within
Arrives by
Want to use your phone while riding a bike?
The anti-shake bike phone holder is a perfect solution for you. Ride wherever and however you want and don't think about having to hold your phone or putting yourself in danger because of sticking the phone in your hand instead of holding the handlebar.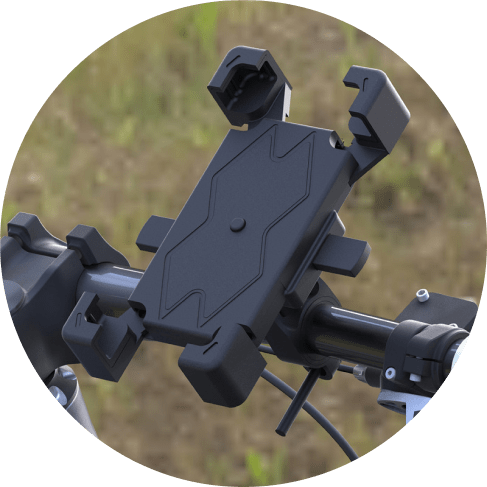 Why is it so good?
Here are the main reasons:
Durability
Made from high quality silicone, our holders are made to last. They're 100% waterproof, so no weather can spoil it. Also, it's made to make your phone last. The silicone lining of the holder makes sure that your phone doesn't get scratched, and provides a good grip of the device.
Stability
You might have a concern: what if the phone will shake, so what's the purpose of the holder? Our holder won't. We made sure that the holder has a steady 360 degrees rotation, so the phone is balanced even if you have taken a rowdy path. Automatic locker keeps the phone in place for as long as you need.
Versatility
It doesn't matter what kind of phone you have. Our versatile holder can be adjusted for any smartphone with the screen size of 4.5 to 7 inches. Appropriate handlebar size is in the range between 0.47 and 1.02 inches. You also can attach the holder in different ways: either to your handlebar, or with the help of the rearview mirror (if you have one).
Safety
Everyone can agree that using your phone while riding a bike or a motorcycle is risky. You have to keep your hands on the handlebar, pay attention to everything around you, and hold your phone at the same time. Our holder solves this problem easily by being firmly attached to the handlebar, so your phone won't slip and you won't have to take the phone in your hands and hold it.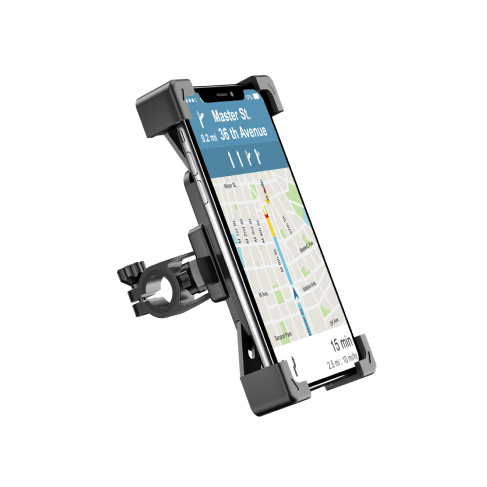 A great companion for any trip
Using your phone while riding a bike has never been easier. Enjoy your memorable journeys fully while having the best technology accompanying you in your every move. Safe, stable, durable and versatile phone holder can provide you with just that.
It is really helpful when I ride a bike. Everyday when I ride my bike, I put my cell phone on it and play Apple Music on. That is very cool when you enjoy music as you are riding! Perfect!

Holds very well and doesn't move when you hit bumps. Holds strong.

Easy to assemble, easy to install. Hardest part is getting the phone in or out if it's got a cast and a popper on it. But it can be done! Once the phone is in it, it securely holds it.

Love it, works perfect even had to get another one for my boyfriends bike.

I installed one phone holder on my motorcycle and another one on my bicycle. Hold the phone great!

First, the mount was easy to install on my mountain bike. My iPhone fit perfectly well on it and managed to stay on the mount my entire 18-mile bike ride. For the price of this mount, it's more than what I expected.

Great product but hard to remove the phone. That's because it holds it so tight and securely.

The title says it. Best bike mount I've had. It does not move when properly attached to the handle bars. The one handed attachment and release is really great as well. Would buy again.

Mounted this on my adventure motorcycle. Easy to mount and holds firm in the position you set it. Easily adjustable for any phone. Easy to install and remove the phone. Holds to phone very steady. Will buy another one for my other motorcycle.

Very nice product with high quality. Easy to set up and safe to use. Great phone mount for the price. The mount is adjustable for different size bars. My phone was tightly attached to the mount. I am totally satisfied with it. I won't hesitate to recommend this product!

The overall product is good and does its job. My phone has a thick case, and the claws do not close properly - I have to adjust them a bit for a tight fit.

I exhaustively researched different options for a mount to use for bike navigation and to listen to audiobooks and podcasts while I ride. This mount feels premium - the grips are extremely secure. It is very easy to place the phone in it and remove it, it has lots of adjustability and when tightened it does not move or bounce at all, even on light mountain bike trails. It is perfect.

Very sturdy product that will work on a mountain bike in tough terrain and on a dirt bike. The clamping system works with your existing phone and its existing case and holds it very securely. It fits easily to the handlebar and the handlebar bracket is secure and also provides either portrait or landscape viewing. I looked at many other options and this is most well-made, flexible in mounting insecure. Highly recommend it!

Straight out of the box I knew I was going to love it. Feels solid, looks sleek, easy to assemble and install/remove, simple to insert phone (one handed), prevent damage, and absorb shock. There's a lock switch on the rear, so your phone is locked in. I have an iPhone 11 Pro Max with a slim case, and my phone had no issue fitting in the holder.

I have been looking for this exact product. I get lost in the trails when mountain biking a lot and end up stopping just to bring my phone out of my pocket. I wanted to get something that would hold up the phone well without too much shaking on the trail. Works better than I thought it would. My phone is a pixel 3 XL with a 6.3 inch screen. It works just fine.

Wow this thing is awesome. Was hesitant to mount a phone holder on my mountain bike in case things get rough on the trail, crash, etc but this has worked out great. I moved to a new area and don't know these trails, so I like to either have the map open on my phone as I ride, or at least have quick access to it. Having to stop riding and get my phone from my bag is a super minimal inconvenience, but enough of one that I bought this. So far I've ridden some pretty rough/bumpy trails on my hardtail and there has been no slipping, no turning/moving, no creeping up the handlebars. I haven't done any big jumps or impacts, but I'm really impressed with how well this held my phone in place and stayed where I mounted it on the bar.
Guaranteed Safe Checkout