Anti-Slip Paw Print Car Drink Coaster
Regular price $0.00 $15.99
If you order within
Arrives by
No slips & spills
Get a grip on wet bottle bottoms and grime with this easy-fit Anti-Slip Paw Print Car Drink Coaster.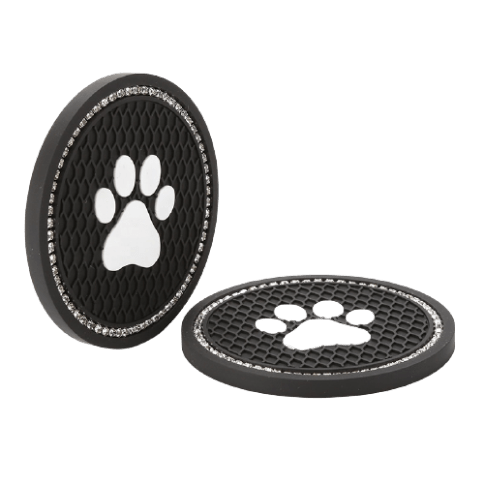 Great for pet owners & lovers
For a cute but functional touch
Shine on
Rhinestones surround our printed-on paw for a touch of glamour.
Textured + firm
Silicone rubber provides a firm hold while a textured surface delivers strong grip.
Fits most standard-sized cup holders
Our paw-printed coaster measures 2.75" x 2.75" (L x W), making it a perfect fit for common cup holders in cars. Measure yours before purchase to ensure a proper fit.
Keeps your drink temps (and places)
The silicone-rubber build of our coaster ensures your drinks stay the temperatures they should, all while the textured surface provides anti-slip hold for every turn in the road.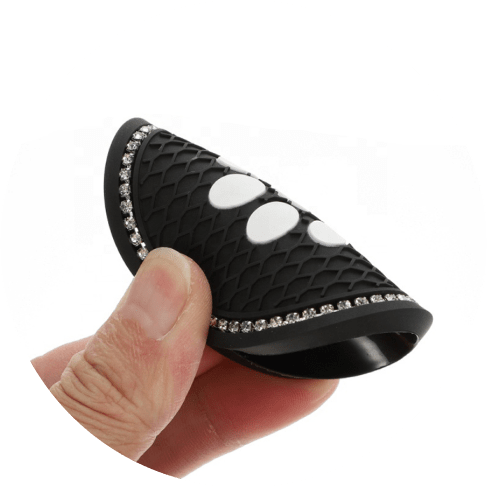 A great gift of convenience
Outfit your own car (or that of someone special you know) with this fun yet functional Anti-Slip Paw Print Car Drink Coaster.
I love the look and how clean it makes my cup holder's look. My only issue is they were smaller than I had hoped for. They fit in my Tacoma's smaller normal cup holders, but they are a little small for the two bigger cup holders I have. Also I feel they need a tab to be able to remove them back out of the normal sized cup holders.

We needed something at the bottom of the coasters in our cars because liquid always spills a little and these are very cute instead of shoving a napkin underneath the cup. They were a little small for one of our car coasters but still covered bottom enough that I am keeping them. Like that they are black and seem easy to clean

They are very cute. The cup holders in my truck are large. These keep most drinks, cups and bottles from moving around too much. I don't often use my cup holders in the console so these are mostly decorative.

Wasn't sure if these were going to fit but I have already spilled something and been glad that I have bought these. I do think that they are kind of hard to pick up; the only reason for the less than perfect score.

Super cute and durable!!!! This is actually the 2nd time I bought these because I needed them for the back seat too. ❤️ I got my first ones 5 years ago and they barely look used.

These fit into the smaller cup holders in my console like a glove. I wish they had a larger size available though that would fit the newer "standard" cup holders.

The size is right, although they aren't perfectly compatible with our RDX 2020 like we expected. We're happy with the purchase. On the other hand, my sister loves those in her Ford SUV.

Fits perfectly on my Kia Soul, I thought 4 were too much, then I realized my car has 6 cup holders so I still need 2 more.

Easy to clean and very durable. I used rubber cement to place in the cup holders. Very happy with my choice.

Only reason I did 4 stars is because they don't fit in my backseat cup holders. Other than that, they work great!

These are perfect for the cupholders in my car. They are cute and help keep the holders clean.
Guaranteed Safe Checkout