Baby Car Seat Head Support Band
Regular price $18.99 $18.99
If you order within
Arrives by
An ergonomic car safety solution
If you're worried about your child moving his head left and right while sleeping or falling asleep at odd neck angles, it's time to invest in something to keep your child still. Keep your kid's head still and in place right in his stroller during car rides.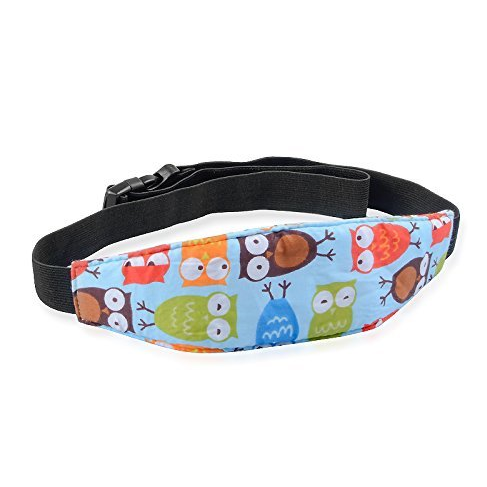 It's a health matter
Why does this matter so much?
Prolonged sleep at improper angles and positions can adversely affect the development and growth of your baby's neck muscles and spine. Remember, these elements are still not fully developed in babies, so prevention of irregular growth is critical.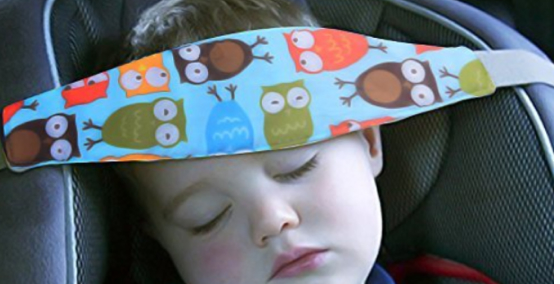 Convenient and easy to use
Works for strollers or car seats
Our Baby Car Seat Head Support Band features an elastic band with a buckle and adjustable length strap. All you have to do is strap around your stroller or car seat where your little one's forehead is so when he falls asleep, his head will stay upright.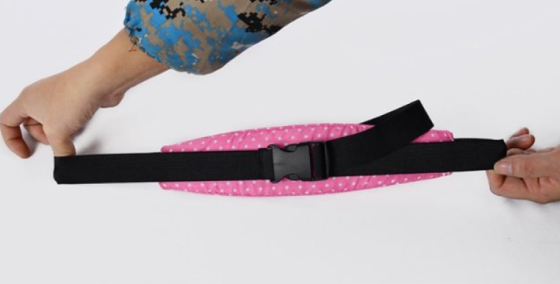 Comfy and soft
In addition to proper seatbelt-wearing practices in the car, our headband also prevents your baby's head from falling forward when he is napping. Whether there's sudden braking of the car or a rough bump in the road, your kid's head will stay still. Each band is made from soft, breathable cotton and measures 10.2 x 2.75 inches.
Four fun patterns
Choose from owls, mini stars, cars, and large stars for a style that will fit your special one.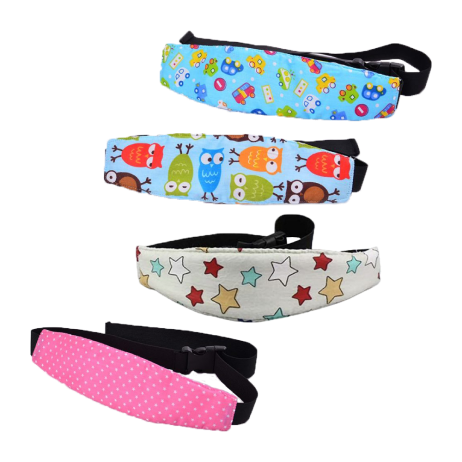 Wash with ease
Use time and time again with the ease of cleanability. This cotton-based headband is easily hand-washable.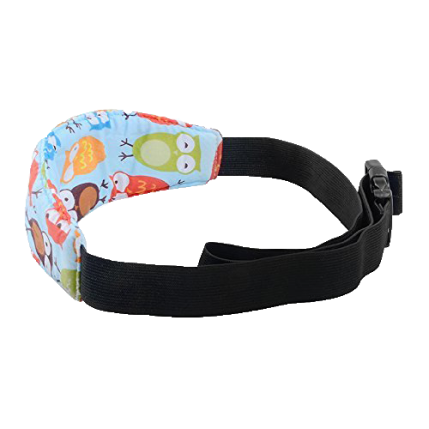 I was reluctant to try these but i figured for the price, why not. I washed and dried them and they came out perfect. They are nice and soft and a cool fabric. I snuck it on my 15 month old after he fell asleep and he didnt even flinch. And hes a light sleeper. It takes some adjusting and you have to find the right tightness, but it definitely helped on our 15 hour car ride. VERY happy I had these!

Enjoyed. The request came well wrapped, arrived well ahead of schedule. The strip have a regulation and also is elastic. Indicate and believe that will be helpful because tired travel holding the head small.

Need to put it on the car seat and when the child falls asleep just snap around their foreheads, otherwise it wakes them up. But definitely proves its purpose.

These head straps are great! They function exactly as described. Previous to these straps every time our daughter fell asleep in the car if you even do much as touched the brakes her head would fall to her chest. Most of the time her head dropping would wake her up enough to have her stir around and get her head up and comfy again, only to hit another red light and her head drop again. The head straps are soft and are wide enough to cover her forehead. The only tricky part is if you put it on when you first get the kids buckled and they squirm around the strap will slip up and off. I have NOT had the problem of it slipping down over her face/neck. So if my husband is driving it's easy I wait till she's asleep then place it over her forehead. If she's with just me, well obviously I wait till she's asleep then pull over somewhere to put it on. Yeah that's kind of inconvenient but her sleeping with her head to her chest just makes me cringe. I'm buying 3 more sets to give away for Christmas gifts!

Bought this for my son who loves to fall asleep when I drive and his head would bobble everywhere, it would give me anxiety. Now he can fall asleep and I can drive peacefully seeing(through his car seat mirror) and knowing that his head is safely placed. I like that it's not bulky and that it leaves room for air to circulate cause my son sweats profusely when he sleeps. And I use the extra one for my sisters car.

Perfect for our toddlers. This is a must for road trips. We have a 2&4yr old and are always worried when their necks are bent or heads are bobbling when they are asleep. These head support bands keep their heads comfortably in position and are soft and easy to use. They also block the sun out of eyes. As some are concerned about using these on infants, not sure I would because if they slip over their noses, they wouldn't be able to move them. For toddlers, these are great. Thank you!

I bought these recently for our 8hr trip coming up. I love that I got a 2 pack for such an affordable cost. I thought with the cost being so cheap, the product wouldn't be that great but these are awesome! The fabric is slightly padded which is great. The strap is a little stretchy which is nice. AND it fastens with a nice buckle instead of Velcro that can come undone. So glad I got these!

the colors are too bright for me

Baby falls asleep in the car? This will keep his head up! The cute design makes it seem more friendly since it is literally a head strap (haha). My baby would fall completely over (face into blankets) so I had to get a product like this to keep his head up and neck comfortable when he sleeps. Very happy with the purchase and that there is a backup. Also, it makes a great baby shower gift, because most new parents do not know to get this or that slumping over in the car happens from 2 months-2 years.

We love the product would recommend it worked amazing for my 3 year old and my 1 year old they both need it when at nights I drive for hours and their heads fall

I am very impressed with this item. My older child is 6 and as you can see if fell down over her eyes when I came to a stop my mom happened to be in the back and was able to adjust the straps up and it seemed to hold but she may be getting too big to use them it fits perfectly over my 4 year old. And they put them on their heads themselves and fell asleep.

all in all for the price they are a good product.

We had it before and but lost it. Got this for the road trip and kept our toddler in place :) not so pricey, does not take much space and does the job well. If there was a way to secure in the back so that it does not get loosened would be nice

They are nice and soft and a cool fabric.

Bought this for my son who loves to fall asleep when I drive and his head would bobble everywhere, it would give me anxiety. Now he can fall asleep and I can drive peacefully

My son usually sleeps in the car when we are driving on highway. This has been life savior for us.

I love them! Holds my sons head up really well and doesnt slip. Hes 3 years old.

We've tried it once so far with my 2-year old. It worked great. The only catch is you have to wait until the child falls asleep because he won't put up with it touching his forehead while awake. My husband was driving, so I could reach back and slip it down over his head. When I'm driving alone, I won't be able to use it unless I pull over. Once asleep, it stayed on the duration of the nap. I don't see it working well for an infant.

I ABSOLUTELY LOVE LOVE LOVE THIS PRODUCT!!!!!

The elastic allows for head turning without making the feel restrained enough to wake them.

Our son's head was hanging and wobbling during our 4 hour trip and you could tell he was uncomfortable but too tired to "care". On the way back we had the band and afte he fell asleep we put it on and it was a life changer. Totally recommend!

We used these while on vacation - 22 hours of drive time. I would slip over her head when she fell asleep and when she would wake up and find it on she didn't complain because it was comfortable.

I think this product is made very well and is good quality. I bought this for our 25lb toddler who rides in a graco extend to fit, rear facing. I have a couple issues with it but I don't regret buying it. You have to wait for the baby to fall asleep before you can put it in place. We had it on the seat, up high, until it was time to move it down. You have to make sure to tighten it, otherwise, it won't work. You have to have someone with a free hand to move it. It worked for part of our trip from Ohio to Florida and back. For the price, it's worth the try.

This will keep your kids Head up straight when sleeping. 100% get this!

My daughter falls asleep in the car quite often. So once I saw this I thought maybe it would help her cause when she falls asleep her head is every which way but straight back. I'm always stretching myself to the back seat to put her head back so she won't have a sore neck. I got this and her head isn't all over anymore. My daughter is very picky about things on her head and she loves it. When she knows she's getting tired she will pull it down over her forehead so she can fall asleep. The front of it has a little cusion for the head. It stretches all the ways around the headrest of her car seat and it's kinda wide. Over all very good product. Thank you whoever came up with this idea. You saved my daughter from future sore necks..

These are perfect. I do not leave them on the seat when he isn't sleeping.

They are super soft, cute design and provide the support my little needs when he falls asleep in his car seat.

Everything is cool, the strap is long can be sewn to any chair, thanks to the seller, I recommend.

Who ever invented this is a genius!
Guaranteed Safe Checkout