Banana USB Hub
Regular price $0.00 $23.99
If you order within
Arrives by
Banana USB hub
A powered up brain needs powered up gadgets
Meet Mustard's Banana USB Hub! It's designed to make you feel a lot more comfortable while you do your job!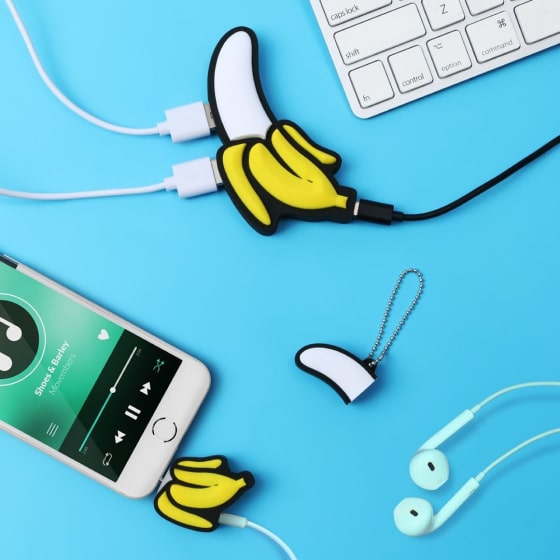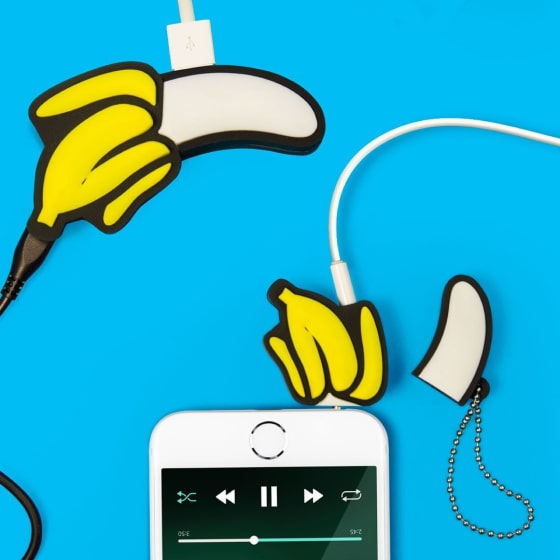 Gain from the brilliant banana USB hub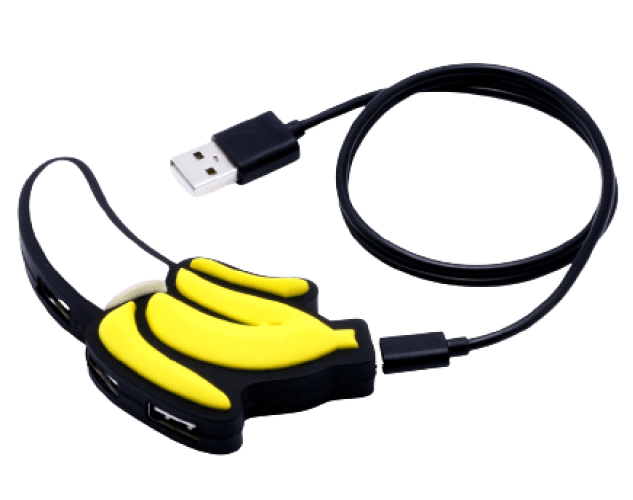 Add additional ports to your USB setup
Add some fun to your tech with Mustard's quirky Banana USB Hub. Plug it into your computer, then use 4 additional ports to use your mouse, keyboards, and other USB devices all from a single port.
Perfect design & dimensions
Well-thought-out, it's designed in the shape of a banana for fun and not only. Please note the product size before purchase: w 50 mm x h 101 mm x d 17 mm.
The Banana USB hub
Mustard's Banana USB Hub will ensure your devices are as fully charged as your mind. With four USB ports, you'll be thanking it a bunch. Great compatibility! This ultra slim USB dock instantly connects multiple ports to any compatible Windows PC and Mac device. Beyond this, it includes 1 x Banana USB Hub and 1 x 60 cm black USB cable and arrives in a stylish gift box. So, work happily!
About Mustard
Your desk: The place where your ideas are born, where the magic happens. A place you spend almost the same amount of time that you spend sleeping, a place you call home that becomes your extended home. In fact you've probably spent more time staring at your screen than in to the eyes of those you love. You've probably eaten more lunches at your desk than at your dining table and let's face it, your desk is an extension of you and If it isn't, then it needs to be! Cue Mustard, the desk police, the desk ambassadors of the world! We are here to save your desk from the bleak, the mundane, the humdrum. To bring flavour, colour and a sense of belonging all neatly wrapped up in a fashion led package. And who is this company named after a quintessential English condiment? Mustard are a team of designers and trend hunters headquartered in London with offices in New York that bring the perfect combination of design and commercial prowess to the stationery world. Our quest is simple! Mustard wants 10% of the space of every desk in the world. A movement we believe in with evangelical determination. A movement that requires your support for it to happen. So join us, let's give desks out there some appreciation! Because the more love we show them the more they will love us back and our day will be just a little bit more special!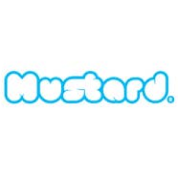 Designed In
Jackson Heights, New York
Great for use with a surface which lack ports highly recommend

Ideal for charging all items in one place

Used daily. No issues so far.

Good value. Works and does the job!

Good product, small and works well.

This USB hub Works Great! Thank you! 😊

Just what I needed and does the job I wanted it for.

Does exactly what I need it to do. Working from home and needed more usb ports for my laptop so I could use separate keyboard, mouse and headset. This does the job and doesn't leave a tangle of wires.

Bought to use on my surface pro. It was a headache to switch from different USB devices. Very light and no so big so looks good and works fine.

I have one of these in my home office at laptops generally don't have sufficient ports. This one is for my desk at work. Good value for money and easily slips in the pocket of a laptop bag.

I used this hub with my nvidia shield. Plugged in the hub, a USB ssd drive, the shields controller charging cable, and a USB mouse. All work perfectly. Highly recommended item!

A great device that allowed me to expand the number of USB ports on my 2012 Macbook Pro and to better manage my cables so that my desk remained tidy. Works well with my external hard drive, DVD-RAM as well as for charging and data transfer. I didn't need to use the additional power supply input via a micro USB and adaptor but it was a nice feature to have just in case I had any power hungry devices plugged in. This was actually one the reasons why I chose this product over other USB hubs.

I am running a headset as well as a datastick off it, and is seems to work just fine. I even charged up my phone on the 3rd port and that was fine as well. That was my main concern, so it works perfectly for me.

It does the job. You can add additional power via micro-USB if you need. I have multiple peripherals (keyboard, mouse, webcam, controller, etc.) with no issue. Highly recommended!

Needed to back up my photos and videos from my phone and 3 other smaller pen drives that I previously used. I now had a 1tb hard drive so I wanted to combine them all onto one hard drive. And thanks to this adapter it was easy to do and I didn't feel the speed dipping with multiple usbs plugged in.

I ordered this USB hub to charge more than one iPhone at once, at the beginning it was working perfectly fine but after a day or two it started to stop working properly, I'm not 100% sure if it is because it's plugged in with a charger head but I'll try to use it with my MacBook to see if it still works properly. I've seen very good reviews about it so I wouldn't complain about its effectiveness.

I like the style and utility of this device, but when I have 4 USB items plugged into it, sometimes the mouse seems to lose connection for a while as if the device becomes overloaded - Now, that's ONLY happening on my HP laptop - my desktop works perfectly fine, so I don't know if the laptop isn't delivering enough power and it needs the auxiliary power as well?
Guaranteed Safe Checkout