Beige Polyurethane Tissue Box Cover
Regular price $0.00 $14.99
If you order within
Arrives by
All-around support for a lasting box
Ever get into someone's car and see a tissue box that's all beaten up? Avoid that -- and be protected -- with this Beige Polyurethane Tissue Box Cover.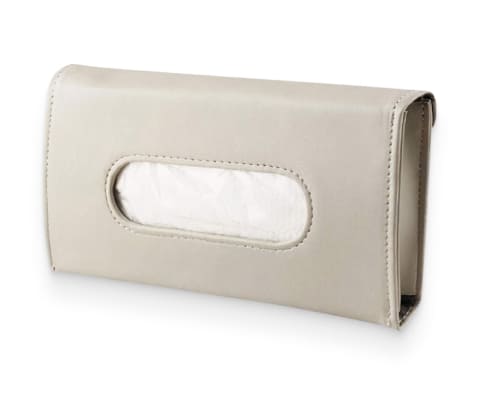 Convenient access + hold
For tissues when you need 'em
Fumble no more
Ever reach your arm back behind you or way over into the passenger seat to search for a tissue? You can cut the hassle -- and keep your tissues within easy reach now.
Clip it anywhere
From your sun visor to backseat pocket, our Beige Polyurethane Tissue Box Cover is designed with sleek clips for easy transportation.
Soft feel + build
Detailed stitching and polyurethane leather prove premium craftsmanship for a great auto accessory.
Flat boxes only, please
Note that this tissue box measures 4.29" x 9" x 1.57" (L x W x D), fitting only flat rectangular tissue boxes. It will not fit larger boxes.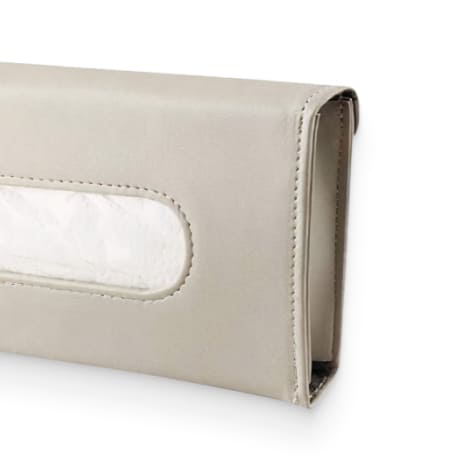 An easy addition to any vehicle
Keep tissue boxes from being dented and crushed -- all while having tissues safely and conveniently within reach with the Beige Polyurethane Tissue Box Cover.
This is the best invention! Especially during the cold season! I can't believe it took me this long to ever get one. It is so handy to have a tissue right there when needed. I hated having to blow my nose and having nothing and being annoyed. Now I don't have to worry. It's really well made and the tissues come out easily! I haven't reloaded it yet, so can't comment on how easy that is but it looks like it will be.

It looks good on the visor of our Ford Edge. It holds extra large face masks very well. Smaller ones also fit. No more disposable masks all over the place. I tried our home made cloth masks in it and they also work. I bought 2 and my regular soft tissues work very well in the second one. I am very satisfied with the quality and look of these tissue box covers.

I absolutely love this tissue box cover because I no longer have to struggle locating the tissue box in the car. I used to always carry a tissue box and set it on the floor which would constantly shift around depending on how the car would move. I have allergies so I always need tissues and this makes it easy to find a tissue when you feel a sneeze sneaking up on you. It was very easy to install and it looks great. I would definitely recommend this product.

I love this so much that I bought another one for my car. I didn't use tissues so I can't say anything about that but I replaced tissues for my disposable masks and the other I put disposable gloves. Now I never find myself (or passengers) without masks. The beige color matches perfectly with the interior of my car (Lexus IS 250) . You can't even notice it's on the passenger visor.

Pros: For those of you who have allergies or children with messy faces, this is your saving grace. Easy to install. Nice quality (you will look all fancy pants with this). No more digging for tissues. Cons: Slightly bulky. Don't think you'll find anything else that will do the job without looking cheap.

This is really convenient. It stays tightly put on my sunvisor and when you pull a tissue, only 1 comes smoothly out and the next in the box stays securely in place!! That is so cool!! How many times have you pulled a tissue and wound up with 2 or 3 in your hand and 2 or 3 hanging out of the box. These people have thought this out. I give this a 10

This thing is super sturdy and easy to install. I was surprised how firm it was. Clips to the visor super easily. Only con: BE AWARE IT will block the passenger mirror, but I don't care because it's easy to move if you really need it and the quality makes it worth it.

It's easy to install and holds secure; however the tissues are a little difficult to remove but don't let that deter you. Great product overall. This is coming from someone who suffers from chronic allergies.

Kinda ordered this on a whim because I just wanted something simple and everything else was bedazzled or had colored stitching. I'm actually really glad I bought this, it's been really convenient especially with my allergies.

I actually filled mine with masks; that way if I need a new one or forgot mine at home I can just pull it out like a tissue! It's been working great and cleaned up my car, so I don't have masks randomly laying around my car.

So I actually got this idea from social media. I bought this to put masks in and have them stored in an easily accessible place at all times. I think it's great. I love it.
Guaranteed Safe Checkout