Bicycle Wheel Flashing Light
Regular price $0.00 $23.99
If you order within
Arrives by
Be the coolest one on the road
Safety comes first when biking in the dark -- always. Opt for something other than a blinding LED light attached to your handle bar when riding in the night: make a statement with the fun, bright, cheery patterns of our Bicycle Wheel Flashing Light.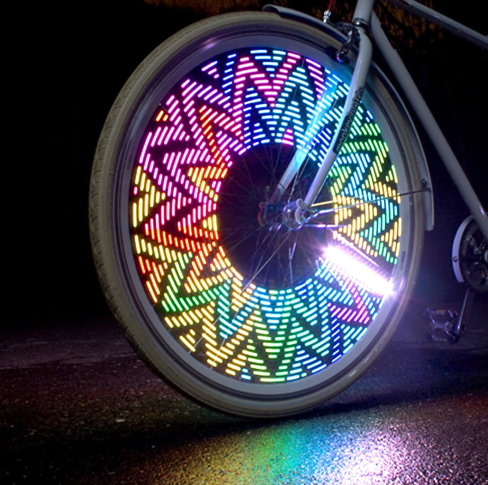 Light up the night
Powered by 32 LEDs that shine with red, blue, and green light, our light puts on a show that is ever-changing. Experience 32 different patterns that change every three seconds, as long as you are in motion (light auto-shuts off when your bike is still). Note patterns don't visually "flow" until you are riding at a minimum of 12mi/hour (20 kms/hour).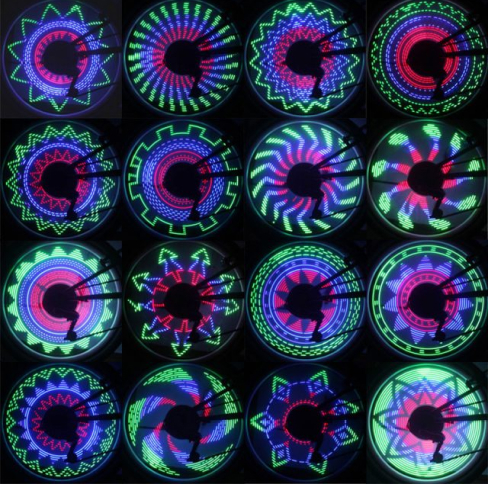 Install in a flash
It's easy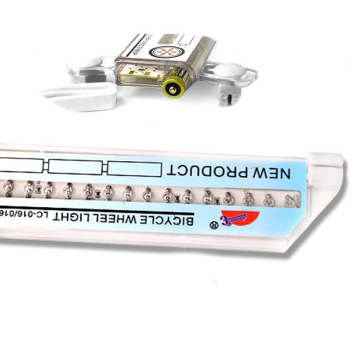 Step 1
Insert three AAA batteries (not included) into the battery compartment.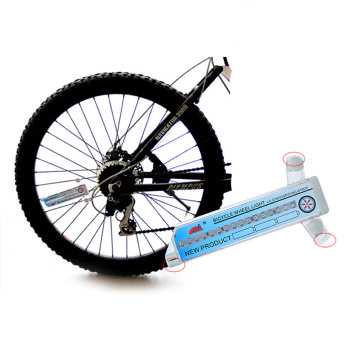 Step 2
Snap the bike spoke card slots onto your wheel wire (you will hear a click sound).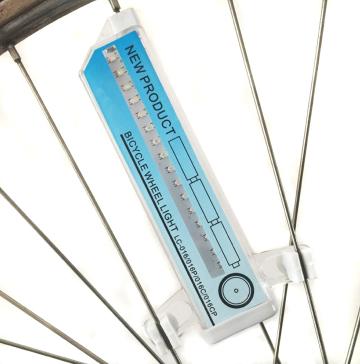 Step 3
Fasten bolts to the wire.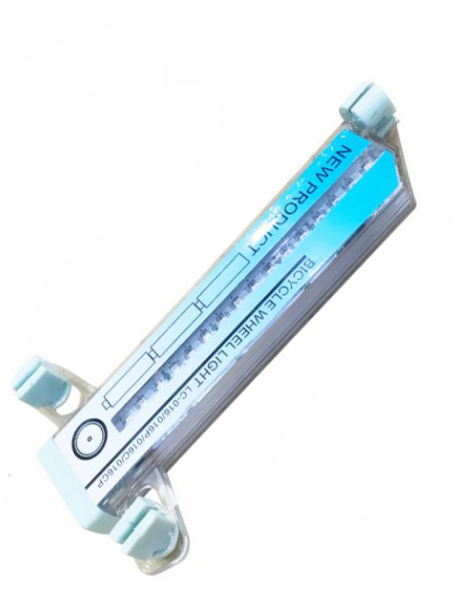 Fits just about any
bike wheel
Our plastic-built wheel light measures 6.44 x 1.56 in (16.5 x 4 cm) for a perfect fit. Clamp onto just about any bike tire on any bike model or make for a versatile light-up solution.
Double the delight
Buy two of our Bicycle Wheel Flashing Light for a bi-wheel light show as you make your rounds in the night. Illuminate your entire bike for optimal visibility and expression.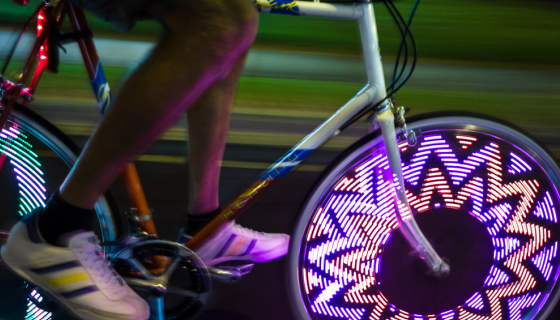 Freezing winter time! Won't be able to tell you how they work until spring.

This light is very colorful and eye catching. It is perfect to put on your bike if you like to ride your bike when it's dark. The light will make you feel very safe and cool when it's Dark. My son loves it and even turned it on when it's not dark. The light changes color and automatically turns on when you ride your bike. It is very easy to install. I highly recommend you to buy this. It is perfect!

I was excited to get these. I read the reviews and ordered 2. Unfortunately I have an Ecotric electric bike. The light will fit on the front rim, but will not fit on the rear. I wanted to leave a review so future customers will be sure to make sure they will fit. My bad...

My little one loves his! The colors are bright and the patterns are awesome! Battery life is good and it was easy to install and doesn't get in the way!

The designs were not as beautiful as the picture, maybe because I wasn't peddling my bike fast enough? I also had a hard time making sure it was on and trying to switch between light combos for different patterns.

Very cool looking at night. I saw people with them when we were camping so I wanted to try it. They're a ton of fun to use at night. We got a lot of comments and questions of where to get them. I'm getting them for all of our bikes now.

Looks really good at night and easy to attach

These are absolutely fabulously. I got them for my son's bike when we are camping. The lights make him very visible when he goes for evening rides

The light is super easy to install and bright. There are two screws that come off and allow the light to be secured to the wheel. As soon as the wheel starts to turn, the light instantly activates. The light patterns are clear and fun. I can't think of anything that I could change to make it better. Great value and quality product

A great way to be seen! The light is very bright and attention getting. Even distracted drivers see and give you room. Well done!

I'm using it on my electric bicycle I was very colorful it's fun it makes me impossible not to see what I'm writing I just wish I could adjust where it stays on my spokes other than that it's great

Over a year and still go. Best part is that when the batteries begin to die. Instead of shutting straight off, the red and green lights as a warning. Giving you 1-2 hour of good light before you REALLY need to change out the batteries.

Hold a try mentality. Bought it . I did not expect such a successful repair.My little one loves his! The colors are bright and the patterns are awesome! Battery life is good and it was easy to install and doesn't get in the way!

Quick and easy to install. At first it didn't seem to have the auto on and off feature but it was just we were impatient and didn't give it enough time to turn off automatically. My daughter thinks it is very cool but she doesn't ride quite fast enough to get the full effect. Ordering another for the youngest daughter once she conquers the two wheelers!

Fast shipping, decent quality of wheel light

Now here's a simple little device to make riding at night fun. This light has multiple patterns that provide a colorfully visual experience for safety also. I live in New Orleans and you'd see a lot of bike tours in the Frech Quarter and they would have a lot of them decked out of LED lights it looked like a rolling party so now you can have that every time you ride out in the evening.

So far so good. Brings lots of smiles to those I pass while on my bike. They can see me that is for sure!

Had a bit of a senior moment when the lights would not go through their different patterns. Found that the batteries I had installed were not new. After I changed the batteries go figure it worked just like they said it would. Love it.

Simple to install with great battery life! these led lights are great for my back wheel on my bike! it is great to ride in the evening , it was very simple to place, very light weight and water proof!

These bike lights are cool and my son likes them. I think it is very useful keep safe if you ride the bike on road at night.

Bought 2 for 11 year old grandson's birthday. He LOVES them! So much cooler than the plastic straws and playing cards we had when we were kids. Also, he is visible at dusk, so maybe a little safer? For the look on his face and excitement in his voice, 10 Stars!

I wish they came in sizes as my tyre are bigger than the gizmo. And I wish I could see it. but all the fun is happening out of my eye sight and its just as well. I would probably get memorized and crash. What I can tell you is that it stops people as I ride by in the dark and they honk, oooh, and comment in such ways that I know it must be as fun as it looks. I am a tall girl and I don't have any friends who can reach my peddles otherwise I would ask. Some day I might find a tall stranger to ride it for me and then my review will change to one star owing to the lights causing the theft of my bike. Until then, I am getting another for the other wheel and telling you that you WILL be noticed by this thing. At least from the side.

My kids love these! If you go fast enough you can see the designs clearly!

Very bright, patterns looked great, batteries lasted for a week of near constant use. Great product.

Super cool! My son loved it! I had to order more for all of our bikes! Very bright and pretty colors

Very easy to install! Really fun to watch definitely turns heads

Light is amazing, great deal, easy install, looks awesome at night

The plastic is hard. It was not easy to install maybe because I could not read the instructions. The light patterns are cool if can pedal really fast.

I have now been using this for just over a year and it's still going great. I liked this light because it sits on the hub and not on the spokes, you only attach it to the spoke for stability. People notice the change in pattern allot and it is very bright. Even at slow speeds you can notice it. After 1 year I still have not needed to replace batteries.

I enjoy this product for riding downtown. However, when riding the trails, take the extra time and remove it. Trust me..it needs to be removed. This is my 2nd. I liked it enough to buy again.. I was riding trails and one end legit snapped after a jump. Learn from me and remove completely, if not cruising on pavement ;)

Need to go a decent speed to look the best. Accidentally killed a set of batteries leaving the unit on. Apparently there is a standby mode so unit turns off when stopped and automatically back on. Didn't check to see if unit was on after a ride and batteries died. I'll make sure to spin the wheel to make sure it's off next time. Will update with pics / minimum speeds.

Got here super fast. Pretty cool wheel light. Super bright. Just wish it had an off and on switch. Designs it makes are really cool.

We end up ridding the bike a lot right after dark and have the lights on the wheels as well as a good head and tail light make this the perfect solution.

Installed one of these on my daughters bike. Installation was pretty straight forward. It works... Just not all that impressed. A neat idea but can's say I have seen it do nearly all the patterns they show in the listing. Maybe she just needs to drive faster?

Took a star away because the instructions for installation were not very clear, requiring searching on your own to figure certain elements of it's use out.

Was thinking about these lights for quite a while and finally decided to get it. Was so excited to install it and could not wait until the evening! It was such an amazing experience to see them on my bike for the first time! I had to ask a friend to ride my bike so i could watch it)) absolutely amazing!

This is a cool light for your bicycle if you ride at night. One set of batteries are included for each light ordered; they are sold individually and not in a set of two (2). They screw onto your valve stems easily, but it took a moment for the lights to work. I figured this was because I installed them during the day. The lights will only come on in the dark, and with movement. I like the changing patterns.

This is pretty cool LED light for bicycle wheels. Each light comes with 3 small batteries. It has motion sensor. It only lights up, when the wheel is moving, when it's stopped - it turns off in few seconds. It has a connector for kids' bikes and fits regular valves (the same as the car one).

Very simple to install. I commute to work and it has been getting dark really early. Drivers are a bit crazy where I live so I need to be seen. I love how bright these lights are!!!! They are convenient as you don't have to turn them on and off..... I've been using them for about two weeks now, so I cannot attest to the battery life. But so far, I am VERY happy with my purchase

Very cool. It actually work. I wasn't sure how to fix it, so that took a while to figure out, but once it's on, it works good at night. I bike in Boston with lots of traffic, with the extra lights I hope the drivers can see me better. Don't hit me again!

They work as advertised but unless you have small tires then you will need to go fast to see anything.

This is a fun little product. It's nice to ride bike at night and have the extra light. Very easy to install. Just plug into the valve and go. The batteries needed come with the light. It is motion sensor so the light only comes on when the bike is in motion. Would be a great gift for kids/teenagers.
Guaranteed Safe Checkout