Black 3 Ports USB Charger
Regular price $0.00 $14.99
If you order within
Arrives by
A 3-port charger
When you need to charge many gadgets but only have one charger, it's a tremendous pain. This charger features three USB 2.0 connections, allowing you to charge many devices at once. Every one of your devices will be charged and ready to use.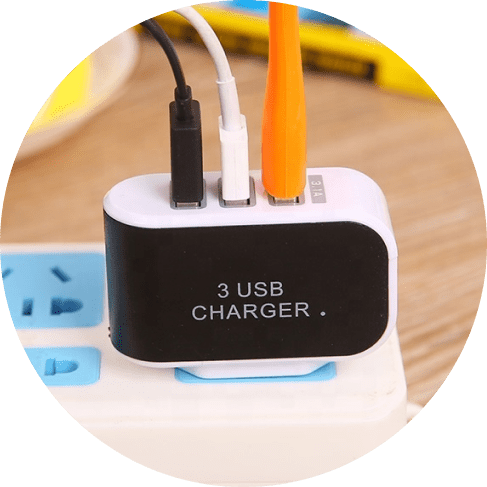 Immortality for your devices
Forget about dead devices. Forever.
Non-toxic
The components used in the production of this product adhere to strict environmental regulations. As a result, it is fully non-toxic and safe to use.
Versatility
You may charge up to three gadgets simultaneously using the three USB connections. This charger measures 2.36 inches wide, 0.94 inches tall, and 2.76 inches long, so it will fit in any pocket.
Safety
Temperature protection, short-circuit protection, output overcurrent protection, input overcurrent protection, output overvoltage protection, and overcharging protection are all included in our charger. The charger is fireproof thanks to a combination of PC and ABS plastics.
Product specifications
Input voltage and current: 5V/2A Input: 100-240V/1.2A Output voltage and current: 5V/1A Output: 5V 2A Using an upgraded technology, the charger provides 3.1A high-speed charging.
Charged at all times
Never worry about the lack of charge on your devices.It's also much easier to share the charger with other people because you don't have to take turns around the power outlet. Don't worry about anything; just plug in your gadgets. This device will make sure everything is running smoothly!
It's a charger, which I used as a charger to charge things that need charging.

This is a very convenient product. . i work nights on a construction site in a guard shack that only has one available power outlet. This allows me to charge my flashlight, phone and vape device all at once.

I bought the adapter power plug so that I could setup a "permanent" charging station in our loft media area. The adapter fits easily in an out of sight electrical outlet behind a sofa. It creates a convenient place to charge iPads, an Apple TV, Kindle device or iPhone.

I used it to plug in three strings of USB powered mini-lights, and it works fine. Easy to turn them all off and on together. How durable is it? I've had it a couple of months with no problems. Otherwise, only time will tell...

This product is amazing! It holds 3 chargers in it and I use more than one at a time all time! I really recommend this! This product is great for traveling and very durable! It charges the same as a regular charging block would.

This little charger is just what I needed for my MacBook air. I have a Thunderbolt connector, but I needed more of the USB 3.0 connections. The product is a nice small size and can be mounted on a surface with included adhesive pads.

Very fast charger for a great price. If you charge just one thing at a time, this thing is lightening fast. If you charge 2-3 things at once it does slow down a bit, but still respectable charging speeds. It seems well made and durable. All in all, it's a great deal.

I use this when I travel -- prior to the pandemic, I traveled frequently on business -- and plugged in an iphone, and ipad, and an apple watch charger. Worked with no problem. It is small. The two prongs do not fold to the side, but the it is sufficiently small that I'm happy to pack it in my briefcase.

Our ZOOM meetings are always nearly 2 hours and we use this plug to keep our iphones and android phones working all of the time during the conferences. No worries about batteries wearing down!

I had three separate USB plugs that I had to spread all over hotel rooms in order to charge my phone, tablet and puck, which was inconvenient. This makes it so that I can use one plug for all the devices and keep them in one area together. The cost was reasonable and so far it is holding up to moderate use but it is early still. This also reduces how many plugs I need to pack in my carry on bag when traveling.

I had a Apple iPad charger I used for fast charging and regular individual apple USB adapters for the rest of my devices. Now, I can charge up to 3 devices quickly. This is perfect for me as I only need one adapter to travel with. I now charge my iPhone, iPad and Apple Watch with one adapter. Of course, you still have to use 3 different cables, but that's better than trying to travel with a wireless recharging base that manages all 3.

I totally love it. It works great if you have multiple stuff to plug in. I have a plug next to my bed and I always use my phone charger and my headset charger as well. I haven't got that chance to Iliad my third one yet but I'm pretty sure it works great. Im glad I bought this instead of buying three usb wall charger then also buying extension plug. So this fit the bill and save more space and energy.
Guaranteed Safe Checkout