Black Plastic Car Headrest Bag Hooks
Regular price $0.00 $13.99
If you order within
Arrives by
The little helper that could
Here's a little errand-running secret
Make grocery-shopping and big haul trips less of a hassle with the support of these Black Plastic Car Headrest Bag Hooks. You get a pair in each purchase for a duo of bag-holding help.
Sturdy + strong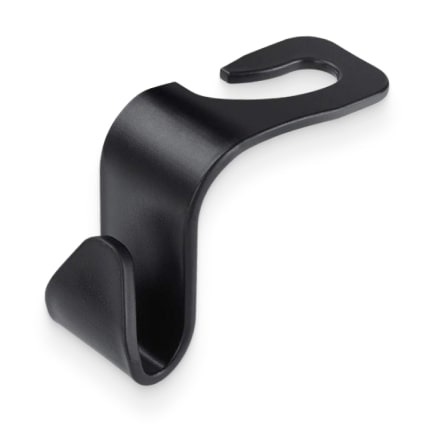 Hold your bags
Our little hook clips attach to any headrest's poles and support up to 44 pounds.
Carry it all
From an extra purse to a gym duffel or a bag from the grocery store, get the hold-on help you need for any bag with these handy clips.
We all can use some help sometime
Equip your car or those of friends and family members with these universally-compatible Black Plastic Car Headrest Bag Hooks. As long as your car has headrest poles, it can use these hooks.
Bought these for my wife; but really for me. I would always get incredibly frustrated when I would get into her car and her purse was either on the passenger seat or on the arm rest. SHE KNOWS that I'm going to be sitting there. And for some reason it's absolutely unacceptable to put her purse in the back seat, so I was stuck either sitting with a gigantic purse on my lap, taking up the entire center console/armrest, or down on the floor taking up my foot space like a cramped cross country flight. These hooks have saved our marriage. Because it appears that she loves them, and puts her purse on the hooks. She also has a few extra masks hung on one of the hooks. So we always have a mask around in case one of us forget to bring one. Highly recommend getting these for any marriage

I spend 2.5 hours in my car every day, so I added two of these at the front seat of my car to hold up face masks without them falling down at the far side, and to hold up my sunglasses on the closer side (they clip in, actually, so it works even better than I thought). I also use it to hang up any items that need it, like a work vest, or a grocery bag with smt breakable in it. It clips onto the metal pieces of the headrest, and although in my mini, they fit completely on the seats, in the BMW they rest "on top" of the seats on the front. It works fine. I clip them off if I have a passenger with me, but most of the time I do not.

These bag hooks are well constructed so it can hold the heaviest of bags and I put up to three bags on one hook at a time. that prevents things from falling out and rolling around. They are made of heavy-duty plastic so they will last a lifetime. Also, since they are made of plastic they do not do any damage to the headrest posts. I have Parkinson's and having my groceries at the standing level is fantastic. I use three hooks and give the other three to a neighbor who is handicapped.

These hooks were super easy to install, it only took seconds. The hooks are wide enough for me to hand my purse on. It's a small, handheld purse with handles on the wider side. Both handles fit in a hook and it holds my purse securely. They are very convenient to hang groceries on so they aren't spilling all over the car. I haven't had them long, but they seem durable enough. If they aren't, they were pretty inexpensive so it wouldn't be devastating if one broke, but that hasn't happened.

Ladies, this is a must! I hated my handbags moving around on the passenger seat. Even worse when someone is sitting on the passenger side and you have to put your purse in the backseat. This clip was so easy to install and looks great. I have black seats so the clips blended in with the seats so I can't even tell I have the hooks unless I actually place my handbag on. Super cheap and functional!

We previously had chrome hooks that hung much lower than these and would flip over to the other side of the seat where people would lean back on them and it hurt! These won't flip anywhere and they're perfect for hanging purses, grocery bags and anything else that will hang. Very sturdy and stay in place and you don't even notice them unless you need them! Definitely recommend!

I've been using these for a few weeks now to stash my bags behind my seats in my car so they don't slide around in my seats and they are surprisingly durable for their price. I've had some pretty heavy bags hanging from these and they might flex a bit but never have broken on me. If you're looking to clean up your car I'd totally grab these little guys.

Great hooks for the car. I placed them in both my cars, bought 2 sets, and can hang shopping bags easily. I always hated when my milk or some other item would fall over when I'd make a turn or hit a bump. Much more organized and cleaner than placing bags on the dirty floor.

I bought this so that my purse doesn't dump everything out if I stop short, and for when I take my dog in my car. It was easier to take the whole headrest out than try to work the opening around the poles. It seems like it can hold a lot of weight, I use it for my monster lunch bag on one side of my car, and the handle doesn't bow at either end.

This is a good product I have. Keep groceries and other items off the floor. It's great if you have pets, they won't walk all over your Items.

They're a perfect size hook to hold my bags of all sizes. However, unless the headrest is completely down, sometimes there are problems when I lift up my bags. Often times the bag will get stuck on the hook and pull it upwards. If the headrest is down, it isn't an issue because the headrest holds the clip to the pole. However, if the headrest is lifted, it isn't usable because every time I lift up the bag, the handle sticks to the hook, and pulls the entire hook off of the seat. I give it 4 stars because having the headrest all the way down isn't an issue in my car, so the hook still works great. I don't give it 5 stars because the headrest MUST be all of the way down.

These hooks work wonderfully. They're very durable, and I've had no issues with transporting groceries or even dry cleaning to and from my destination. I wish there were a locking mechanism to hold your bags securely, but I highly recommend it.
Guaranteed Safe Checkout