Blinged-Out Rhinestone Center Console Cover
Regular price $0.00 $16.99
If you order within
Arrives by
Bedazzle your interior in a flash
Bring your touch of glam and customize your vehicle interior with this chic Blinged-Out Rhinestone Center Console Cover.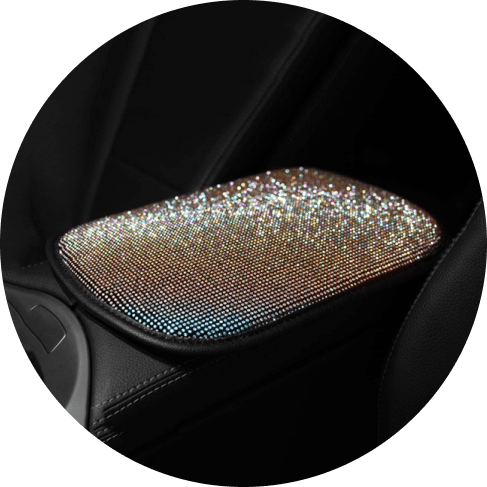 Shine bright with style
Protect your center console
Prevent scratches with some glitter
Spruce up your center console with this slip-on while protecting delicate leather or cloth surfaces.
Covers most standard center consoles
Measuring 12.6" x 13.8" ( L x W), this covering is enough for most vehicle model center consoles. Please measure ahead of ordering to ensure proper fit.
Soft and eco-friendly
Our blinged-out cover is made from polyurethane material and the blinged jewels are gingerly placed on for quality craftsmanship.
Bask in its glow
Our rhinestones create a pinkish-yellow glow for added softness to typical blacks and greys of vehicle interiors.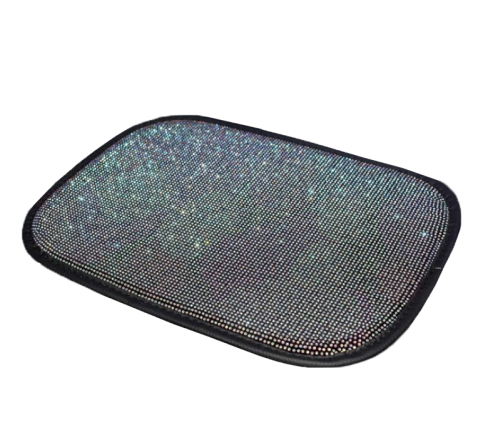 Princess-worthy flair
Our Blinged-Out Rhinestone Center Console Cover is perfect for that special lady (or girl) in your life. It makes a great gift for a birthday or special occasion (new car, anyone?).
I was a little scared to buy this due to the fact that there were no reviews. I am really big on reading others reviews before actually purchasing but I thought "What the heck" it's not like I cant return it. I'M SO GLAD I BOUGHT THIS!!! I never knew I needed this extra bling in my life until it arrived. I just bought a brand new Chrysler and it's all black, I wanted to add a girly touch and this cover provided me with more than that! It's a whole vibe! Great quality and sparkle.

I absolutely love my bling bling add-on for the console! I've owned it now for a few months and have had no major issues at all! Finally after nearly 5 months, only 3 smaller stones have fallen off and trust me, I rest my arm or my passenger rests their arm on it and even my baby niece tries to rip off stones but nothing. That right there is an amazing product and I definitely recommend it!!!

PERFECT!!! Just slightly loose on my older model car, but nothing I can't adjust. High-quality material. SUPER Bling! Soft as a pillow & I know because I had to lean across it to grab my purse...and WOW!!!!!!!!!! I am DEFINITELY purchasing more from this store!!!

The bling sparkle is absolutely fantastic. I have a Jeep Cherokee and it's a little short, but the sparkle makes up for it. When the sun or any light hits it, the sparkle factor is fabulous. If you love bling & sparkle get this for your vehicle.

I absolutely light up everytime I get in my ride now and see all the pretty colors shining everywhere. Don't worry folks, I'm looking at the road. But with colorful light shining all around me!!

This product is supposed to be oversized and fit a 2019 Kia Sedona, but it's not wide enough. I have a puppy that travels with me and as long as her paws do not slip it works fine for the top just not sides.

My girlfriend loves all the blingy stuff in her car and this was something she had to have. Came fast, installed in seconds and it definitely adds bling. She's happy.

Love it! It fits perfectly in my car and it adds that sparkle that I love. I thought it would be uncomfortable, but it's actually not. I would recommend it.

Easy-to-use, OMG the bling is freaking amazing, I'm very stunned.. speechless like I look like a million dollars, I know u gon let me shine!!! Beautiful 😍 👌 ❤

I absolutely love this bling addition to all that I already have! It's so stylish. If you're into bling I totally recommend it!!!

Super cute, but runs smaller than the advertised picture (in my opinion)

This was just some extra shine for my sorento. Its quality is great and durability is strong. Fits my console perfectly

This cover is absolutely gorgeous. Very well made, doesn't feel cheap and so luxurious. Obsessed

I was afraid it wouldn't fit because my Jeep is older (2001) but it fit quite well. It's so pretty and sparkles.

There's not one thing I did not like about it as it is absolutely beautiful and it is so gorgeous!

I love my cover, it stays on and it gives my truck extra bling!!!!! Will be ordering more

Very nice. Matched the other bling that I bought for my car..

Installed this and it looks really good. Stays in place also.

Great product for the price. Good quality and looks great.

These are so pretty and blingy. Very easy to put on.
Guaranteed Safe Checkout