Blue 3 Ports USB Charger
Regular price $0.00 $14.99
If you order within
Arrives by
A 3 ports charger
It's a real struggle when you need to charge multiple devices, but you only have one charger. This won't be a problem anymore! This charger has 3 USB 2.0 ports, so you can charge multiple devices at the same time.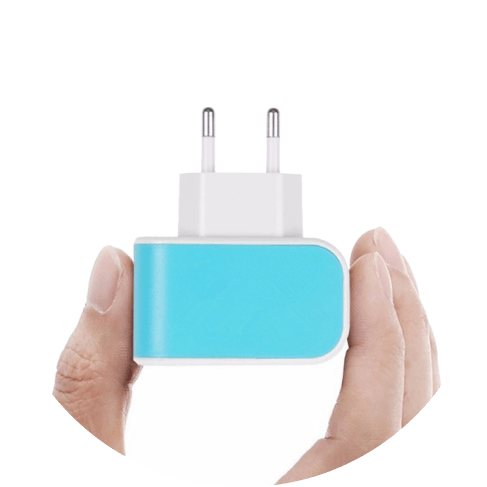 Never-ending energy
None of your devices will be left with no charge
Environmentally safe
The materials used during this product manufacturing meet strict environmental standards. Therefore, it is non-toxic and completely safe to use.
Versatility
3 USB ports allow you to charge up to 3 different devices at once. 2.36 inches in width, 0.94 inches in height, and 2.76 inches in length, this charger will fit in any pocket.
Safety
Our charger goes with temperature protection, short-circuit protection, output overcurrent protection, input overcurrent protection, output overvoltage protection, and overcharging protection. A combination of PC and ABS plastics makes the charger fireproof.
Product specifications
Input voltage and current: 5V/2A Input: 100-240V/1.2A Output voltage and current: 5V/1A Output: 5V 2A Using an upgraded technology, the charger provides 3.1A high-speed charging.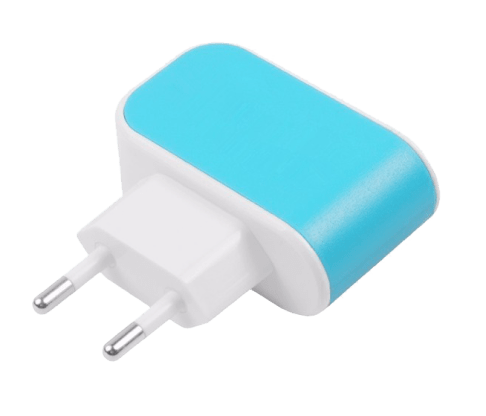 Charged at all times
With the help of this charger, every device of yours will be always charged and ready for use. Also, sharing the charger with your friends is much simpler: you don't have to take turns around the power outlet anymore. Just plug in your devices and don't worry about anything!
Does what it supposed to do

Fast charging and makes traveling with chargers easier.

It works well, charges fast. Sheerness does not apply. Happy with my purchase.

Perfect. I got this not knowing what to expect now I don't want any cubes that aren't like this one. Major plug space saver.

Great little device. Can plug in anywhere, take it on trips and allows you to plug in three USB cords which comes in handy. Definitely recommend.

Bought this for extension in my kitchen. Very durable, as I am using it to plug and unplug my small appliances. Also the cube shape sits well on my kitchen counter.

Needed this for my new car. It only has a regular plug in the back seat and we have three teenagers with smart phones. They can all charge at the same time. Delivery was quick and product is just as described!

Bought for my daughter's college dorm. Never enough outlets in a dorm room and to charge phone, AirPods, and Apple Watch at the same time would require 3 sockets. This worked perfect!

This product is amazing! It holds 3 chargers in it and I use more than one at a time all time! I really recommend this! This product is great for traveling and very durable! It charges the same as a regular charging block would.

This is exactly what I needed. I don't like to use a million outlets at home so it helps me minimize that. I also had to do some last minute emergency travel. It helps sooo much that I don't have to look for so many charger blocks for my phone, watch, tablet, etc. I also like that I can choose a cute color 💚.

This wall charger has come in handy when it comes to charging multiple items at once. I have two one for me that I use to charge my AirPods, iPhones and Apple Watch. My boyfriend does the same thing which makes it easier because I don't have to switch out my cables to make sure that everything is charged.

I bought this because I needed to charge more than one USB device at a time, but I didn't realize the effect it would have. My world is completely different now. Being able to charge my phone, my iPad, and a third device all at the same time opened up so many possibilities. With my new ability to charge three items from a single outlet there are no limits, no end to the opportunities open to me. I'm going back to school and paying off my debts and one day I'm definitely going to be president. Thank you USB Charging Cube. I'll remember you in my memoirs.
Guaranteed Safe Checkout