Blue LED 3-in-1 USB Charging Cord
Regular price $0.00 $16.49
If you order within
Arrives by
Light up
Power up
See in the dark, and let luminous blue light power the way with this beautiful Blue LED 3-in-1 USB Charging Cord. Discover a made-for-all solution with three head types (included) in this modern charging solution.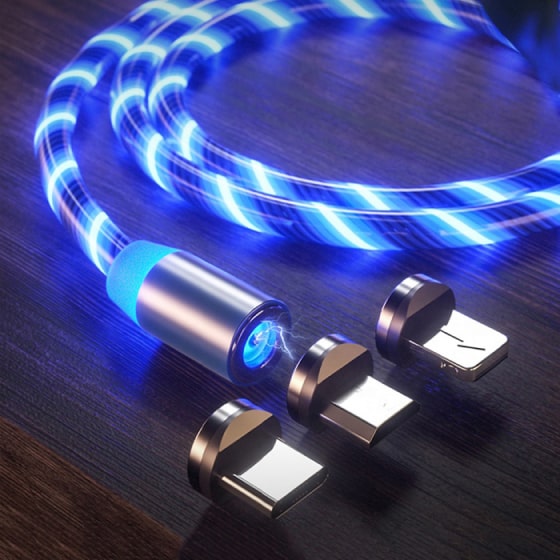 One smart way to get charging
(It's beautiful too)
Smooth and soft
Our charger is made from PVC and nylon with metal charger heads.
Measure up
With 1 meter (3.3 feet) of length, this charging cord provides quick charging power and flexibility for whether you're using it bedside or in the car.
See in the dark
Are you constantly fumbling in the dark at night to charge your phone? Struggle no more with the fully-lit USB cord that makes finding your smartphone must-have easier.
Made for any phone type
Instead of buying multiple charging cords, this cord includes three magnetic heads: Type C, Lightning, and Micro USB -- so you can just attach to the cord (which is magnetized) and use it for whichever device you need.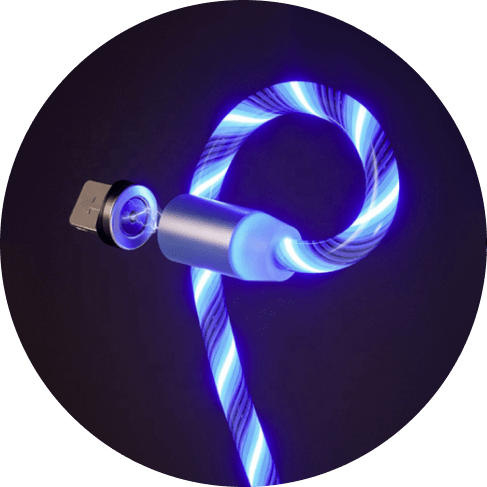 A must-have for anyone
As we spend more time on our phones and tablets, there's always a need for power. Allow this Blue LED 3-in-1 USB Charging Cord to brighten up your day and charge up everything from your phone, power banks, and other gadgets.
Cables with colored lights are interesting. It works well. The part that plugs into the phone is well-made. It is very magnetic, so it can stay in the mobile connector. The color is beautiful, not too bright so it doesn't hurt my eyes at night. The phone charges quite fast, so I'm completely satisfied with it.

The magnet holds well, the charging brightness is pleasant. Personally, I think that this cord will be convenient for use at home or in the car. When charging on the go, the cable from the magnet is detached.

Cool illumination, you will not forget to disable the charge. It's a pity to shine constantly, and not only when the gadget is charged.

Everything is fine, it glows very bright)) The magnetic connector is very good for kids, they can't break it.

The magnet is very powerful. The connector itself is very tightly inserted and does not hang out.

Unusual. Bright. Minus - it does not transfer files when working with a computer. Only for charging

Cool cord, with illumination. Soft (elastic), it is visible from the distance that charging is made.

Great cable. Glows not very bright, in general, what you need. The magnet holds tight!

Well, I can say, the cable works well, there are no minor scratches on it, it's beautiful.

Beautiful, bright, but! Most importantly-fast charging

Everything works fine everything is beautiful thanks

The thing is good, it's fast, the daughter is happy.

Excellent charging, everything is super glowing

The cord is magnetic, and glows very brightly.

Does not support fast charging.

Everything glows and charges.
Guaranteed Safe Checkout