Car Back Seat Organizer
Regular price $0.00 $28.99
If you order within
Arrives by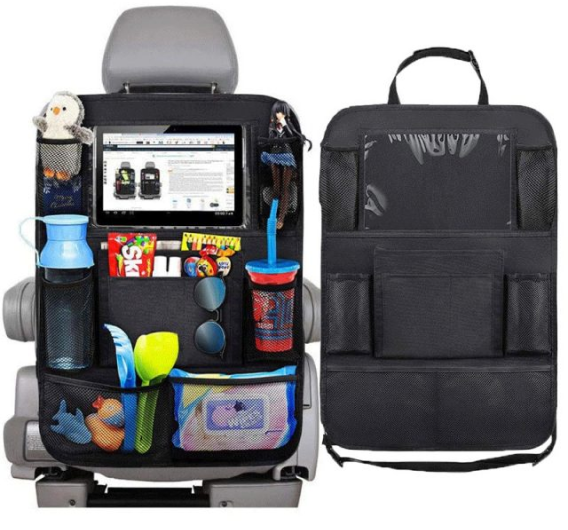 Let's clean up and get organized
Backseat of your car looking like a pig sty? You can't keep driving around and turning corner after corner and hearing everything slide back and forth. It's not a roller coaster: it's your car. So let's clean up: start with our performance-made Car Back Seat Organizer.
Pockets galore
Discover six mesh pockets, one center pouch, and one transparent pocket for tablets and devices. Whether it's snacks, sunglasses, candy, or toys, have all your family's needs and wants in one place -- and not scattered across the backseat or side storage pockets.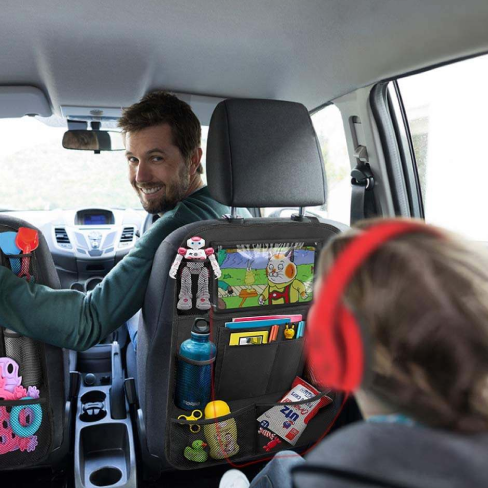 Built for durability and security in place
Constructed of black non-woven fabric that blends in beautifully with any vehicle interior, our Car Back Seat Organizer is a great addition to any van, truck, SUV, or sedan (it's a universal fit). Designed with a buckle-belt that secures sturdily to the back of your vehicle's front seats, hang this smart storage solution with ease. The organizer is also waterproof to minimize accidents and leaks or spills.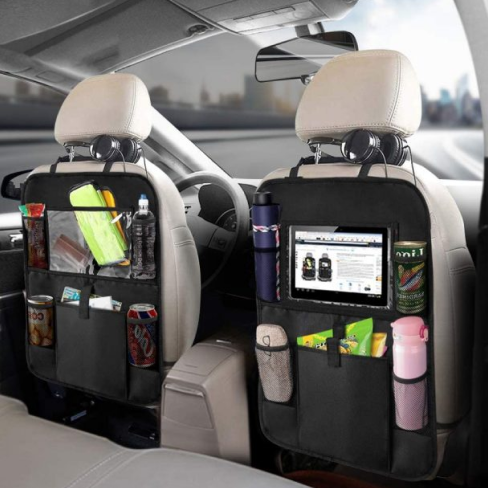 Clean it up whenever needed
Our organizer is easy to detach and clean up when it's used and worn. Wash by hand with liquid soap and water and air dry for best results.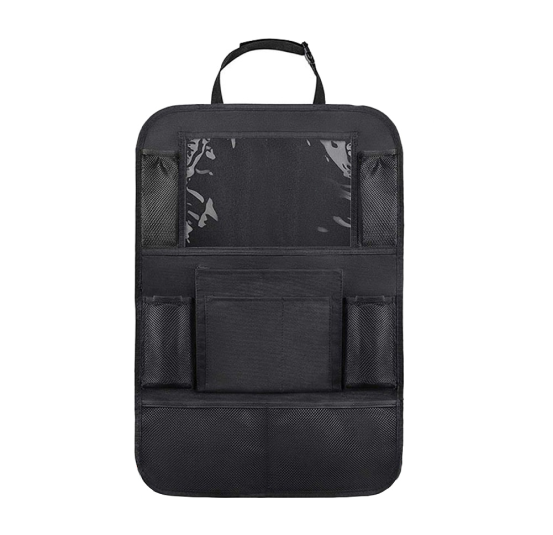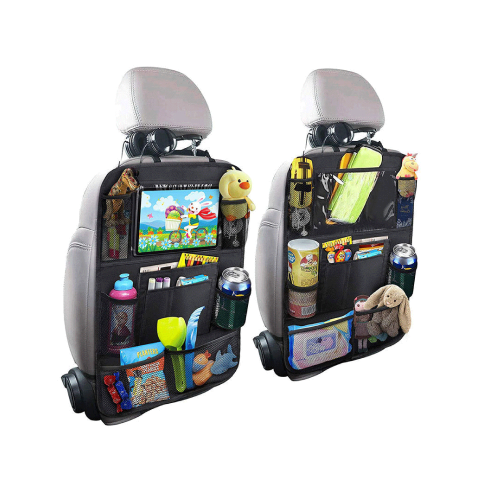 Sized for great use of space
Measuring 24 x 16 inches, there's a ton of space for you to organize your in-vehicle essentials and family must-haves.
Very good and excellent for any car to use. Very easy to instal and it fits probably for all make cars witch have seats! Vey good that tablet can fit easily there. My boy loves it now, he can watch his favorite cartons while we traveling, same as mum because she can fit lot stuff in those pocket's. Good quality material comparing for price. Easy to clean. Definitely would buy anotherone for another car! Highly recommended!

The excellent hood is easy to attach to the quick-release latches iPad Mini fits well, you can even put the tablet bigger, 4 good pockets for 0.5 bottles and several pockets of different sizes. For long trips for children is the same. It came fast enough. About three weeks.

It's fine. They're trailed to the seat, let's use it. Thanks to the store for the fast shipment of the goods. The parcel was not tracked on the territory of the Russian Federation.

The goods was shipped quickly. The quality is good. The producer and the goods recommend

The order is satisfied, very fast delivery. Very convenient organizer, many things can be put. Thank you!

I love these. I got them for two reasons. My little kids keep kicking the back of the driver/passenger seats leaving footmarks so I wanted something to protect my seats. Then I also wanted something to help keep my car more organized. They work great and easy to install.

Great idea and super quality but they just didn't fit my 2012 GNC Yukon seats as well as I would have liked. Still an awesome product though!

I was looking for something to hold my little girls tablet and water in the car because she drops them alot and I cant get to them to pick them up when I'm driving. This is perfect and she has full access to them independently 😊

This is perfect for the car lots of pockets to put snacks and drinks for the car journey and a space for the ipad.

With two children I have a constant mess in the back of my car, I have tried some other organisers which have not been secure into the seat but these are sturdy and strong, very helpful on long journeys

This is a brilliant car seat cover

Very well made organizer, I liked it held all my daughter's car toys and the pocket for the tablet is touch compatible which is nice. My daughter can work the tablet without needing to take it out each time. It fits bottles nicely and her headphones too. She likes the new organizers and I love finally having the toys in one place! Easy to clip on and very adjustable straps to accommodate different girths of seats.

I love the idea of a backseat organizer more than the actual product. My car seats have side impact airbags and the straps are a little too short to reach the bottom of the seat where it would be safe to clip around. We have them in the car free hanging from the top of seat rest bars. I like the ability to load it with snacks and small items, wish everything was just a little larger though.

It is headache for me with the 2 kids always sitting at the back seats kicking the legs to spend the boring time, snacks and toys are everywhere. The car organizer is really helpful. It's made of water resistant machine washable material, multi pockets are easy to organize different things nicely. Now my car is clean and tidy, big relief. Thank you.

Great product. Protects the back of my seat and neat.

liked everything about them

This organization is a life saver! My kids are always losing things under the seat. This organizer has a space for all of their things! There is a space that fits an IPad for long trips. Books fit great in the clear pocket for day to day use. I am impressed by the amount of items that fit in the variety of pockets. My kids always ask for multiple snacks even on short trips. This organizer has spots for snacks, pens/markers, headphones, you name it, there's a space for it. The pockets at the bottom can fit three chapter or board books. The material can easily be wiped down if it gets dirty. It's also really easy to install just snap the buckle and tighten. I wish I would have had this organizer when my kids were babies. I would have never needed to pull over and find the dropped toy, binkie, or bottle. I would have had one ready to go safely secured in the organizer. I highly recommend this car organizer because of the range of storage options, the quality, and the ease of installation.

Excellent material quality, I recommend! I arrive in 15 days in Chile.

Just received and installed product. Fits what I expected so far. A bit of elasticity in the top border so it fits a bit closer to my seat may be an addition to consider for the future designs but Other than that.. will see how it does overall!

I needed to replace our old kickmats, and these are great. They were a great price and I love all the pockets. They are easy to install- you clip it around the top of the seat in front and the bottom. It does not bother the person in front at all, I have not had a problem with the clip getting caught in my hair or anything. There is a lot of pockets which is great. The clear one you can put a tablet, however if you have a huge kids case, it might not fit in fully....which is kind of to be expected. The pockets are sturdy enough to hold a drink, or something else. My kids always seem to be hiding snacks in them.

I can not stand having a dirty car the organizers have so many pockets, I'm able to store all the necessities I would need while we're out and about.

Great storage. Only thing that is not as great is the bottom strap is very sturdy.

My car has one back pocket in each of the front seats. That's great until you realize you need to store five books, three toys, tissues, medicine, and tablets. It's impossible! My friend recommended that I order a backseat organizer to help me. Truth me told, I bought one from the dollar store. As I expected, it ripped within a few days and I was back to square one. I found this organizer in my search results and bought it due to the utility and the reviews. I'm really glad I did. So far, I'm able to store all of the little things my kids need with no problem. The organizer itself attaches easily to the seat (admittedly, it takes a little while to get it in the right position) and is sturdy once you tighten the straps. The tablet holder is a nice bonus, but just make sure you turn up the brightness on the tablet before you put it in the holder because it tends to create a big glare. Overall, I'm very happy with the product and its quality. I recommend it!

Love all the pockets so everything is nicely organized.

My kids had rubbed their feet for years on the back of the front seats until the material is in bad shape. If I had this cover before my seats would still look new xD

I drive a Subaru Outback and where this vehicle is great in space and comfort it lacks in storage options. I have 2 active children, oldest 7 and youngest 2. Our little family loves road trips and are constantly on the go! My car gets so unorganized and is a catch all for toys snacks and all kinds of things. These seat organizers are everything! I can keep their back seat neat and tidy while still bringing them their snack, toys, and extra set of clothes for emergencies! I love them. They seem very sturdy once I tightened the straps and I love that it has the clear pocket for my kids tablet. It allows for them to watch a movie on the go. I think these are definitely worth the price. All in all I give 5 stars!

Excellent utility and design. Functional in back and on front of seat for family and work purposes. Two adjustable straps are very helpful. I am concerned that the lower strap clip may poke into my back; it may be a better idea to put the clip immediately next to the organizer instead. Very happy with my purchase!

I was getting tired of having so much STUFF in my vehicle - no matter how often I try to clear it out I always need different things when I travel. Found these and was happy to be able to tidy my vehicle! These seat back organizers are perfect. I am able to neatly put books, make up, pens, tissues, snacks - just about everything that was littering the floor is now neatly stored. This also has a nice size clear compartment that would be ideal if you wanted an iPad or screen for kids to watch it to store their travel necessities. Easy to fit over the back of the seats too and so I'm sure easy to move from vehicle to vehicle if needed. Great value.

I was a little unhappy because due to the photo it has a strap on upper slide to hold it when smaller objects were in that pocket. However overall I loved the product and it was nicer than off the rack versions from retailers. I used to to organize my car since I have two kids. I was thrilled that it was a pack of 2 for the price of 1 at retailer but better quality. Good investment for families!

I'd highly recommend these to anyone who a) has a lot of child-related mess in the back seats, and b) wants somewhere to hang an iPad or tablet for WATCHING ONLY. It wouldn't be feasible to have a tablet sitting in here for frequent usage as it'd be too far away. They have a lot of storage, are extremely easy to attach to the front seats and are a great colour as they don't stand out too much. Different sized pockets are very useful too.

Bought this backseat carseat organizer after my sister suggested it since I had a ton of stuff laying on the floor. This is a definite solution to alleviate that. Especially great if you have kids and need spare diapers, wipes, books, etc. Storage for car trips. There are 2 straps to hold the organizer in place...on the head rest and bottom seat. I have an SUV and the bottom strap needed to be the longest. It aldo loosened pretty easily with a gentle tug but not enough to dangle. There are plenty of pockets for all sorts of stuff you need to haul around. All in all, glad I got this to add some organization to my life.

We have used these several times in roadtrips and around town. They hold A LOT and secure in place very easily. When it's daylight, there is a reflection through the plastic for the tablets, but.... you can either put them in with case inside and just leave the tablet hanging outside. It holds 4 bottles/cans and multiple pockets for snacks/earbuds/books/whatever you can find to stuff in them... LOVE THEM!
Guaranteed Safe Checkout