Checkerboard-Print Cup Coaster
Regular price $0.00 $15.99
If you order within
Arrives by
A barrier of protection
A touch of design
Give hot and cold drinks alike a cushion with our Checkerboard-Print Cup Coaster. Add a fun touch that works for any car interior with this versatile black-and-white print car accessory.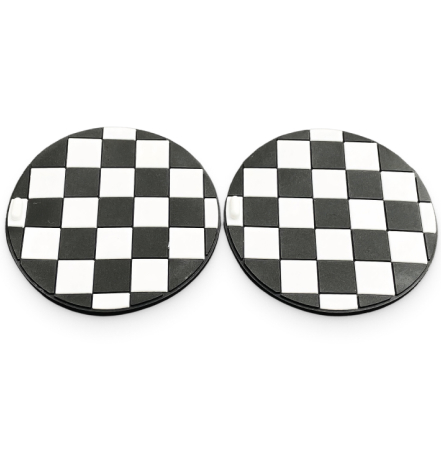 Smooth + sleek
For easy support
Prevent scratches and spills
The textured silicone coaster prevents drips and scratches to your car, for peace of mind.
Zero cleanup
Our coaster also functions as a barrier for dust and grime from reaching your actual cupholder bottom.
A snug fit + feel
Our Checkerboard-Print Cup Coaster measures 2.75" in diameter, making it a great fit for most vehicle models and makes. Please measure your cupholder to be sure before purchasing.
No hassle here
What's so great about a coaster? It helps prevent water from your beverage from dripping into your actual cupholder. No wipe-ups here!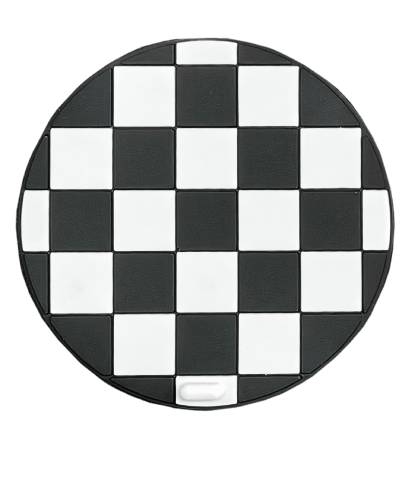 A great accessory for any car
Take precaution to scratches and spills today with this simple car add-on for smoother drink ingress and egress -- and minimal cleanup.
They're absolutely beautiful!!! They look exactly like the photo. We could not be more pleased with them. If you're hesitating, don't! They don't have a shiny top coat like many other coasters do so they absorb any excess liquid from a sweating glass keeping the table beneath safe. Just beautiful!

These absolutely do the job of keeping condensation from pooling in cup holders. I have this "thirsty-stone" type of coasters for our home and now I have some for my car. Also helps that my drink doesn't drip the condensation on me either when I take a drink. And the style is basic, but looks nice, too.

It is very unpleasant to have a water bottle drip while driving due to condensation. These little disks are a great solution. They are absorbent and dry quickly, so I don't have to keep wiping out the cup holders. They are attractive and they work both in the car and in the golf cart. Very happy with this purchase.

These car coasters are really great and pretty too! My daughter got them for her first car and I was lucky enough to get two of her extras. They absorb the condensation from drinks and are easy to take out and clean. Did I mention pretty?

So cute and keep all my cup holders clean! They're a little on the smaller side, but honestly it's perfect for my little cup holders.

Perfect!! I bought these for my new car to preserve the cup holders and they work like a charm! Very nice looking too!

Once I received the product, I was a little worried it was going to be too small but it fit perfectly and it adds some character to my car!

Purchased for a gift so I can only rate on appearance and prompt delivery. I think it will be a very nice gift for a friend with her first car.

I love these so much! They're adorable and feel really high quality. The only small problem I have with them is that I wish they were just a little bigger. I drive a Volvo S40 and they shift around in my cup holders which I find a bit annoying and they don't necessarily do their job since they're a little small. It is really more my problem than the items, but I just wanted to let others know! They fit well in my friend's Kia Soul.

I love the designs, they keep my cup holders so clean, and they fit well and come out easily. If I could change anything it would be to make them just a hair bigger but that is it!
Guaranteed Safe Checkout