Collapsible Plastic Trash Bin With Handle
Regular price $0.00 $14.99
If you order within
Arrives by
Where does trash belong? In the trash.
If you're tired of cracker and candy wrappers and crumbs and soda cans littering your car, it's time to step it up -- and clean up with the Collapsible Plastic Trash Bin With Handle.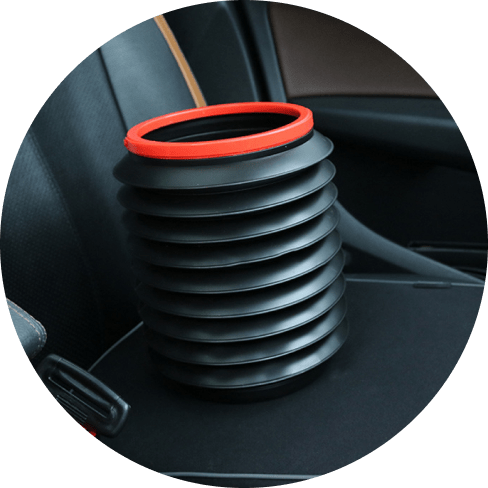 Hang it anywhere
For cleanup convenience
Compact + fun
This Collapsible Plastic Trash Bin With Handle measures 8.3" x 7.1" (L x W) when fully open and has a height of 2.6" when fully collapsed.
Hold all the things
With four liters of internal storage space, when not for trash, you can even use this bin to hold gym gear, delicate items, and small umbrellas. Supports up to 8.8 pounds.
Sturdy build + hold
Our trash bin features a built-in carrying handle and is crafted from plastic throughout. An accordion-style body allows for easy compact collapsibility for storage.
From car to outdoors
Whether you hook this trash can from a hook inside your car to situating it on a table in the backyard for parties, this collapsible bin delivers convenience and sanitation in a flash.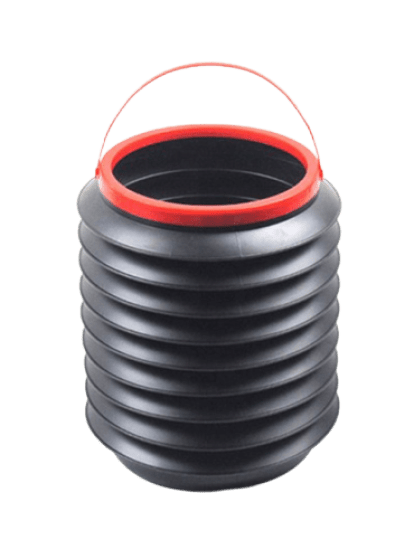 A great convenience
Say goodbye to trash or a lack of handy storage when on the go in the car or tight on space in a room with this small yet majorly-helpful solution.
Amazing product, absolute must-have for cars, especially for travelling! We usually use it when we go on road trips and put it away in other cases, it's very convenient. The size is perfect for this purpose! Besides, I appreciate the handle a lot, it makes it a lot easier to carry it to throw out the trash.

Best quality and very specious, it's easy to use and also has very big storage capacity in it. Can be folded and kept anywhere, easy to wash and maintain. Overall a very nice product at this price.

I could see that the quality was very high when I first bought it, but now I know for sure after months of use! It didn't wear out for a bit, still in perfect condition! Very practical and functional.

I found this trash bin/container to be very useful, as it can be carried with us inside the car. It is neither too small nor too big and perfect to carry things while in the car or use it as a trash bin.

To be honest, I can't even imagine how I managed to drive with kids without this trash bin. It was so messy… Now my kids have a place to put away their waste, it's very handy!

Great product, great quality, great price! Really nothing to complain about, no drawbacks, would totally recommend!

Very very useful bin to keep your car clean. Also adjustable height is an advantage

Very helpful for long distance travel, especially with kids.

Really like this product, very useful to have in the car… I wish it was a tad bit bigger though, sometimes it's just not enough to put away all the trash from the ride… Otherwise very good.

The bin is great and handy, but it became more difficult to fold it with time. Don't consider it as a problem, I guess it was to be expected with time.
Guaranteed Safe Checkout