Colorful Portable Wireless Speaker
Regular price $0.00 $38.99
If you order within
Arrives by
A party in your hands
An amazing wireless speaker allows you to have fun whenever you are! You won't want to use any other speaker when there's this one. A great gadget for a music fan.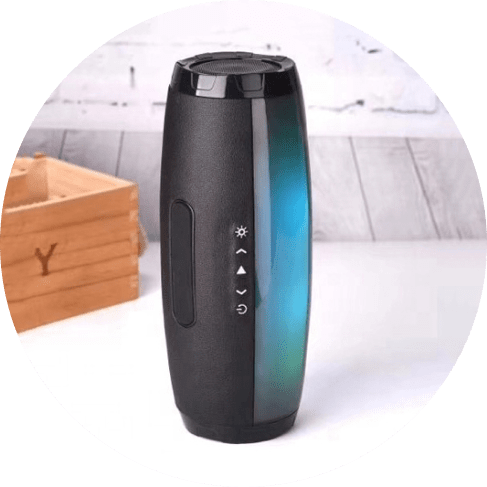 Visual and audible pleasure in your hands
Trust us, you won't want to turn the music off!
Sound quality
2 5-Watt speakers combined with a 360-degree stereo surround system provide you with an extraordinary sound.
LED lights
Colorful LED lights on our speaker can help you set up any mood and atmosphere you want. They can create any atmosphere you want. It's a great night light as well, looks mesmerizing in the dark!
Compatible with anything
The speaker can work with Bluetooth (V5.0), so any smartphone will work perfectly with it. Our speaker also works perfectly with TF cards, with an AUX cord. FM radio is also available to use.
Great battery
1200 mAh of battery capacity provides you with a playing time of 4-6 hours. More than enough for any shenanigans! Charging time is 2 times less (2-3 hours). And in case your party is a long one, just plug in the cord and don't stop the music!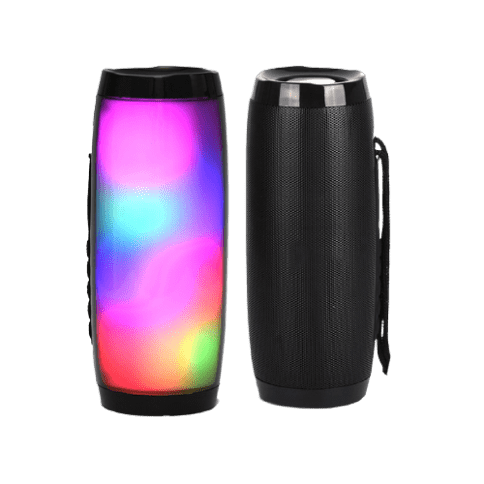 One of a kind speaker
The design, versatility, and quality that we put into our product make it outshine everything else presented on the market. An affordable and powerful speaker is a great choice for any music lover that values their money.
I love this speaker! It sounds perfect. Volume is easy to adjust and the sound is very full.

This is very nice for the price!

I use this speaker daily!

Sound quality is great for the cost and the battery life is impressive.

As a fitness pro, these work great in TWS mode for training outdoors!

This was a great speaker, I would recommend it.

I wish it was a little louder,but overall it's a good portable speaker.

Honestly for the price the speaker is pretty good.

This little speaker is full of power. For its size the quality of sound is good. The ease of use is great.

Easy to use and good quality of sound, but the best part is that the battery lasts a really long time

This speaker has excellent sound quality! No static or background noises at all. Excellent speaker! The lights are great also!

Beautiful quality of sound, enjoying the heck out of it. This was a Mother's Day gift from my youngest son. He wanted his back!

Better sound quality and much better battery life than I was expecting. I'm a fan of the light show as well

I bought this for my husband for fathers day and am very impressed. The sound quality is awesome.

Really enjoy this speaker. It can get loud, but still produce a nice sound.

Average sized handheld speaker. But this thing is powerful! The bass on it is amazing! 10/10 sound quality.

Really good speaker. Lightweight and easy to connect and carry. Loved it and the price is totally worth it.

I like to have music or podcasts on while I'm getting ready in the morning. Sound quality is really great including a very reasonable bass response for a Bluetooth speaker.

I'm so happy with this speaker. It lights up, easy to carry around and sounds great! For the price I was expecting mediocre sound quality, but it's loud and clear.

I bought this for my wife, as she didn't have bluetooth in the car. She reports that it connects to her phone instantly and flawlessly and the sound quality is excellent. If you buy this, you won't be sorry.

For the price I'm extremely happy with the sound I run heavy equipment for a living and that's what I use this speaker for I love it now I'm trying to find a case or magnetic holder for it

This is a pretty decent speaker. The sound quality is pretty good overall. The battery lasts quite a while. I'd say this is definitely comparable to some of the pricier speakers out there. I'd say it's definitely worth the price

Sound is very clear with a nice bass line. The lights make you feel like you're in a disco. It's very nice. For the money this is a great speaker. I have one from another company that is not even close to this. This is a great buy.
Guaranteed Safe Checkout