Cool Drinking Corgi Mouse Pad
Regular price $0.00 $12.99
If you order within
Arrives by
Cool drinking corgi mouse pad
Brighten your mood while working in front of the computer with this cool drinking corgi mouse pad. Apart from helping your mouse operate smoothly, it's also going to be a unique accessory for corgi lovers and those who love drinking!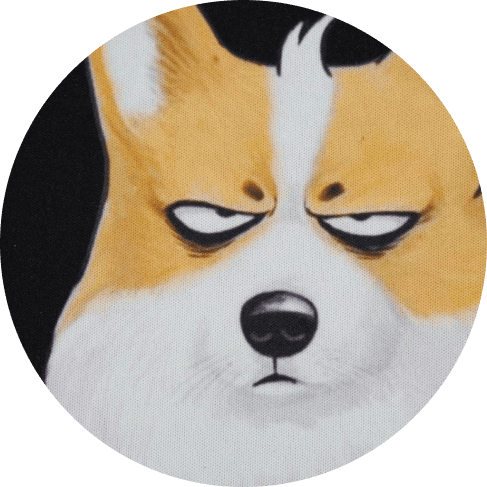 Unique and funny corgi mouse pad
Shout out your 'corgi lover' identity
One-of-a-kind cartoon design
Meet a precise cartoon graphic of the cutest corgi expression. Delight yourself or your friends with such a unique and funny accessory.
Multipurpose device
This mouse pad was designed as a multipurpose device so you can easily use it as an office device or even a gaming tool.
Ensures comfortable working experience
Due to its thought-out shape, it is able to provide its user with a super soft hand rest for a really comfy working experience.
Well-considered dimensions
Based on the actual users' experience, this mouse pad was designed with the idea of extra owners' convenience in mind. Dimensions: 9.5" x 7.75" x 0.25", weight: 2.8 oz.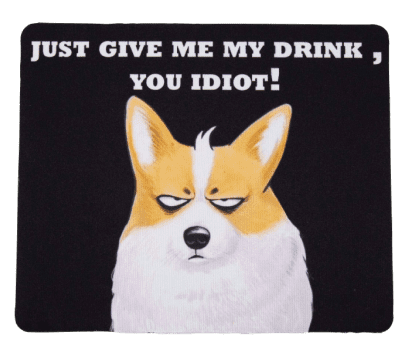 Highlight your individuality
Don't forget that it's not only a high-quality device that ensures smooth operation of the mouse, but also an accessory that helps you highlight your individuality.
About Nayothecorgi
Personal story of the founder Angel and her journey in starting this shop! "In 2016, I decided to move to US to pursue further study. However, I could not leave my 5 months corgi baby behind so I brought him with me on the 12 hours long flight and start a new journey on a new land. In the first few months living in the new country, it was hard for me to meet new friends and it was even harder for my corgi to meet new friends as well. Both my and my corgi (Nayo) felt lonely. One day, while I was bringing Nayo for a walk, we met another corgi mom with her corgi and we got to know there are many corgi communities out there welcoming all corgi owners. Slowly, I started to bring my Nayo for "corgi parties" "corgi gatherings" and "corgi beach parties". Along the way, I realized that many corgi moms are having trouble finding special and unique corgi-centric accessories for themselves. Traditional pet shop only carry things made for pet to use but not human who love them deeply. As a corgi-mom, all I want to do is to show-off to other people that I have the best and the most unique corgi in the world and how much I love him. Other than sharing photos on social media, I also want my life to be filled with corgi because he is my family member. In addition, I was really grateful for being welcomed to the loving community and I just want to give back and bring more benefits to the community.
Designed In
Ontario, California
Don't regret purchasing this pad, it is nice, and I think, good value of money

Super cool corgi mouse pad!

Cool but cute and adorable corgi! The rubber of the pad's back is the one for work, it is not sticky, but stays in place either way. I recommend this product

Love the quality and size is perfect

I enjoy using this mouse pad every day!

Nothing special, but still cute dog and witty text

Love this corgi's face! Came quickly, looks great and well-produced

A very nice gift for some swanky corgi lover ahaha!

It is worth its price totally!

I'm happy to have bought this mouse mat!

This serious corgi cheers me up, I like the quality, the material is pleasant and easy to clean

alex ermolenko on Sep 17, 2022

A nice mouse pad for its price

The product was shipped very quickly, the print is great. Looks amazing

I like the product, it looks cool, the image is bright, it's funny

The pad is just a typical one, only the funny image

I have one corgi pad at home, and now I purchased another one for my office desktop, this dog will always be near hahah, hope my colleagues will check this out

Hahah I love the pad, nice quality and seeing this dog judging you gives motivation!

I'm happy with this purchase, working seems easier with this handsome boy hahaha

alex ermolenko on Sep 20, 2022

The surface is fine for moving the mouse, it doesn't get stuck

Bought this cool pad as a gift for my BF, he loves it

I couldn't resist this cool corgi, it is so hilarious, love the pad, my desktop looks unique

alex ermolenko on Dec 05, 2022

Perfect size, very good quality and very fast shipping

It is very cool, love the image haha. Even my mom wants one for herself

I love the face of this cute dog! But the text is kinda blurry for me. not really like the picture idk please, fix the print and it will be 5

It is great! The price and quality are nice. It is worth it.

I love this mouse pad. No complains. Makes you smile while working or studying!

Bought this mouse pad for my son as a surprise birthday gift, he really likes it. It is nice for moving the mouse, as he said, goes for gaming pretty well and his friends laughed at the image, too. We all found it so hilarious. The material is smooth and the pad doesn't slide from the desk anywhere. The image is of pretty high quality and the size is nice for working with a mouse. Do no regret buying it for my son.

The mouse pad is the same as in the picture, what you see is what you get. I like the fabric or material of which is made, it is nice to touch and to move the mouse. The image is so hilarious – even though the corgi is grumpy and tired-looking, it makes you laugh and, like, begs you to pet and solace (? haha) this cute dog. I shoed this pad to all my friends and colleagues, they are all jealous now yeaaah

The material of the pad is really nice, pleasant to touch and use. It is also easy to wash! I don't regret a bit purchasing the pad. And it is so hilarious! The image of the serious but cute corgi and the text hahahaha It is just the face of my daughter when she's mad at something. The quality of the image is great, too. I highly recommend this mouse, especially if you love dogs as I love them.

I couldn't help but give in to this grumpy little creature! It is so cute and funny. Everyone in my family now adores this mouse pad. (They all want to steal it from my desk, probably will buy more as a present for them to stop trying to get mine haha) First, the size is just right, not too big, not to small. Second, the material of the mouse pad doesn't let it slide from the desk and the cover is smooth enough for comfortable mouse using. The shipping was really fast and it was packaged nicely to prevent any damage. Thanks for the product!!!
Guaranteed Safe Checkout