Corgi 3D Mouse Pad
Regular price $0.00 $25.99
If you order within
Arrives by
Corgi 3D mouse pad
Enlighten your mood while working in front of the computer with this cute Corgi 3D mouse pad. It's not only assisting a smooth operation of the mouse, but is also going to be a unique accessory for corgi lovers.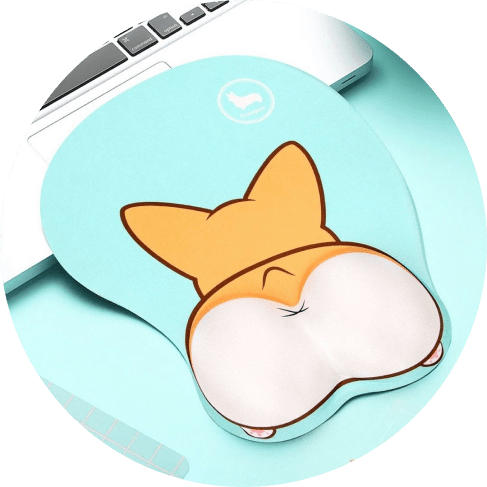 Unique corgi hand rest mouse pad
Shout out your 'corgi lover' identity
One-of-a-kind cartoon design
Meet a detailed cartoon graphic of the cutest corgi postures and expressions. Nayothecorgi is the original designer of this product.
Multipurpose device
This mouse pad was designed as a multipurpose device so you can easily use it as an office device or even as a gaming tool.
Ensures comfortable working experience
Due to its thought-out shape, it is able to provide its user with a super soft hand rest for a really comfy working experience.
Well-considered dimensions
Based on the actual users' experience, this mouse pad was designed with the idea of extra comfort in mind. Dimensions: 10.5" x 8.5" x 1.5", weight: 11.4 oz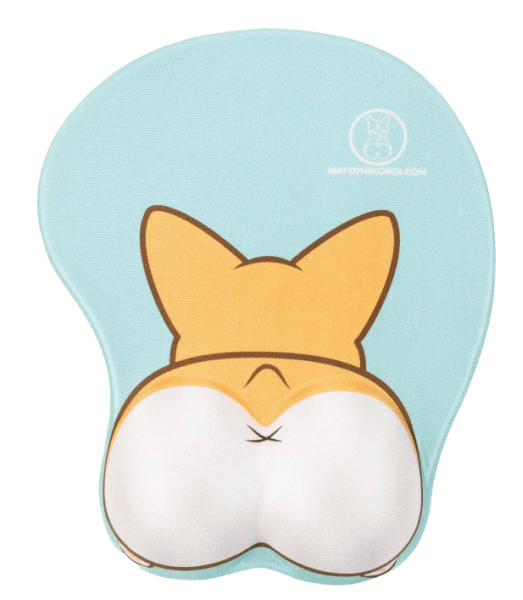 Highlight your individuality
Don't forget that it's not only a high-quality device that ensures smooth operation of the mouse, but also an accessory that helps you highlight your individuality. Nayothecorgi is the ONLY official reseller of Cooper Brand - the original designer of this piece.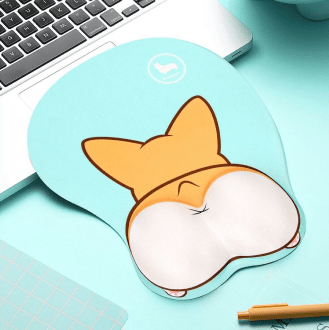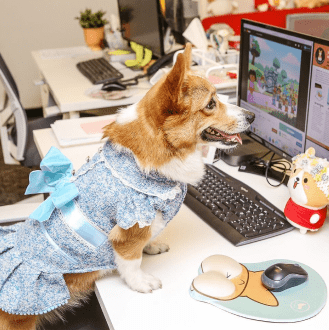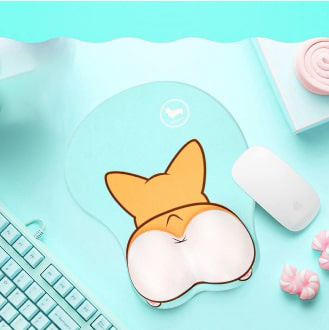 About Nayothecorgi
Personal story of the founder Angel and her journey in starting this shop! "In 2016, I decided to move to US to pursue further study. However, I could not leave my 5 months corgi baby behind so I brought him with me on the 12 hours long flight and start a new journey on a new land. In the first few months living in the new country, it was hard for me to meet new friends and it was even harder for my corgi to meet new friends as well. Both my and my corgi (Nayo) felt lonely. One day, while I was bringing Nayo for a walk, we met another corgi mom with her corgi and we got to know there are many corgi communities out there welcoming all corgi owners. Slowly, I started to bring my Nayo for "corgi parties" "corgi gatherings" and "corgi beach parties". Along the way, I realized that many corgi moms are having trouble finding special and unique corgi-centric accessories for themselves. Traditional pet shop only carry things made for pet to use but not human who love them deeply. As a corgi-mom, all I want to do is to show-off to other people that I have the best and the most unique corgi in the world and how much I love him. Other than sharing photos on social media, I also want my life to be filled with corgi because he is my family member. In addition, I was really grateful for being welcomed to the loving community and I just want to give back and bring more benefits to the community.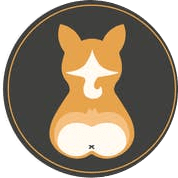 Designed In
Ontario, California
I like that it's corgi themed. Also that you can move it if need be.

Perfect size, very good quality and very fast shipping. Second time purchase from this buyer, highly recommend!

Love, love, love!!!! This is so cute! I bought it as a gift but when it arrived I had to keep it for myself. This is worth every penny. Definitely a conversation starter at work, it's the best!!

this was very well made and very squishy.

Absolutely love it! It's so cute and comfortable to use.

This was a gift; so adorable and great cushion for wrist.

The flat area is smooth going one way, but just... NOT if you rub in the other direction, so the mouse sort of snags and scratches. It overall hinders mouse movement, so if you game or are just used to moving quickly, this will slow you down (and this is with a typical wireless mouse). 4 out of 5

Cute one, but not comfortable for wrist

Love it! It adds so much personality to my desk and I'm finding that I keep my wrist in a better position snuggled in the "fluff" (no it's not fluffy but it's better than saying butt cheeks). I am VERY happy with my purchase.

I received my order quickly and Nayo the corgi butt is adorable!

Perfect size, very good quality and very fast shipping. Second time purchase from this buyer, highly recommend!

The mousepad is absolutely adorable, no doubt, but it's not very comfortable when being used, and the material that the flatter part of the pad is made if is not all too pleasant. The butt/3D area is almost too thick, leaving your wrist at sort of an awkward angle. If you can find a good position, it's not too bad, and it's fun to squish and poke, if nothing else. It's more cute than practical.

This corgi mouse pad is definitely for corgi owners! My 1 yr old nephew also loves the touch of butt cushion.

The gel is actually pretty firm, provides good wrist support also adorable.

Looks amazing and was shipped very quickly

Very bright and comfortable! Just like the picture!

I bought it as a gift for my little cousin and now I'm jealous!!! hahahahaha I will totally buy one for myself cuz it's so cute it hurts. cousin loves the pad btw

My mother owns three corgis and this has been a perfect birthday present for her. It's absolutely adorable and the material is soft and perfectly supports the wrist.

I bought this as a gift for my brother and he loves it! The "butt" part is super soft and works really well to rest your wrist on. The bottom of the mouse pad is sticky and stays really well wherever you put it.

perfect for more work from home desk. it's nice and squishy, has good wrist support and is SO FREAKING ADORABLE.

It is so cute I just can't!! the butt is so squishy. I like how my wrist rests on this cutie's butt !!!!! screams that you're a corgi lover

perfect for more work from home desk. it's nice and squishy, has good wrist support and is SO FREAKING ADORABLE.

It is so cute I just can't!! the butt is so squishy. I like how my wrist rests on this cutie's butt !!!!! screams that you're a corgi lover

Love the corgi butt! My wrist cradles in the crack nicely, no more wrist pain!

Order arrived on time, item is as described, and I am thoroughly satisfied. I intend to purchase another for a gift. super cute and working nice!

I love the corgi butt. So comfortable and really nice quality too. My only issue is that the grip of the mouse pad is too rough because my mouse would sometimes not move properly. When I am playing a game, it is quite difficult to do things and I will lose or click on something I didn't want to. It is fine when I am just browsing since I don't need to move quickly at all. If they can fix that roughness, it would be a 5 star!

Got this cute Corgi Booty mousepad as a gift to myself upon securing a remote job during this Covid pandemic. The wrist support is extremely comfortable and just what I needed. This cute mousepad adds some character and personality to my desk. The mousepad stays in place and has about a 1/4 inch thick working surface with plenty of surface area to work on, even with two monitors in my field of vision.

The package shipped as promised and arrived undamaged and looks fantastic! My wife will love displaying this at her office. It's just as advertised and the feel of the corgi's little bunnies on your wrist will crack you up! Completely satisfied with my purchase. I purchased this to give as part of a Christmas gift. Definitely do not regret buying at all.

I love this product! The design is so cute and I love corgis so much. It looks just like the picture. Fast shipping and the package was great. I'm a student which means I do a lot of computer work, It has a firm but still soft ample wrist support which definitely makes it a lot easier for me to be on the computer for long stretches of time. For me it's cute and useful. Absolutely worth buying

Love my new mousepad! The quality is great! it looks exactly as in the photo. Shipping was fast. The size is big enough so that my mouse doesn't ever go off the mousepad when I move it around. The best part is that the butt cheeks are soft but firm enough so it provides a great support for my wrist but doesn't feel rough or irritating. I don't know why some people think it's not comfortable. I think it is just fine.

I absolutely love the quality and the print of the mouse pad is exactly how it looks in the photos. What you see is what you get and it is so cute!! Definitely do not regret buying at all. Came fast and well-packaged, no damages or defects. The corgi booty is squishy and so adorable I know the person receiving my gift will love it as I do. This is an especially perfect gift for corgi lovers!
Guaranteed Safe Checkout