Dewdrop Essential Oil Diffuser
Regular price $0.00 $76.99
If you order within
Arrives by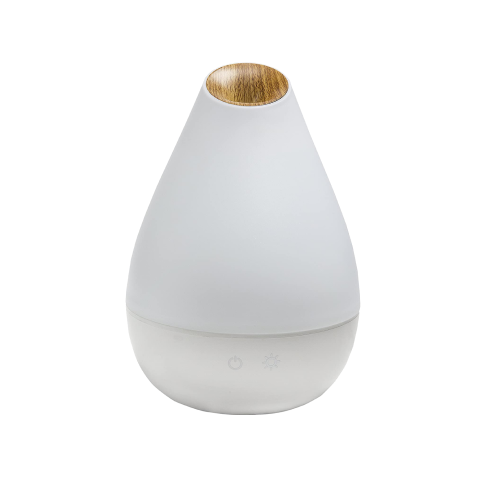 A workhorse with mega misting stamina
A humidifier and an essential oil diffuser combined, it has a tank to hold 1.3 liters of water. Additionally, it has a simple and modern shape styled after its name.
What the Dewdrop Humidifier can do
It has a great water capacity of 1.3 liters and a coverage amounting up to 1,000 sq feet! But that's not all! It has a continuous misting mode and can work for up to 10 hours!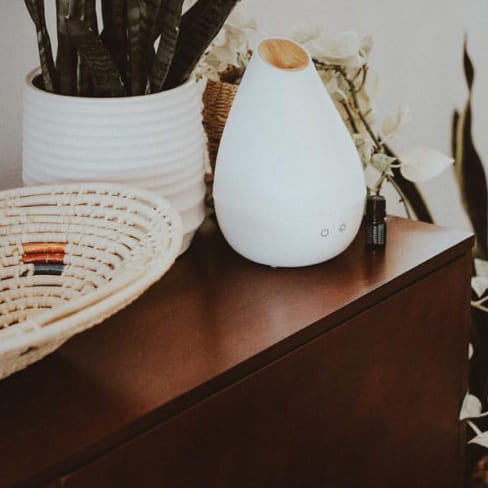 No more turning everything off yourself
This Dewdrop humidifier has a built-in automatic sensor shut-off. So, when it runs out of water, it will automatically turn off. That will definitely come in handy.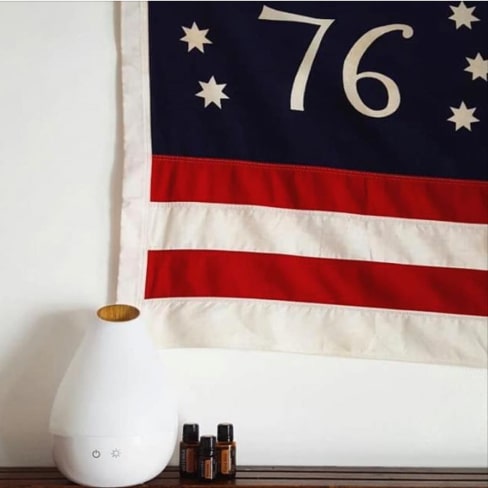 Dewdrop humidifier features
See if these features are what you've been looking for!
Elegant functional diffuser
The Serene Living Dew Drop Diffuser combines functionality and aesthetic to provide a useful, attractive diffuser that fits into most decors.
Attractive and quiet
Serene Living Dew Drop Oil Diffuser is BPA-free, has a dew drop shape, and is virtually silent. It can be used anywhere, both day and night.
Long-running and high capacity
Covering up to 1,000 sq. ft. of space, this diffuser has a 1.3L reservoir and a run time of up to 10 hours.
More handy features
Rotating LED colored lights (blue, green, red, and purple) which can be turned on/off, and one-touch on/off control.
Enjoy the difference
It works perfectly with therapeutic-grade essential oils without heating them - a process which would compromise their molecular integrity.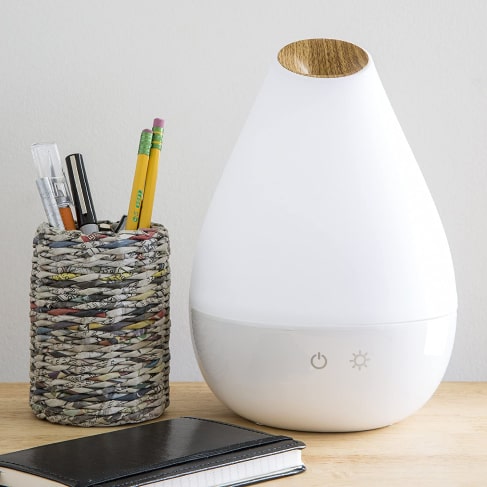 Enjoy the difference
It works perfectly with therapeutic-grade essential oils without heating them - a process which would compromise their molecular integrity.
A well built, quiet diffuser that runs for a long time. It is attractive and works well with a long range!

Very chic and beautiful diffuser. It's very easy to use and clean.

This is small and portable to keep it anywhere around the house. We love it.

It's good looking but unfortunately does not fill a medium sized room well.

Simple to use. Good quality parts. Well packed and arrived in perfect condition. VERY VERY quiet. Good aroma diffusing for a small room. I would definitely purchase it again…

The diffuser is barely producing any noise, contains enough liquid to run for a long time, and matches my furniture.

Nice diffuser, easy to use, very quiet, works great.

This is great! My husband is now confident our house doesn't smell. Great at releasing the scent

So cute. Worried it would still be too big for my already crowded night stand but it's perfect.

Beautiful and works great! Excellent product for the price. Looks expensive.

It's a nice product. I have a few different diffusers which are mostly less expensive and I can tell the difference between those and this one... its well built and puts out a good bit of aroma but not too much... the lights are neat and it does last almost all day on a fill. It is a larger size, 10" tall so be aware of that.. my only thoughts is the pricing point. I would say its a little on the expensive side but it seems to be of nice quality and should last a long time... I will see how well it does as a small humidifier during the winter in my bedroom as I like to keep it nice and warm there which does remove a lot of moisture from the air…

Not as pretty but it works. The noise level isn't as quiet as I had hoped but is a good white noise.

Beautiful, doesn't make noise. So pretty!

It works really well, is absolutely gorgeous & made of really good quality.

Great diffuser! Lasts for hours and has a great steady mist!

I love my new diffuser . It has a great ,strong ,continuous mist. I also love how large the reservoir is.

All I can say is WOW! This diffuser goes forever & makes the whole house smell great!

I love everything about this diffuser. I had tried so many before this one. Great purchase!

Easy use and great for an office

I tried different brands of oil and can barely smell anything. I purchased this because of the large tank and longer running time but unit is almost too large and although looks appealing it looks slightly awkward in my space because of size. Also causes my room to have a slight haze or fog which I don't like either

Works well, looks modern. Sits in my kitchen and is very practical! Looks great!

BUY IT! Doesn't make any noise and so easy to use. Great quality too.

Easy to use and looks great. Lasts about 10 hours at a continuous pace for me. Bought this and do not regret the purchase.

Works just as good as high end diffuser. My favorite diffuser so far.

My favorite diffuser ever. Have only used once. Might buy the smaller one for my office.

I received this product free of charge today and set it right up. Its very easy to use.We simply filled the tank and turned it on. The lights are cool and the cool mist humidifier is also good. It did not come with any oils to try therefore I can not use that feature of the humidifier. I do not own any essential oils. Its small and compact would fit on a desk and its got a nice design as well . The on/off switch is clearly marked and the lights can be turned on and off as well. I think its a good value for the price. I would recommend this product.

I was very impressed on the quality and love to look in my bedroom how it matches my farm style decor. I hope it last along time but for the cost it was worth buying.

This diffuser is great.....very easy to use and looks great in any room. Fills the whole room with your favorite scent. Will be getting another for the bedroom.

I've owned a few essential oil diffusers and this is the best. It is beautiful and works great. I have been running it daily for weeks without issue.

Works great, looks timeless, seems durable, and was significantly cheaper than similar products that look (and I assume function) exactly the same.

Not only is this diffuser absolutely beautiful, it also works great. I have it on my nightstand. Highly recommend.

Nice looking diffuser. Another thing I like about this is the exterior material which definitely beats cheap looking plastics. Works perfectly.

Smaller than expected but really like the size. Nice sleek look. Feels like quality and works as expected

It is not too small, it is quiet, it diffuses at a nice pace, and it makes my room smell great very fast! Definitely purchase!!

I am so glad I purchased this after seeing all of the wonderful reviews. It was definitely worth it, it's very quiet I almost forget that I have it on. Very aesthetically pleasing and well made. Super happy about this purchase and would highly recommend it!

I use it in the living room, and it works well covering the large area. This is so much better than buy scented candles. You don't get the oily feel that comes with burning candles and the scent is released much much more naturally. On top of that, it's very quiet, you don't hear anything when it's running. If you want your house to smell fresh, it would be a small investment that would save you so much money in the long run.

This diffuser is very pretty with the wood-grained finish on the top opening. I've got it sitting on one of my end tables. I don't use this for therapeutic oils, just oils that smell good (sandalwood, seaside, ocean, etc) to make my house smell good. I recently read an article about the carcinogenic dangers of scented plug-ins and sprays, so I'm going natural from now on. The led colors are an added bonus. Very pleased!

This is one of my favorite green air diffusers! The scent will cover a large amount of space - sometimes 2 rooms even. I'm writing my review very late (as I have already had the product for over 6 months). During these 6 months, however, I have not had a single problem. Do be aware, however, that the water goes in the top section and must be flipped over (like an automatic dog bowl) to sit on the diffuser correctly. I have never had an issue flipping the top section, but thought others might want to be aware. In addition, a perk to this diffuser is that the outlet is in the back of the diffuser - many diffusers have outlets under the base.

I received this diffuser and humidifier today. It was easy and quick to to start running. It puts out an impressive amount of moisture, which lasted for 8 hours. It would have been longer, but I didn't fill it all the way up. It's perfect for my large living room because the air is so dry in the winter. It is a very attractive design that would look good in any room. Also, I love essential oils and have several diffusers. This one is a great addition. The changing colors of the container are nice. I would definitely recommend this diffuser.

I have asthma and have found a reduction in my symptoms if I am able to go to a steam room with eucalyptus. Unfortunately that's cost prohibitive to build in my home. I was offered this ultrasonic machine to try in exchange for an honest, un-biased review. I am so very happy with this machine that I am purchasing a second one for my second story. It is aesthetically pleasing, takes up very little room, makes no noise at all, and produces the finest amount of vapor to a room. The beauty of it is you add essential oils to the water. No having to fill a different compartment only to have very little scent to the vapor. It only requires 10-12 drops to the water that is needed. I have used it daily since receiving it. I'm happy that the amount of water required lasts from morning till I go to bed. No refilling thru the day. The aroma is evident but definitely not overpowering. Best part is I've noticed a reduction in my winter asthma symptoms. UPD: still using this daily and it continues to work as well as it did straight out of the box. I use eucalyptus oil in the winter months and cucumber melon oil in the summer months. I don't get as strong a scent as I would like from it, but it does have a hint of the oil smell in the air when the diffuser is on.

Super easy to use and excellent essential oil diffuser. It came neatly packaged inside a box with the unit wrapped inside a bag, the power cable in a small box and with a user manual. The manual was easy to read and instructions where easy to follow. It has 2 touch buttons, one for turning on/off the diffuser and one for turning on or off the LED light. It makes a beep sound that is not too loud, when you press the buttons to either turn it on or off, also for turning on/off LED light. The LED light changes colors every few seconds, it would have been nice to have a function to be able to choose 1 solid color as well, I still enjoy the LED lighting feature. The LED light only works when the diffuser is on, and can not be used as a stand alone LED light without having to turn on the diffuser. I had no issues installing the diffuser and it was really easy to fill the diffuser with water in my bathroom sink. The vapor is cool and I don't have to worry of being too hot for kids or pets. The LED light is not too bright and has a soft glow to it. The diffuser is compact, can run up to 10 hours and can fill up a room up to 1000 sq ft with essential oil and makes a great addition to any household, I definitely recommend it to anyone who is looking for a LED lighting essential oil diffuser.
Guaranteed Safe Checkout