Dog Car Seat Cover
Regular price $0.00 $58.99
If you order within
Arrives by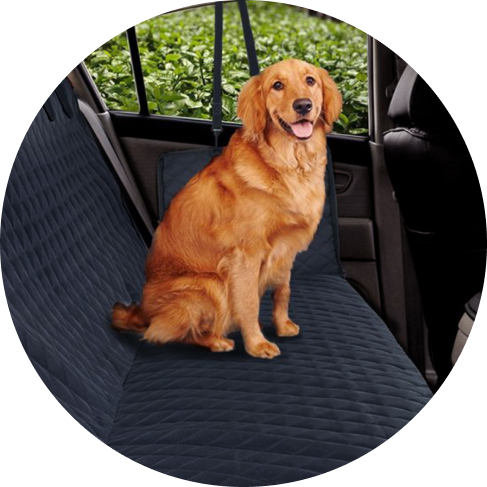 Comfort + protection comes hand in hand for your pooch
When it's family time, it's also dog time. If you have a dog (or multiple dogs), you're probably all too familiar with bringing your beloved friends along for the ride in the car. But as much fun it is to bring your dogs along for beach trips, hikes, or road trips, the cleanup absolutely sucks, especially if you don't have the right protection for your seats.
No more scratches or dog hair
Our Dog Seat Cover helps you keep your backseats covered with this snap-and-go seat cover that protects your vehicle from dog hair, scratches, and drool.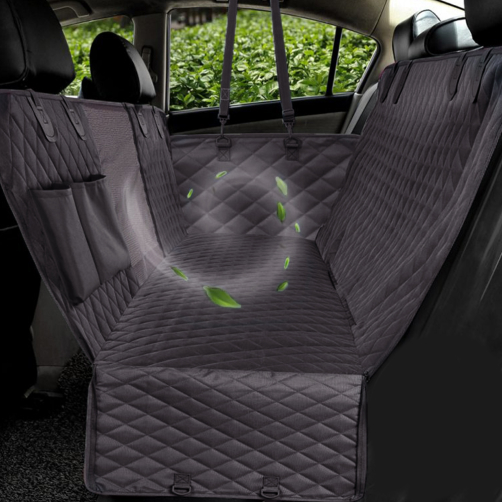 A cushy fit for a king (or queen)
Our seat cover is designed with care, for multiple layers of love. Built with a waterproof coating, 600D polyester Oxford fabric, thermoplastic polyurethane, soft cotton, and a non-slip net, your pooch can lounge in supreme comfort, whether it's hours on the road or just a couple of minutes. The hammock-like design features quilt-stitch detail and is super breathable, making it great for any type of weather.
Dog Car Seat Cover specifications
Extra storage for extra convenience
Two built-in pockets are featured on the seatback covers for your two front seats, allowing you to store your pet's essentials like a leash or snacks.
Perfect size
Our Dog Car Seat Cover is suitable for most cars. Watch the dimensions: 60.1″ high and 85.4″ wide. So that you can install it on the backseat and have no worries about your pet comfort.
Snap + anchor
No slipping or sliding here (unless your dog is dancing with joy for your trip). Hard-working seat anchors and snap buckles keep the canvas of the seat cover securely in place so it won't budge with every twist and turn of the car.
Easy to remove,clean, and store
Once the trip is over, simply unbuckle the seat cover from your car seat head hooks. You can safely vacuum the seat cover fabric, hand wash it, or even throw it into the washing machine. Once the seat cover is dry, simply fold it up and store away. All the seat anchors double as handles for easy carrying.
The quality is very good, it has zippers on both sides, so super easy to cover the back seat. Also came with a seatbelt for the pup. The picture is in a jeep grand Cherokee

First, it was wide enough for the rear bench seat which is an accomplishment that several others, some even more expensive, didn't accomplish even though they said their seat cover was a good fit for my Ford F-150. This cover is not perfect, but it's pretty good. there is nothing provided to tie around the middle headrest so you have to cinch the straps on the left and right headrests to prevent it from sagging in the middle.

Very high quality thing!!!! Heavy enough. This means that the material is dense! All seams are excellent! Hope to use it for a long time.

Order received in 2 days, this is a record! The quality is decent. I poured some water to check, but it didn't leak.

Fits the crossover back seat like a glove! Also seems to be comfy for paws, Lyonel has no complaints.

The item is of very good quality! The fabric is tight, stitched well, the fittings are normal. The dog ran and lie down on it immediately after the setup, so it's good.

I was searching for a product like that. I made an experiment in which I poured a glass of water on the cover. The back seat stays dry. So now I can bring my Rexie to the lake with me!

Very high-quality seams. Nothing sticks out, there is no smell. Very cool thing for those who have a dog shades all year round!

Hello! Surprisingly high quality. No claw marks left after two-days trip.

Quality product, super easy to install. Also cool to have pockets.

Everything is super, even my dog seems to be happy with her own seat cover!

Quality is very good. Thick material. My Doberman is happy with it! But not as much as me not having to clean the backseat after every little trip to the dog playgrounds!

Thank you so much!!!! Came in time for weekend! Excellent quality!!!

I thought the fabric is thicker. However looks like good quality... need to test with my two dogs first to be sure.

This dog cover is great! It fits exactly and the clips are really strong. Its adjustable so my dog wouldn't be able to pull it down!. The bottom is made from special rubber so the dog dont slip during driving.

Sure fast delivery. Looked a bit slippery at first, but then I noticed the rubber lining, very thoughtful.

Everything is fine, the quality is good, the pockets are in place, convenient, the right thing for dog owners.

The hammock is exactly the same as the pictures. Everything looks good and good. Already tried it out - it has anti-slip lining, so didn't fell of the backseat like my previous blanket. Very happy with the purchase. P.S. car Nissan Note, the size is okay, a bit too large, but it's more a plus than a problem.

I am happy with my purchase and definitely recommend this product! Fits backseat nicely, and my dog can't chew off the straps - exrea star for the durability.

Good quality, for small and medium dogs is ideal, for large (I have Shepherd VEO) is not enough - he keeps digging the sides and leaving paw marks on the backseat.

Awesome Thing! Bought in Ford Fusion. Made really great, even for a hyper shepherd :) Thanks!

Bought for trips with my Rottweiler in my Audi A4. The size suited perfectly for both car and dog, so all is nice.

The pros of this hammock: -Fits great in the backseat of a larger SUV so the dogs have the maximum room for travelling. -Has sides to tuck down around the seat to protect the sides from dirt and mud when dogs are loading up. Cons of this hammock: -The fabric is textured. so it not quite as easy to clean with wipes when messes happen.

Super fast delivery. There are slots of extra belts. A bit too long, and only two pockets.

Very good product. Fits the car very well. Really appreciate the adjustable straps.

Great thing. Fits great into Polo sedan, and thick enough to keep the Stafford busy chewing the zippers.

Quality is high, everything is complete, packed perfectly!!! Thank you very much!

I'm so excited about it! The fabric is dense, the mesh between the seats is way more durable, than it looks. Our dog will be happy, and the car is safe!is happy, and the car is safe.

Good for Skoda Octavia. Ordered on Friday evening, delivered over the weekend, very quick. WIsh there were more color options.

The seat cover comes packaged in clear plastic with the product information. This pet seat cover has much better quality from front to back than other brands I have used in the past. I am very pleased with it.
Guaranteed Safe Checkout