Dog Car Seatbelt
Regular price $0.00 $14.99
If you order within
Arrives by
Keep still when things get rough 'n tough
When the road gets windy and bumpy, your car can feel uncomfortable. For dogs, it's even worse, and they are more sensitive to motion and noise. Keep your pet secure and safe from sudden brakes and bumps in the car with our Adjustable Dog Seat Belt.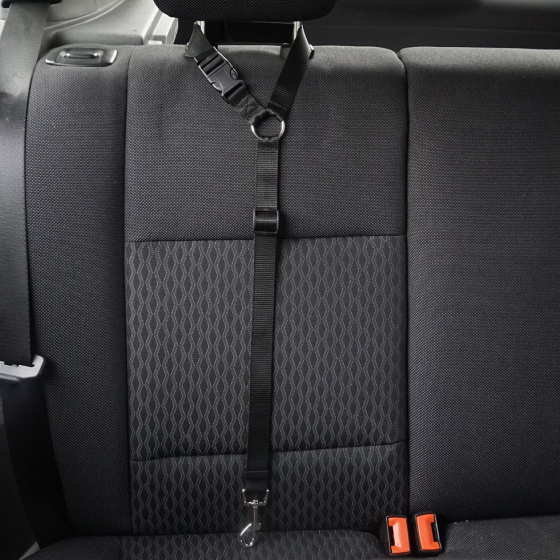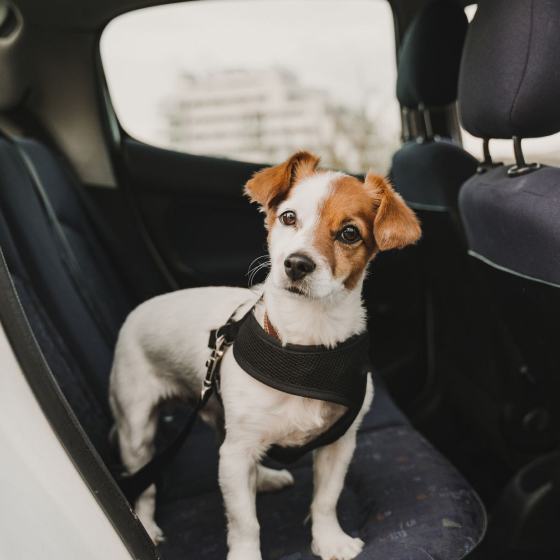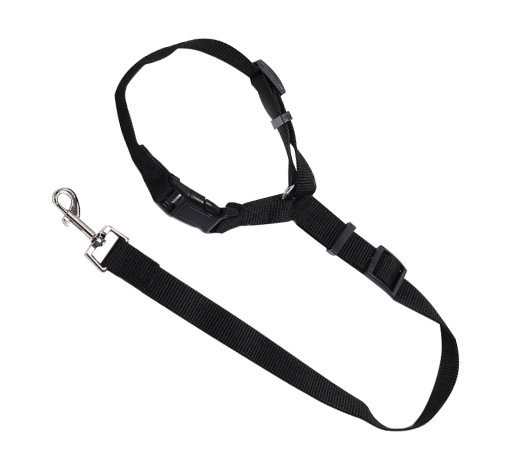 Buckle up
Like a leash, our seat belt has an adjustable leash with buckle that clips to secure snugly to any headrest in a car. When secure, the clip on the leash snaps to any dog collar you have on your pet.
Adjustable to any dog or headrest
Our Adjustable Dog Seat Belt is adjustable from 6.7 - 9.8 inches for the head loop, and the length of the clip-on leash is 15.7 - 27.6 inches. This scalable size makes the leash perfect for pets of any size or breed.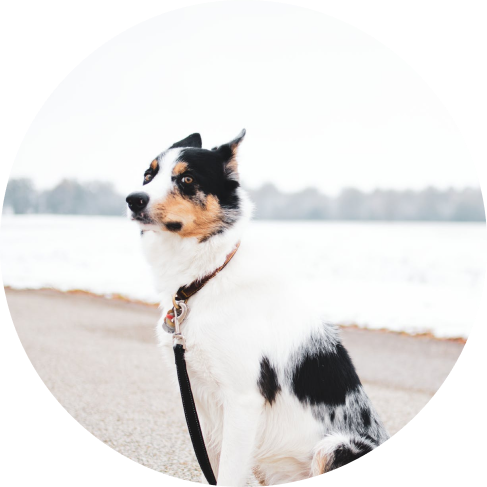 I LOVE this seat belt. It's very sturdy, gives my 10 lb. Italian Greyhound some roaming room, but keeps her secure on the seat. She is very comfortable with it and is able to stand, sit, look out the window, or nap. It's a good feeling to know your dog is safely riding with you.

My dog loves to look out windows while I drive in town. I thought he was too small to get out, but I was wrong! When we passed our house one day, he stepped up on door arm and jumped out! Luckily I had just made a left turn and was not going very fast. My son't aunt suggested a pet seat belt and my attention was drawn to this one. I love it! It is just long enough so Bo can look out windows, but he can't get up enough to jump. Great Product.

Ever had one of those dogs that jumps out of the window on the freeway? Or sent one of your puppies flying through the windshield because you may or may not have a had a little too much to drink and went head on into that guard rail? Or maybe you have a young child or an older relative that just will not stay in the back. well, this solves all of your problems. Simply fasten the clasp to their collar or harness, and it holds them to the anchor point (usually the headrest of the back seat). We love it.

I got this for my cat in the car. The medal clasp is a little big for him but it does the job and he doesnt seem to mind. Good quality and easy to adjust!

For the longest time, I thought I didn't need one of these. But after a close call with a near miss on a traffic accident, and my lil pup stayed securely in his seat, and uninjured after slamming on the brakes as swerving to avoid a pileup..... I would will be buying one for all of my friends with dogs.

Will keep dog from going forward but not side to side. My medium size dog turned around once and the strap went around her neck, choking her. I had to immediately pull over to unhook the strap & set her free.

This seat belt prevents Fletcher, my dog, from falling off the seat when I make quick sudden stop. Fletcher wears a harness that is attached to the seatbelt so his neck is not harmed if I suddenly stop. I placed the seat belt strapped/over the middle seat head rest with just enough slack so Fletcher can sit in the middle or either side of the backseat. I think he feels more secure as well when he is wearing his seatbelt. This is a great product!

My dog weighs approx. 110 pounds and this has done a great job keeping him seated during car rides. he does have enough to lay down if desired. I would recommend this product. I tried the ones where they clip into the seatbelt buckle, but my dog figured out if he steps on it, it releases the seat belt. this fixed that problem!

I have owned other tethers but I like this one because it leaves the seatbelt notch free for anchoring Gracie's car seat. Her safety is just as important as my own. This tether seems very secure and I like being able to adjust the length so she can turn around in her seat. I have only used it a short time, but so far it seems to be very good.

Honestly, you could probably come up with something similar on your own, but for the price, this was convenient. Kept the dog off of my lap while I was driving, which was the main thing. Wish it could go just a little shorter. Attach to harness so if the dog does move off the seat he won't hang himself. Easy to use.

Came as expected looks weak but its strong it's a perfect size for both big and small dogs but not strong enough for walking a dog best used for what is seen in the images its kept my curious puppy safe in the car she love to jump out at other moving cars and nearly died one day so I got this and it's doing its job wonderfully. She sits and tries to jump out but cant this item was well worth the money. Loved the fast shipping.

I was a little skeptical but this car leash lets me keep my dog in the passengers seat beside me so if there are any bumps in the road I can keep my hand right on her. Shes not a great car rider but now I feel I can take her anywhere safely. She has room to sit or even lay down Okay! The seat comfortably. Really good but! It is sturdy and clips right onto the headrest; very safe! Thank you. So simple yet so effective!

It's simple. my dog does not like car rides. my son used to go with me to handle the dog. he has his own life now . i knew i couldnt hande him on my own . so when i saw this i didn't have to think about it. You will need to use a pet a harness because there is a very real danger of only using a collar. we have been out twice now. he likes it . i can drive safely. two very very happy travelers.

Go for it! Great price and keeps your pups in place. Needs a better range of adjustment because I use it for a small dog and it still gives her more range than I want her to have.

Wasn't sure this would work for my dog but it was perfect. It keeps her from trying to crawl into my lap while I'm driving. It didn't seem to bother her in the least. It's easily adjustable. Needs to be used with a harness, not a collar. Great value for the price. Will probably get a few more gor my other dogs.

The seat belt works great. I have two 100 pound dogs and when I put the harness on one I did not stretch it out, just left it short. DO not do that if you have a large dog. The next time I put my other dog I stretch it out almost to full length and it worked great. My guy sat on the back seat then laid down and the length was perfect for him. I would definitely recommend this; it secures my dog so if I have to stop fast he's safe. Be sure to use a vest with a ring for the harness.

I'm still working on it with my dog so far it could help be helpful I just don't know yet it takes time if anybody knows dogs it's hard to keep Jack Russells still for very long

I like it much better than those harnesses that connect to the passenger's seatbelt. The dog can slide to the side with those too easily. This one is connected to the headrest and holds the dog better in place. I feel that she is safe in any collision that the seat itself survives.

Last night a driver fell asleep at the wheel, she came four lanes over into opposite oncoming traffic. Well, i was in the oncoming traffic, she almost hit me head on, i swerved to get out the way. My dog was in his car seat with this product attached to his leash. I thank God I strapped him in because he would have went flying through the windshield. I literally was only going up the street to get some ice cream. This product helped saved my dogs life!

This item does not fit on all backseat headrests. Works great on headrests that raise and lower but some seats have fixed headrests that are wide. Extending this pet seat belt to the maximum width will not necessarily fit on some wide, fixed headrests.

It does what it is intended to do. The straps feel thick and durable and the metal doesn't feel cheap. I would recommend this to anyone looking for this type of particular pet safety belt.

This headrest restraint dog seat belt works just as it was described. The length is adjustable so that you can choose how much moving around room to give your dog. It can be adjusted to allow the dog to lie down, etc. She weighs 16 lb and the clips and straps seem to be strong enough.

Getting another dog and needed another car seat belt. I really liked the first one I purchased, so I didn't look too hard at other brands, That says a lot about how pleased I am with the first purchase since I usually do thorough comparisons. just bought the same brand as the first one. The first car seat belt is still in use with the first dog and shows no wear or tear after nine months. I haven't had an occasion to use it as a leash, but it would be simple enough to unbuckle it and use it as such in a pinch. Highly recommend.

This study restraint does just what we wanted. Our only complaint is that it cannot be shortened enough to keep our dogs in their car seats. They have enough leash length to get halfway out, so I have to stop the car and reseat them. Otherwise, it's great.

This product is SUPER easy to install and makes keeping the dog in the back seat a breeze. He can move back and forth between the rear windows but can't get into the front seat. I am also much less worried about him jumping/falling out of the windows. We have another style of car harness (that hooks into the seat belt buckle) but he is constantly stepping on it and unbuckling himself. This style is also nicer because it hooks on to the harness from the back and doesn't drag on the window and side of the door. I also find that he doesn't get tangled in it nearly as often. I am much happier with this style and will be purchasing more of them for my other vehicles.

It is better for our dog and vehicle than seat belts that fasten into a seat belt slot. Those release if the button is pushed - like when a dog steps on it. This attachment to the headrest does not have that problem. Easy to attached/remove from the headrest if necessary but holds a dog in the backseat properly. No jumping out a window or open door; no injury from being thrown into the front seat if there's a sudden stop; etc. Clips onto a loop on the chest side of a vest-type collar. I wouldn't want to attach any restraint on a "choke" collar.

I have two chihuahuas that I need to keep under control when I'm driving. One wants to be in my lap and the other wants to be all over the car, including under my feet. I tried the box type car seat for them, but they didn't like it and wanted to jump out. It was also hard to put together and install. When I found the headrest restraint it works perfectly for them. They are restrained but there is enough room for them to lay down in the seat or stand up and look out the window. They are under control so I can safely drive. I bought a second one so I can take them both at the same time. So easy to install, just pop over the headrest. Hook their little harnesses up and we are ready to roll.

It didn't fit around the headrest in my back seat so limited to the adjustable head rest in the front. But it is great quality and came very quickly.

Wish I had found these years ago. My dogs already wear harnesses for their walks so it's easy to clip onto. It makes me feel comfortable rolling down the window for them (I always had a fear they might jump out), and the extra added peace of mind that they are secured in case of accident is great. Older styles of dog seatbelts I'd looked into were way too complicated. These are so easy to slip over the headrests, clip on, and go! My only criticism is that they should be able to be adjusted even shorter.

Totally worth it!. Fasten to back ring on dog harness which gives your pet security and room to move! So glad I had it for a 6 hour car ride!

My dog is so small any seatbelts restraints in the pet stores weigh more than she does. I love this one, I have a super soft harness that I attach the restraint to. It is adjustable so my dog can sit or lay down. If I have a passenger I just slide it to the back side of the headrest, there is no need to remove it. For added safety I slip the seatbelt through it.

I'm glad we got this style restraint which attaches to the top of the seat around the headrest posts rather than the type which latches into a seat belt buckle. Having the restraint come from above the dog is much neater and avoids tangling up in the dog's legs. Great price and quality. Convenient to leave in the car so we'll have to get another one for another vehicle.

I love this. I just adopted a 3 year old mix breed. He wants to be on my lap at all times. This isn't safe when I drive so we now have a system. He gets in the backseat. I put his harness on and hook it to his "seat belt". This goes securely around the headrest and keeps him in the backseat. It also keeps him safe from sudden stops. Last week while driving an old 2 lane highway a truck in oncoming traffic decided he was going to pass. The problem was that I was in my lane and he was heading straight for me. I had no where to go. I slammed on my brakes which allowed him the extra second to get back on his side of the road. Since Murphy had his harness and belt on he was safe and secure in his seat. Remember, DO NOT CONNECT THIS TO YOUR DOG'S COLLAR. ALWAYS USE SOME SORT OF HARNESS!!!

Me and my dog take the 5 hour drive up to our cabin every few weeks. I've always worried about him trying to jump out of the car when I stop for gas or when I take them out of the car for a rest stop along the way. He's always been good dog, staying in the back seat, but I really wanted that extra insurance that they'd stay. One of my recent trips, I had to jam on the brakes and my little guy went flying around in the back and that was the final straw - I couldn't have something happen to him. I looked at both types of restraints - the over the headrest and the clip into the seatbelt clip and settled on these because I can also use them as a leash when we make our "pit stop". I'm very happy with how they work, though I'm still finding the proper adjustment for him so that they can lie down but not get them under their legs. I think it's more a matter of the dog getting settled in his beds - which is another reason these restraints work well - they don't require me to move the bed around to clip them into the seatbelt clip.
Guaranteed Safe Checkout