Drill Scrubber Brush Kit
Regular price $0.00 $23.99
If you order within
Arrives by
Tired of scrubbing back and forth with your poor 'ol hands? Give them a rest -- and hand the work to the brilliance of faster-faced gadgets. Our Drill Scrubber Brush Kit provides you with a boost in cleaning excellence for your electric drill.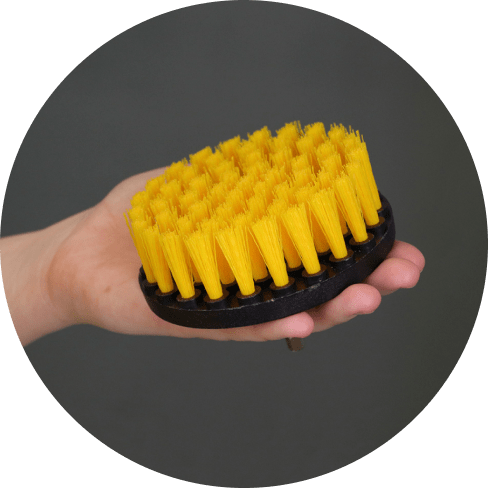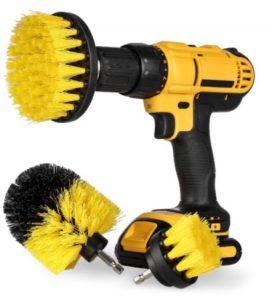 Everything you need to get a clean
Three different-sized brush heads for thorough cleaning in any space
.
Non-scratch nylon bristles won't scratch delicate surfaces, making them ideal for tubs, sinks, baseboards, fiberglass shower enclosures, shower door tracks, and porcelain
.
Medium-stiff nylon on all brush heads attach effortlessly to any cordless drill
.
Power up for cleanup
Check for driller or adapter compatibility with our brush head statistics.
Input
100 ~ 240V AC
50 / 60Hz
Bought these to clean out the vehicles in our household. I was not expecting them to work as well as they did. These made very easy work of some pretty nasty carpet and floormats. I used Chemical Guys' citrus upholstery shampoo with these and it honestly made a humongous difference. Just knowing that I don't have to spend hours scrubbing by hand is a huge plus for me. Hook these into a drill and you are going to be done lightyears faster! I used the lower speed setting on my Ryobi as the faster speed was working a little too good-it would sling stuff everywhere. Slowed it down and way more controllable and the results were way better than expected. The bristles held up just fine. No stray bristles anywhere and they were just stiff enough to dig out the dirt and grime while actually helping to reset the nap on my girlfriends' floormats. They look brand new! The extension really comes in handy when doing under the seats and in the corners of the floorboard. Real handy! It normally would take me about 4 hours to do my Hyundai by hand. This kit helped me knock it out in just over an hour. And it looks so much better. Don't let the price fool you, please. I know there are more expensive and bigger-named brush sets out there. This set works and it works extremely well. And this is from a non-professional who is simply a conscientious owner who likes a clean interior.

Great for scrubbing tubs, shower stalls, and tiled walls and floors. Love the different size brushes. Wear goggles, old clothes, use a cheap shampoo on the brushes with a bucket of hot water to wet down the surface you're cleaning, use a "cordless" drill, so you don't get shocked, and scrub away!

These little wonders make cleaning so much easier and quicker. You won't be disappointed. Just connect it to your drill and off you go scrubbing everything and anything that needs it or doesn't. The problem for me - a drill is heavy to hold already, so while cleaning I get tired fast.

These are the best thing For cleaning soap scum off of my bathtub! They worked great with my small DeWalt drill but it used up my batteries very quickly.

Scrubbing a bath tub down with your hands sucks, using a power drill with these attachments makes it a breeze and cuts down on time and energy. Use it on any cordless drill because a corded drill will just get in the way. A definite must if someone is looking for an easy way to clean bathtubs or bathrooms.

Love it! It can be a wild ride so strap yourself in for a deep cleaning. Don't forget safety goggles! You need them! I found that out the hard way, but luckily I was only cleaning with diluted vinegar. I got this to get my husband excited about cleaning the bathroom, but he wasn't fooled. At least it makes cleaning easier for me!

I wish I would have bought these years ago! My husband does concrete work. It's nit like dirt where it just washes away with the water. It creates a sludgy grime that sticks to the ceramic and doesn't rinse. These tools are perfect for taking care of that! I get so exhausted cleaning the shower all the time. It takes way more than just elbow grease! These tools do the work for me. My shower is white again!

This is the greatest thing I've ever bought in my life. One piece of advice is to keep it far away from water because if it gets on your drill tip, it can rust.

Love this concept. I have used it for the stovetop, worked great, I have arthritis and sometimes scrubbing excessively will cause fluid to build up in my elbows. I used the rounded top one to get into the little spot on bathtub that is meant for a washcloth to hand and it's hard to scrub that spot, worked beautifully. I also used along baseboards in bathroom on the floor and I'm very happy.

Cut my bathroom scrub time by half and works way better then just hand power! I've got a bad back so scrubbing for long periods is a no go. Let the cleaner soak or not the drill has enough power to scrub anything out for you.

I've only used the rounded brush to clean my wheels on my truck and I've totally gotten my moneys worth. I had a stuck pad on the rear of my truck that ate the whole rotor through to the vents. So I had more than just brake dust all over my wheel (molten metal flakes). I've hat the truck detailed a few times since the brake issue was fixed and everyone has always told me that my wheel was ruined. I sprayed my wheels with some purple power and chocked the brush up in my Milwaukee and went to town. Wheels look amazing. I found that just letting the brush do the work did better than putting a lot of pressure on it. If all the brushes fell apart now I will still be happy with the purchase.

This was a great buy. The brushes are very durable and wash out easily. I like the sizes and they can be used to clean so many things. One thing to note is that the bristles are fairly stiff and they would probably damage a surface if it's not durable enough. It's nice they came with quick release extension to attach to your drill, making it much easier to switch between each brush. I will definitely be buying another set down the road if these wear out.

Simply put, this shower is 25 years old and I used to spend 3-4 hours cleaning it by hand every month or two. With this drill brush it took 1.5 hours (literally cut my time in half, if not better) and cleaned it better than I ever could just by hand. Also, I used to use bleach based cleaners and almost pass out for the hours spent in there. Now? It cleans so well I use all natural cleaners. This time around I used simple green. Nothing else. Worked amazingly. Don't take my word for it, let the photo of my 25 year old bath tub do the talking for you.

They work for their designed purpose but you have to put some pressure on it for deep cleaning; repetition didn't work with an uneven (grain) bathtub floor that was caked in old dirt. I eventually had to use a course scrubber.

How have I lived without this? I used the heads to clean my shower and my cabinet doors in my kitchen. I am using different heads for different areas of the house. My kitchen cabinets are painted and I was scared that the power of the drill with the coarse brush would take off the paint but it only happened once. It was my fault. I pushed way too hard and the drill went on its side and the base of the brush went on the cabinet. Oops. I love these. You need to buy.

Welllll where has this been my entire life? I have tried every product and even razor blades on my soap scum.... THIS finally did it. Love the xl long attachment as well. Ordering more for other options! Also, the flat large yellow on works best on soap scum. if you just hold it down and run it over it. The others were good for small corners in shower. I just rd a few squirts of soap scum remover, and had a washcloth on hand to wipe it and assess my progress. There is NO other product that makes soap scum go away. Now to buy a lighter drill to make it all even easier. Def recommend this product.

Wow I'm very pleased with the capabilities of this drill brush. I had my 10year old kitchen aid foster over . It had baked on caked on grease and you name it built up in it on it all over. I used bar keepers friend and with this drill brush and it blasted through the grease. I did have to move much the only thing I had to do was move the drill around other then that the drill brush did all the work. I would recommend this to everyone. The drill can get heavy after several minutes of scrubbing though.

There was a dark stain in the throat of my toilet that was seeming impossible to clean. In the 9 years I've lived here I could never get it clean because the opening is too small to get a hand into or enough leverage with my fingers. The small end bristle brush of this set was perfect. I cleaned the toilet flushed a couple times to rinse, and then turned off the water and flushed once more to drain the bowl. I put cleanser down the hole, and then went after it with the brush, there are still two tiny spots that just can't be reached, but finally it looks almost as good as new. To disinfect the brush, I cut the top off a small water bottle and filled it 1/2 way with bleach, put the brush in and let it sit for a few minutes, then rinsed with water. I used the bleach to then disinfect the toilet bowl.

Ordered this to clean the grout in a ceramic tile shower. Received these tools and they are exactly as they are described in the details and specs. Simply install the brushes into the chuck of a cordless drill and start cleaning. Makes quick work of soap scum and even the pebbles surface of the bottom fiberglass tray in the bottom of the shower. Shower looks as good as new after only a few minutes of work and did not have to have to break a sweat like before. After the job was complete the brushes looks as good as new and are ready for the next cleaning job. May try it out next on the wheels of our cars.

Y'all I have been cleaning my bathroom and grout with my hands and toothbrushes!!! And sadly the grout in my house was not taken care of prior to us and is filthy. I have not been able to get the stuff clean, till now! Tried this out on one of the showers grout last night and WOW! It's the cleanest this shower has ever been, I just sprayed my cleaner let it sit as it instructs and then went over with the dill brushes. Super simple and super quick. I did tire out quickly as I have zero upper body strength and this does require you to hold and operate a drill. Overall this was the best purchase I have made in a long time!

My mom has always been lazy and hates cleaning. A few years ago she got hurt at work and now has knee, hip, and back problems. I got a pack of the yellow bristles and has been using them constantly. One of the biggest problem areas was the bathroom floor. She uses hairspray every day and dirt sticks to what falls on the floor. That has built up over years. With these brushes, it easily came off of the linoleum with no damage to the floor. Yellow brushes were perfect for cleaning and not causing damage to linoleum and plastic bathtub. I highly recommend this for people who are lazy, hate cleaning, or have any kind of disability that makes cleaning painful or difficult.

I was skeptical that this product would work but for the price thought it was worth the risk. Shower cleaning is my least favorite task so it's a job that tends to get put off. My shower had a very heavy buildup of soap scum and the grout lines were a particular mess. I sprayed down one wall at a time with cleaner than went to work with the big brush. It made quick work of the large areas. I used the rounded brush in the corners. These brushed did a quick job of cleaning this mess and with a fraction of the effort normally needed with a manual brush. Its been years since my shower looked this clean. And with a quick rinse these brushes looked like new. I would highly recommend this product.

Oh man why have I not purchased or seen this sooner! I am a very neat person and like to try my best to keep all my household areas as clean as possible. We have always had a couple of spots in the basement and garage that would not come clean with anything! Boy these did the trick like nothing to it. Mixed up some comet paste and went at those stains like a pro!! I can't say thank you enough for a product being made like this. I especially love the extension part so I was able to get behind the yucky toilet areas!! Now I am pretty sure about everyone in my family has asked me where I got it and how did I find such a great deal!

my girlfriend and i changed house last month, but the problem is that we have to take time to clean up our new house. We spent a lot of time at first,but it was slow and ineffective, and a lot of place is not easy to clean up until i bought this drill brush. It is amazing. i quickly clean the bathroom tubs and tiles, and the garden stairs. i loved it. My girlfriend is very happy to live in a new and comfortable house. thank you, Next time, I will buy your product again.

Nice attachments for the drill and they do the work for you. Just make sure the drill is light enough for overhead cleaning or your arm gets tired. That's ok because if not for the drill it takes a lot longer to clean those areas and kept putting it off. Put it on or use a slower speed and you don't get splattered with cleaner. The extension piece makes it easier as you don't have to stretch as much as before. Those few extra inches really make a difference. Definitely recommend these.

I bought these brushes when I was working on cleaning my parent's shower - which was DISGUSTING. The entire thing was coated in gray ugly soap scum and hard water stains. I make some progress with green scrubbies & magic erasers, but it was slllllloooow going. So I purchased these so I could get the power from a drill with my scrubbing! voila! you can see in my picture... the entire shower was the color on the left... but on the right is where the drill brush did it's job!

This product works great! It cleaned my super old tub that has lost most of its finish. This was even cleaned just using Mr. Clean. Not even specialized soap scum/mildew cleaner. Although I'd like to have protective goggles included - not everyone has them at home.

I have used these to clean my rims, shower, window crevices, and countless other annoying spots. Gets behind the sideview mirrors to remove the green stuff that the dampness allows to grow there as well as trim areas with ease. The bristles are sturdy and get deep into openings but are gentle enough not to scratch anything. It even removes tree sap! I even use buffer pads under the larger brush to buff wax when I don't want to take out my bigger machine which is way too heavy and corded. I've used this on the greenhouse and even to get funk off my dogs heavy coat when she gets into something. I can probably list a few dozen other things but you get the idea, you can do anything with this. And at this price it made my life easier. Worth every single cent. Recommended fully, built well, and loved.

I just used this to clean some of the tile in my kitchen, using just some vinegar dawn and baking soda. I'd normally use bleach and a toothbrush to get the same result, but with much more effort and sweat! This product is very easy to use! And makes cleaning more fun. It takes just a few seconds per tile. I'm a petite woman. The only difficult part is pressing on the button of the drill for so long, and you will need to guide the drill with both hands. See the pic for the before and after. One pic shows left side after cleaning with this product and right side before. Can't wait to finish the rest of the floor!

My shower tiles and grout have never been so clean. Just attach the necessary brush and go to town. These things power through built up soap scum and leave my shower sparkly clean. My stand-in shower is pretty big and is 100% tile, it used to take FOREVER with a sponge and elbow grease and I'd still be left with built up soap scum. After getting these, I spend about 1/2 the time and have truly shiny tile when I finish.

This product made cleaning my grout effortless. I sprayed Simply Green on the grout line, let it sit for maybe 2 mins and then used the brush on it. Two quick swipes up the line and it was done. Previously, I was on my knees for quite some time and it was a lot of elbow grease with a brush! I can't wait to try this on the bathroom next. It attached easily to our drill (I may be the least mechanical female and I attached it) and a quick rinse and it was clean.

I have found many uses for this power scrubber. I have used this tool to help me clean my glass top stove. I use the wide brush and add some glass top cleaner/polish to the stove and run the attachment at a slow speed so to not spray the cleaner/polish all over the place. It has shortened my cleaning time from 30 minutes to about 10 minutes and I am not using my arm strength to clean the glass top stove. Another use is for my cast iron pans. Whenever I get some stuck on food that is tough to remove I again break out the scrubber which I have used both the small flat and large flat brush on my cast iron pans. They make quick work of cleaning off the debris and do not damage the pan's seasoning. I have also used the rounded brush to clean the toilets as it makes the work quick. I haven't yet found a cleaning chore involving scrubbing that these haven't been able to help you complete. Also when cleaning do not use the toilet brush for something you will be touching or eating no matter how clean you get it. Just common sense if you find a use for it keep it for that use and don't cross contaminate.

I'm embarrassed to say that my shower even looked that horrible but it has been a disgusting mess since I moved in-the previous occupant didn't keep up with cleaning it and we have very hard water. I've tried EVERYTHING to get this thing clean. I've scrubbed with a heavy duty scrub daddy, a whole shelf of cleaning products, "homemade" cleaners-I MEAN EVERYTHING. I have spent HOURS trying to scrub this thing clean and all I've ended up with is disappointment (I have shed actual tears over this shower y'all). But after five minutes of letting some Comet spray sit on my shower and then using these brushes I am amazed. It saved me so much time and effort. I did enlist the help of my husband and had to change my drill battery- we desperately need a different drill- but seriously after about 30 minutes and minimal effort my shower looks stunning. I haven't used these multiple times so I can't speak to how they hold up but the first use was great. I purchased the blue set and am so pleased with how they worked. For heavily textured areas like the shower floor I highly recommend switching the direction on your drill just to make sure you get all of the nooks and crannies. If you've been sitting with these in your cart for a while like I was please bite the bullet and try them out.
Guaranteed Safe Checkout