Duck Essential Oil Diffuser
Regular price $0.00 $62.99
If you order within
Arrives by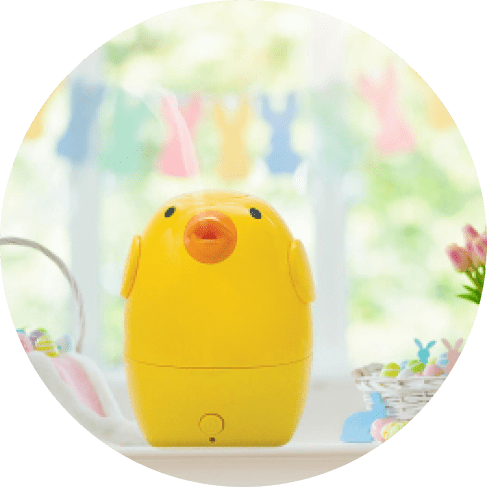 Loved by kids and adults alike
These delightful, whimsical diffusers will fill the room with aromatherapy vibes. They will diffuse healthy essential oil mists and humidify the air when needed.
Lulu the Duck humidifier specifications
What you should know about this product
Yellow cover and base
The humidifier is designed in the form of a duck which is very cute, and both children and adults will be fond of.
Impressive run time
This humidifier has a capacity of 200 ml and an impressive work time of up to 8 hours. That's quite powerful for such a little duckling!
Extended run time
It is always so enjoyable to breathe in fresh and clean air! This diffuser has 2 water bottle adapters included for an extended run time.
Diffuses in a space up to 1,000 square feet
The area that the diffuser covers when it diffuses is very impressive as in fact, it diffuses in a space up to 1,000 square feet.
How does it work?
It is very easy to use. All you have to do is simply add your favourite essential oil to the absorbent pad and enjoy the smell. Make it work continuously by just switching the on/off switch.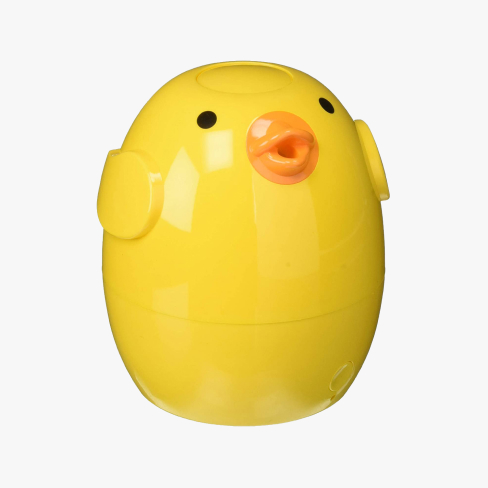 The functionality of the oil diffuser
Lulu the Duck oil diffuser measures 20 x 10 x 9 in, weighs 11 lbs, and can contain 8 units per case.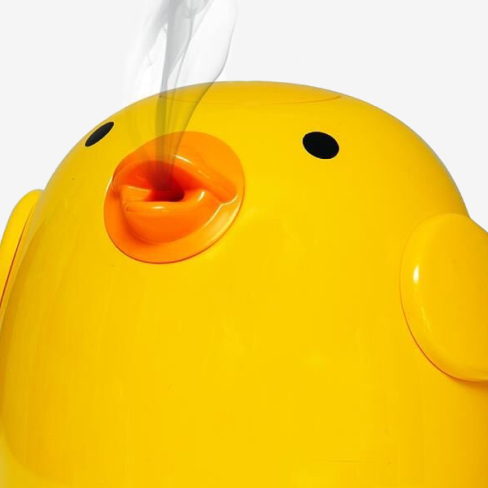 Enjoy the new fresh fragrance
Provide your home with a great new smell that covers an impressive distance. Replace those synthetic home fragrance plug-ins with the Lulu the Duck diffuser for all-natural aromatherapy. Simply add your favorite essential oil to the absorbent pad and let the gentle heat fragrance your home! What's also great about it is that it's effortless to diffuse the essential oils and replace them with new ones.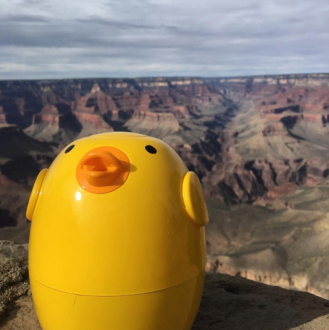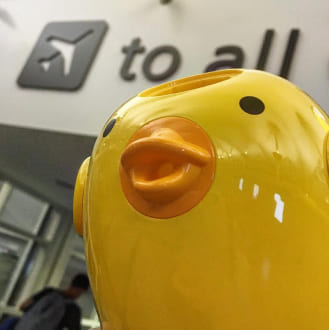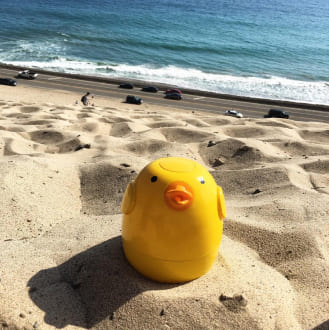 Grandsons LOVE this.. use it nightly.. nice mist!!

Great little humidifier. So quiet in kids room. Used constantly.

Super cute! Works great to diffuse lavender for my son at night! Would give 5 stars but the lid can be hard to get on just right

I love my diffuser! And perfect for the kids room!

This is a cute humidifier/diffuser but very touchy. It sometimes doesn't want to work. But it is cute and the diffusing time lasts a long time.

So cute. Runs all night with added water bottle. Getting used to it now but so far loving it.

Love this diffuser for the kiddos room! So easy to use and clean and being able to add the water bottle to the top is genius! I might even get one for my room :)

I love this little diffuser! It runs about 6 hrs in my house which is pretty dry since I live in Co. I was surprised how powerful this little guy is! I now need to get another one for my other son who likes it as well.

This is a super cute diffuser and humidifier combo and it has worked great for my son's room. The only thing I wish is that it had an auto shutoff and I didn't have to remember to come back and turn it off again.

I got this diffuser for my son. He loves it. I love that it can be used both as a diffuser and a humidifier. I also like that it diffuses all night long. It doesn't stop after just a few hours. I highly recommend this diffuser.

Absolutely love this chick. It is adorable. It's super easy to use. It works great! It has the option of adding a water bottle to extend the run time. I started it at 5:00 PM and it's still going strong at 6:30 AM. Perfect.

Little LuLu is the perfect diffuser for my kid's room. They beg me to mist essential oils each night before bed. My boy's favorite oil blend in LuLu is grapefruit and lavender. The mist output on this diffuser is just right for a good-sized room.

This little thing is so adorable. Fits in perfectly in my 2 year olds room and she loves little chicks. As other have said sometimes i have to click the button a couple of times to get it to turn on but so far so good. I am able to see the cool mist coming out of the beak. Great product.

So cute, runs a long time, great for adding just at a little lavender to help my daughter sleep and FYI the power does shut down. The fan stays on for a few moments to finish blowing out the mist then the red light comes on to remind you to physically reset the power switch before using it again.

Who ever made this diffuser And humidifier combo was a genius!..we absolutely love it!...it is so easy to clean..so much better than my old bulky big humidifiers that got moldy in the inside. Love that you can diffuse essential oils in it too!

The duck is so cute! But me main concern was that I wanted a diffuser that sprayed out and not up since it has to sit on a bookshelf, and this diffuser does just that! It runs for longer than I expected it to, given the small size of the tank, but I do love that it automatically shuts off when the tank is empty so I don't have to worry about it.

My 5 year old absolutely loves his Lulu!! We have peppermint and lavender diffusing in it right now and he is sleeping soundly. Worked great for his large bedroom As well as the large living room In our house. He couldn't wait to turn it on so it diffused in the living room tonight!! Works great and very nice design!!

LOVE this diffuser! As an aromatherapist, my kiddo sees me use essential oils all around the house and is always asking for his very own diffuser! He was over the moon when this came in and has even named her Quack! lol I have a house full of diffusers and this diffuser, just like their others, is top tier at a fantastic price. There are so many diffusers on the market, one does not need to spend $100+ for a great diffuser!

I had to share this-- BEST diffusers EVER! I recommend them to EVERYONE who uses essential oils. Cute and oddly doesn't look too bad in our room or in the kitchen where I had it today LOL. The water bottle feature on top is AMAZING! I tested it out and put a full water bottle around 8pm when my son went to bed.... it ran through the night with his lavender and it was STILL running at 6pm the following evening when I stopped it to clean and change oils. I love them and would buy 10 more!!!
Guaranteed Safe Checkout