Electric Candle Lighter
Regular price $0.00 $44.99
If you order within
Arrives by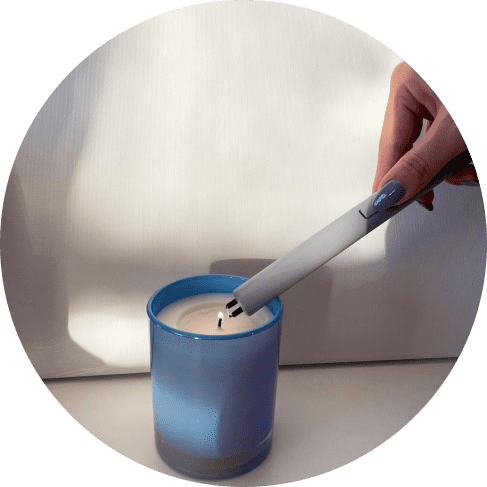 Super quick and efficient light-up
We've all been in those situations when we need to light up a candle, but unfortunately don't have any matches or even a lighter. Forget all about them and get yourself a rechargeable electric candle lighter! A far more convenient and efficient way to light up your candles. This chic electric arc candle lighter is wind-proof, and of the perfect length to light candles that are hard to reach!
Product specifications
About the electric lighter
Safety on-off switch
It is incredibly easy to use. Whenever you need to light a candle up, simply slide the switch and enjoy your candle scent.
USB rechargeable
The charge lasts for over 100 lights! Whenever it runs out, just plug in the USB and charge it up (USB charging cable is included). Forget all about having to buy lighters or matches.
Sleek and stylish design
The candle lighter design is especially pleasing as there is nothing extra. Our light gray lighter is made of plastic and 9.2" long.  It's simple and to the point.
Battery indicator lights
You can easily check the battery condition just by looking at the indicators that are placed on the bottom of the lighter.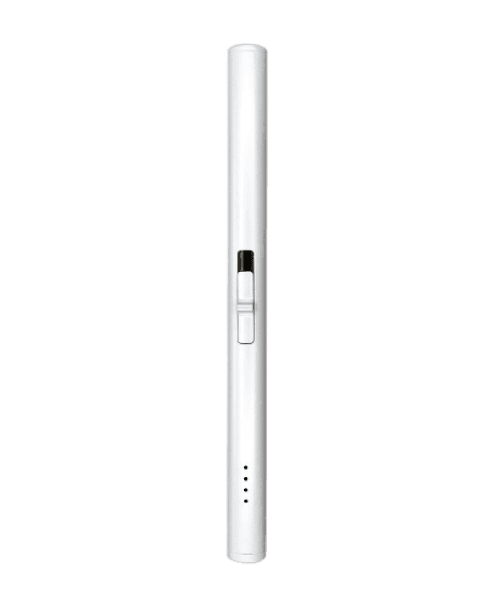 Easy way to set a romantic mood
Want to set up a romantic evening with your partner? The electric candle lighter can help you set everything up in a more efficient way.
Power went out?
No need to worry! Since it's fully electric and doesn't have any wires, you don't need to plug it in for it to work. Just make sure to keep it charged.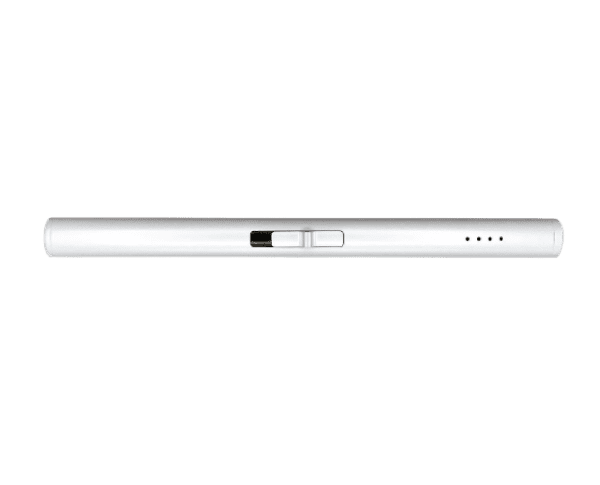 Stylish and effective
This incredibly effective lighter is the best solution to light up candles. Super quick and efficient light-up, fully rechargeable and completely wind-proof. So, basically, not only is this a great home accessory, but also a wonderful partner for your camping trips.
About Nomatiq
Nomatiq is a Brooklyn based design group that specializes in creating and curating meaningfully crafted cannabis-related products and accessories. Nomatiq's dual emphasis on beauty and functionality makes their products ideal for those looking to elevate their lifestyle through quality products. They have also begun a journey of transforming their business model in order to become a more sustainable company.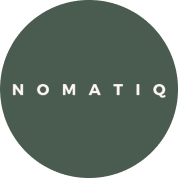 Designed In
Brooklyn, New York
So easy to use and love that I can recharge the battery.

I like the one-handed operation; you can slide the safety catch and press the button in a single motion with one thumb. Some other plasma lighters require separate operations, and/or two hands. The only (minor) drawback to this one is that it can be hard to tell at a glance which end of this cylinder is which, so I found myself picking it up only to have to flip it around. I wrapped tape around one end to make it easy to tell by feel.

This lighter is amazing!! Lights candles instantly!!! Highly recommend this product

This is the most handy dandy little lighter! I would definitely recommend to anyone looking for an easy way to light candles.

Worked so well! Very easy to use and charge. It is a bit bigger than I thought but no big deal

Easy to use. A nice change from a butane lighter that never works when you need it to. No butane fill up. Yay!

Best thing since sliced bread. It's a convenient lighter that doesn't need butane. Just charge & go. Charging doesn't take long & it holds a charge pretty long. For the price, you can't go wrong & it won't disappoint.

If you're looking for an easy way to light candles, look no further. I've had this thing for a couple months now and I've only had to charge it once! I got tired of using matches and regular lighters to light the candles around my apartment and was initially going to buy one of those elongated neck lighters with the trigger. Thank goodness I decided to go with this electric lighter instead. Easy to use, no gas or fuel required, and the battery lasts a long time. Also, it's super convenient to not have to tilt each candle in order to light it! Highly recommend if you're looking for the easiest way to light candles!
Guaranteed Safe Checkout