Flexible Neck Reading Light
Regular price $0.00 $16.99
If you order within
Arrives by
Light up for visibility anywhere,whenever
Whether you're out biking in the night or trying to catch up on your favorite book after a long day of work, the last thing you need is insufficient light that makes it impossible to indulge in your moment of relaxation. While there are many portable light options out there, a number of them are bulky and require clipping on or some form of installment to work. With our Flexible Neck Reading Light, you do nothing: just place the light mechanism around your neck, and click to power on. It's the most hands-free you can be for the perfect lighting on demand.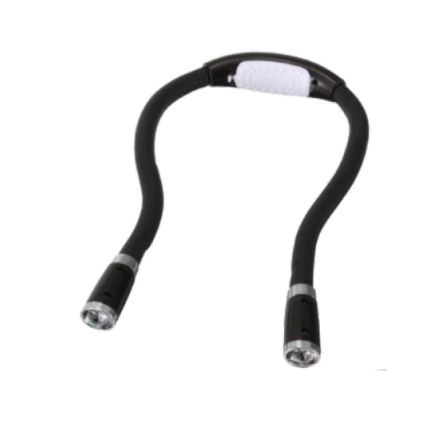 See the light (from any angle)
No hard turns or dead ends. Our ultra-flexible tube means you can angle your light any way for precise lighting for extra clarity wherever you need it. There are no limitations like with lamps or clip-on light accessories.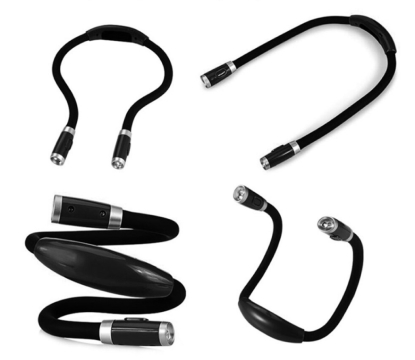 Three light modes. One incredible light device.
Cycle through a flood light, spot light, or mixture of both for customized lighting on demand. In addition, select from six brightness levels and three light warmth levels by cycling through the switch button.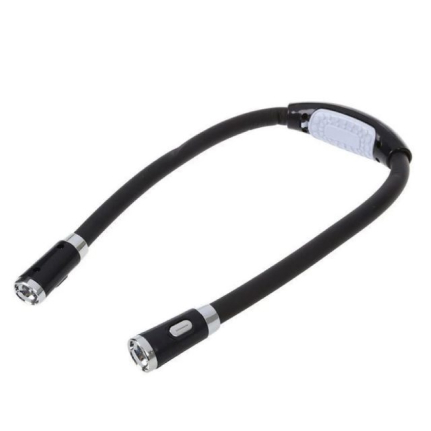 Wraps around any neck
Measuring 21.9 in / 55.5 cm in length, our Flexible Neck Reading Light works for persons any any height or build.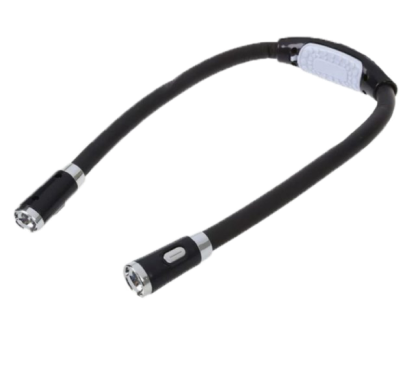 Powered on batteries
Our light requires two AAA batteries (not included) to function.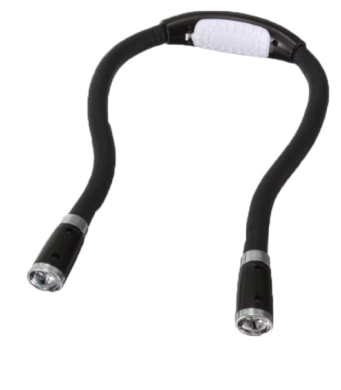 This things may look weird, and I may look like a complete dork when I have it on, but it's a huge game changer for reading.

This is a wonderful product. It is flexible, you can bent it, twist it to different direction and fit to different size and head (for kids). You can turn to different brightness as well. This thing is so wonderful, perfect for kids and adults to read in bed, in sofa, in a car, play hid and seek, walk in the dark, explore in caves, work in fixing cars, etc.

I just bought this neck light and I absolutely love it. Do not look any further if you need one. It is comfortable, adjustable, adjustable brightness with or without filtration. I orinaly ordered it for my crochet/knitting hobby but it can be used for so many different applications. This product is not heavy on your neck and the angle of the lights is adjustable. I didn't find any downsides to this light so far. Highly recommend it.

As a senior who often awakes in the middle of he night, this helper was a godsend. My bedside table lamp was some help but not comfortable enough to read by for any length of time.

I guess I move too much while sitting and reading because I find myself adjusting this frequently. I plan to try it on evening walks to light up the road in front of me.

This light works better than I expected it to. It's unobtrusive, easy to maneuver, and has a lot of brightness levels.

It is such a unique gadget. Perfect gift for yourself, for kids and adult friends alike.

It turns for to be great for fixing things under cabinets/sinks, or reaching dark spots that are hard to see. I use these for all kinds of weird things I did not expect to. So for that these have been better than expected.

These things are great! My wife and I use them all the time for reading, best thing ever!

My new 17' travel trailer did not have any reading lights above the bed. Rather than do a re-wiring job I attached LED puck lights with velcro to the side of the bed but the light was very bright and lit up the whole side of the bed. I came across this product and Voila! a real cool gadget that works very well.

I have never had a reading light that I have loved as much as this one. I highly recommend this light.

I am so pleasantly surprised by these, I'm going to buy a back up & two more for my knitting friends as gifts. I can't get over the quality of the illumination. I can't comment on the battery life yet as this is the first time I'm using these. I wanted to get a review out right away. You will be happy with these. They look & feel well made.

hard to keep in the right position around your neck.

It's comfortable and has 3 options for lighting colors and sizes. It's adjustable and you don't have to worry about bothering your significant other while reading late at night. I also love that I can basically take it everywhere. I wish I had found this light earlier!

This is a fantastic design. I was using a standard book light to read by, but wanted something else so I can knit while watching TV and not bother others with the light, and not have to clip it on to anything. Well, this is perfect. It has 3 brightness settings, is extremely comfortable and directionally adjustable. I ended up using it to read by as well, and got rid of my book light.

Love this product overall. Wish I thought about buying this earlier so I don't have to bother my hubby while he sleeps and I read. The only downside for me is that the lowest setting is still rather bright.

The lights are adjustable so you can target the light exactly where you need it. This would be a great light for crafting, such as cross-stitching or putting models together, etc.

Neck Reading Light is the best reading lamp of its type. The availability and choices of light illumination are superb. It is not a heavy and gangly lamp. The arms are of the appropriate length, they are very easy to manipulate, and the unit is well made and lightweight.

Last night my son was working on the truck trying to hold a flashlight with one hand or between his shoulder and chin amongst other ways. So I come out in my night gown with my cool book light and offer it up to him. He's upset already with tinting the window now trying to get the whole door put back together and the glass slipping and sliding all over the place...I know some of you girls have the men in your lives doing things like this and more than likely get stuck for hours holding a flashlight. Well this little light is the rescue for all of those events.

They really impressed me with how bright the light was and how lightweight they were, I WAS definitely happy with my purchase.

I got this for my mom she loves it!! Has the just the right light settings. And its light enough that it doesnt bother my moms neck

This is such a great book light it illuminated my entire book page in the dark and it was set to the lowest yellow light. It is quality made product and at the same time light enough to set around the neck without it bothering my neck and it has adjustable arms for comfort. I am really glad I purchased this book light.

I don't have the best lighting in this house or the best eyes, and that makes for a hard time cross stitching. These are absolutely wonderful! I can see my patterns and do my cross stitching which is so great during this quarantine.

I like to read before bed each night, but my husband likes to go to sleep early. We've tried lamps, flashlights and even a pillow wall, but he is still bothered by the light. I bought these little cuties and they did the trick. I can finally read in bed till all hours of the night without bothering my husband! The light is bright and the arms are adjustable to direct the light to where you need it. I marked it down 1 star because the battery pack is hard and right on your neck and it takes a bit of adjusting when laying against the headboard.

I bought this device for an international trip and it worked wonderfully. The independent lights adjust nicely and I really liked the feature of variable brightness levels. It folded nicely to fit in my backpack and is lightweight.

This reading light is amazing! I feel like I've been on the search for the perfect reading light for years. I'm not a fan of book lights that clamp onto books and headrests and I could never find the perfect floor reading lamp. This reading light is perfect!

I use these every night. I read a chapter a night to my son before bed and then I use the light again to read my own book before bed. I have also used it to make my daily life more convenient by using when gaming, repairing in a dark corner, cleaning underneath things, etc.

I bought these to read in bed and not disturb my wife. They work! Each arm can be turned on and the level of light adjusted separately. They also bend enough to angle the beam in the direction of your choosing. Durable so far and with no issues.

Love all the settings and the brightest light setting makes it's super easy to see the stitches when working with black yarn.

Excellent! Lightweight. Cool features. I need a lot of light when I read and this really works. Brightness levels are perfecf for when you need more or less light. The separate flexible arms are perfect for getting lumination exactly where you need it.

I thought I would use this for reading in bed with out waking the hubby. The light is very directed the light does not spillover to a person sleeping next to you, which is a great feature. I am very glad this has 3 settings the lowest setting is great for reading at night, and highest i quite bright.

I've only had this for a while, but love it! this one offers many more options in lighting! Plus, the arms are so soft and flexible, and it fits comfortably behind your neck!! I would highly recommend this product!!!

My partner gets up early for work and I'm a night owl. This makes my crocheting in bed so much easier than trying to use the light from the tv to crochet.

Great for changing the baby's nappy at night without waking my husband! Not the nicest light but is bright enough to knit by, too bright if anything.

Love this product overall. Wish I thought about buying this earlier so I don't have to bother my hubby while he sleeps and I read. The only downside for me is that the lowest setting is still rather bright.
Guaranteed Safe Checkout