Gray Soft Patterned Seat Belt Strap Covers
Regular price $0.00 $14.99
If you order within
Arrives by
Add some soft texture + padding
Dial up in-vehicle comfort for yourself and passengers with these Gray Soft Patterned Seat Belt Strap Covers.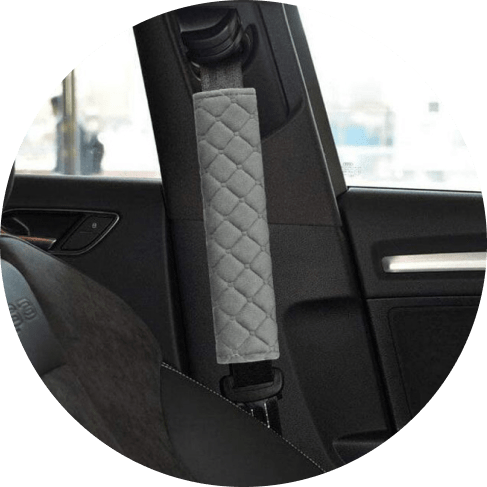 Strap on with ease
Feel the softness
Soft build + feel
Our straps are made of polyester fiber for a pillowy touch for a boost of comfort.
It takes two, baby
Each purchase gets you a pair of these matching seat belt covers. Order more sets if you want to accessorize more seatbelts in your car.
Elevate comfort, reduce pressure
The great thing about these ultra-soft coves is that they add a cushion between your shoulders and arms and the fabric of a seatbelt. No more red marks or imprints from long wear!
Fits perfectly
Each strap measures 10.5" x 2.6" (L x W) when strapped on. The size makes it compatible with any seatbelt in any kind of vehicle style or make.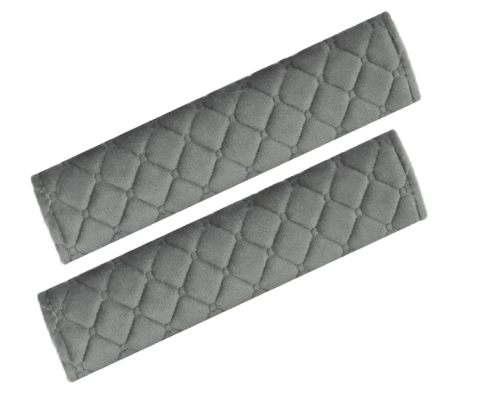 The ultimate comfort accessory
Introduce texture and softness into your vehicle's interior and ride quality with these can't-be-missed Gray Soft Patterned Seat Belt Strap Covers.
I commute every day and used to dread it so much because the seatbelt was digging into my neck. These strap covers are so comfy and soft that now I enjoy my driving time more than I EVER used to. The only cons, they do tend to slip down from time to time, and I have to thread the seat belt back in when I get out, otherwise it will hang and get stuck on the cover. Totally worth the extra 10 seconds and occasional adjustments.

Shipment arrived promptly and was well packaged. Pads seemed to be well made. Installation was straight forward. Pads are very comfortable. The only issue, which is probably personal, is that the pads interfere with the automatic seat belt retraction. The driver/passenger has to remember and manually move the pad down the belt towards the end of the buckle or the belt hangs when the top reaches the pillar mount. This hang means the un-retracted belt is left hanging out the door. Continued use will probably make this maneuver automatic but starting out it's a pain.

I am using these covers for my office chair at work. The arms on the chair were ragged and snagging my clothes so these covers are the perfect answer to the problem. They are plush and nice looking fabric. I love them! They are much nicer than I anticipated. I can see them being a comfortable and attractive choice for their intended use.

Arrived quickly. Seems to be made well and easy to install. Material is soft and stays in place with the Velcro. Well worth the money-price affordable. Only drawback would be having to manually retract the seatbelt after releasing it due to the pad keeping it from retracting on its own. Overall though a great product.

This does exactly what I wanted....keeps the seat belt from rubbing my neck/collarbone the wrong way and keeps my makeup from getting on the seatbelt. Comfortable and soft. Sliding it down the seatbelt when you unbuckle is a bit of a pain at first but that becomes a habit.

I am using one for my DSLR camera strap. The original neck pad was getting worn and pulling hair on the neck so I covered it with this pad. It works well because I can adjust closure with the hook and loop closure system.

I like these covers a lot. They are soft and do the trick. I don't care for the "lamb wool" type because they rub my neck & make me hot. Got some for my mother-in-law. She liked them.

I bought these for my wife's Mustang. The seat belt reel is rather low for my height so these distribute the weight of the belt nicely. She loves them too because they are super comfy and soft.

Has a nice soft feel. The quilting makes it look nice. I'm short so the seat belt always digs in my neck. This helps a lot to make the seat belt more comfortable for me to wear.

I like these (it's a 2 pack). They are lower profile than others I have bought in the past. They are so soft! This is def going to save my neck on long trips. (5'2" driver)

I like these pads. They do slide, but that's no big deal. They are very comfortable. Soft. I like them a lot.

Literally I had a seat belt sore digging into my neck when I was driving so much or long distances. Keeps you safe and comfortable.

Nice and sturdy, looks really nice and professional. The ones we had before were flimsy and turned soft.

Great product! Well made and quality is there! I ordered another pair for the backseats!

Excellent product! Protects my shirts from being ruined by my seat belt.
Guaranteed Safe Checkout