Grey Camouflage Stretch Watchband
Regular price $0.00 $21.99
If you order within
Arrives by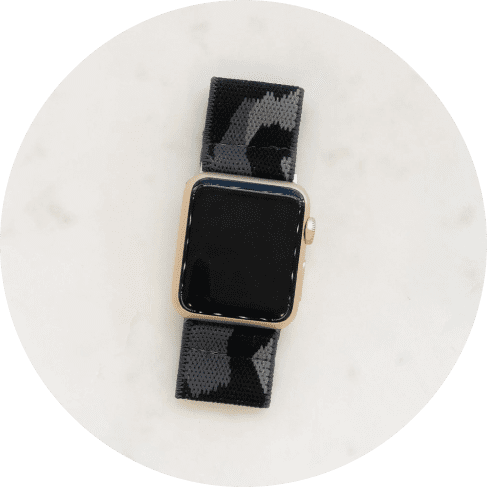 Camouflage with the city around you
Our bands have been tested to fit all sizes of Apple watches and all series, the larger face sizes will have a tiny gap on the sides noticeable only if you'll lool for it!
What should you know about this smartwatch band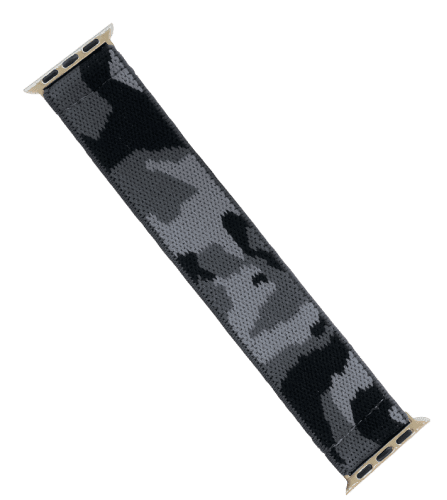 Suitable for all sizes
To be more precise, it fits sizes: 38mm, 40mm, 42mm, 44mm. So, regardless of the size of your Apple Watch, this will be a great accessory for you.
Pleasing camouflage design
The design of this smartwatch band is truly pleasing to the eye. It will look especially great if you like to wear camo-inspired clothing.
Distinguish yourself
The grey camouflage watch band will be a great addition to your collection of watch bands. However, this one has a distinguishable look that will separate you from all the other smartwatch users with its great camo design. Furthermore, it is incredibly comfortable and isn't tiring on your wrist, so you can be sure that you look and feel elegant.
Love the look and feel of this band!

Great quality watch band. I love that you can actually adjust the band. I'm really impressed.

Looks great, very stretchable and comfortable. Easily adjustable. I have a very small wrist so I used up most of the adjustment but I'm still able to pull it on without readjusting.

I have been using silicone bands for quite some time and I have to tell you I won't be going back. This fabric band is so much nicer! My wrist doesn't sweat underneath it like the others I had been wearing. The design is so cute too. I will be purchasing again. One of my favorite watch bands to date! Super comfortable and so easy to take on and off, makes wearing my Apple Watch a breeze. And the design is absolutely adorable, looks great with The rose gold band, and has received many compliments!

Soft & comfortable. I love how it adjusts instead of having to worry about measuring your wrist. I haven't worked out in it or gotten it wet so I don't know how quickly it dries.

I love this watch band. It's so comfortable. As someone who suffers from chronic joint pain this watch band makes it feel like I'm not wearing anything. It's easily adjustable and washable too.

Adorable band is very stretchy and adjustable. I have very small wrists and it fits great. Beautiful bright colors look great with everything. Going to order more as there are many pretty patterns.

Nice band. It is adjustable so there is a sliding buckle. I totally forgot that the buckle was there. The band is very comfortable and easy to put on. The edges are soft and don't cut into my wrist.

Band is adjustable and the material feels sturdy. I like how the hardware is rose gold. However, the buckle is plastic. I wish it were metal but if it holds up I'm okay with it.

My only complaint is the strap connector is slightly smaller than my series 3 42 mm watch. See photo. Otherwise I've been wearing this thing for about a year now. It's so comfy. Easy to use, get on and off. Colors are awesome and make the watch stand out. Adjustable wristband is key. I can make it tighter when I'm playing sports or more relaxed when I'm at work. If you get it wet it takes a little bit to dry, dries fast but doesn't wipe off instantly like the silicone strap I used to have.

Immediately I noticed it was super comfortable. Kinda like a slipper for your wrist. I very much like that there is not a buckle to have to deal with, just put it on. But I really like that I barely know it's on my wrist, because I can sleep with it on and track my heart beat while I sleep. The colors and pattern of the material are really nice. So far no complaints.

This Apple Watch band is very comfortable. The elastic is easy to put on and adjusts to your size. I love the rainbow color that I picked, which goes with many outfits. I only had the silicone bands so far, and I prefer this elastic one much more. Sometimes the silicone would get stuck in one place on my wrist and become uncomfortable. The elastic moves freely and easily.

This band is a thicker fabric so I don't like to wear it when I workout but it's stretchy, I like it so much.

I love the color and material feeling on my arm, but it's elastic and I'm afraid I'll lose really quickly.

Cute and effective, but the material has a big issue with pilling.
Guaranteed Safe Checkout