High-Pressure Aluminum-Alloy Hose Gun
Regular price $0.00 $18.49
If you order within
Arrives by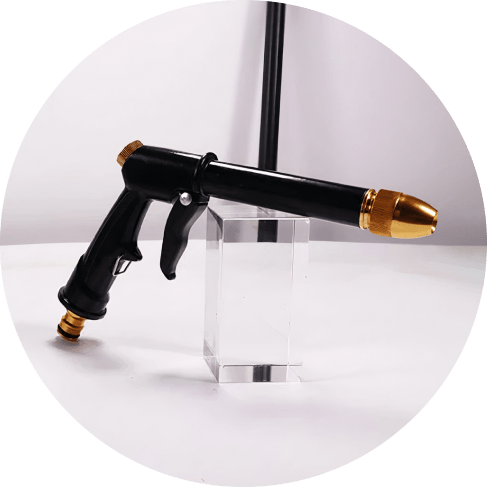 Make a splash
Clean deeper, faster
Tired of the weak pressure from your 'ol hose when watering plants or washing the car? Kick it up a notch with this sleek High-Pressure Aluminum-Alloy Hose Gun that can take your nozzle game to 6MPa for stronger pressure. Get the high-pressure washing you've been seeking with one simple add-on accessory.
Hold the gun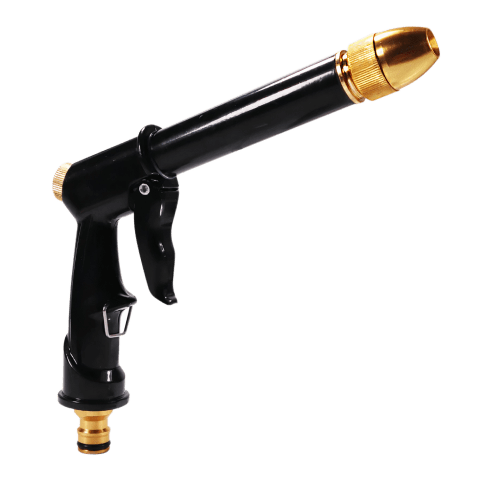 Attach to any hose
Our High-Pressure Aluminum-Alloy Hose Gun is easy to use; just screw it tight onto any water hose for an instant boost in help.
Spray near or far
Our nozzle allows better control of your nose with 26 - 39 feet of spray performance.
Tight grip, customizable pressure
Our gun design allows for a precise finger-grip hold while a dial nozzle at the gun's tip lets you customize your pressure.
It reminds me of when I was a kid when we owned a real Water nozzle. Something that was made out of metal and copper or brass not plastic! Drop it to the ground no worries, drag it along to Concrete or on the gravel no worries. Aside from some scratches you're not gonna hurt this nozzle! Made Of high-quality machined parts, the castings are smooth and ergonomic to the grip and an awesome jet of water is great for washing....... anything! The spray tip is adjustable so you can water flowers in your garden without causing harm to the plant (even the tip is made out of brass) For safekeeping the hose and spray nozzle easily detached by the clever use of quick connections. I'm sold, I bought two!

This hose nozzle is well made and constructed out of brass. It has a bit of weight to it. When it shuts off the water flow stops completely with no dribble. It is comfortable to hold and the trigger moves easily. One of the best features is that you get a nice strong stream of water with no fanning when you have the twist nozzle set to straight stream. It also has a nice fan when you set it to a wider setting. Looks like the brass and stainless steel construction will hold up and not rust. Overall very pleased with this purchase and will probably buy another one for the backyard hose.

I'm so satisfied with this hose nozzle! Have only owned it for a short while so can't talk about longevity yet, but this looks and feels high quality with it's full metal body and trigger, and feels very nice in hand. The spray is very even and consistent, from jet to fan and love the trigger and how it operates with the exception of some minor looseness. Even came with a very nice quick connection which is much nicer than the connections I've bought from local stores. I'm replacing all my quick connections with this same type. Will be ordering another for both my outside faucets.

This is a very high quality spray nozzle. The problem is the "quick disconnect" is not compatible with the ones sold at most local hardware stores and the threads in the sprayer are not standard hose thread. So, you can't change over to a more standard disconnect or use the sprayer without the "quick disconnect" they sell. I intend on keeping the sprayer because the quality is so superior to anything I can buy at a brick and mortar store but I am not happy about the disconnect.

This hose nozzle is of very high quality. I like it a lot. It's the best you I can have for the money I spend. I have brought numerous garden hose nozzles over the years and was not satisfied. Thanks to a recommendation from my friend I found yours which is going to last me a very long time. And the price is very fair for the quality. Keep on the good work and thank you.

Though I've only had it a few days, thus far, I'm completely satisfied. Over the course of the last 20 years I've gone through at least 20 hose nozzles. Some have lasted over a year, several only a matter of months. The heft, sturdiness and simplicity of this one gives me confidence it will prove durable.

All metal, no plastic to break when the hose accidentally drops on the pavement, easy to install, good value for the money. I don't need all those fancy spray settings provided by the plastic nozzles that won't even last a season in the Northeast US (with warm/cold cycles) - just give me jet spray or some variant of a wide spray, which this brass nozzle does well, and I am good to go.

Finally a quality built product. This hose spray nozzle is well designed and built of steel and brass. Surprisingly it had an air fit tin option, which can be removed in favor of a conventional screw-on garden hose attachment. More expensive than plastic spray triggers and well worth it.

Absolutely the best hose nozzle I have ever owned. Well worth the extra cash because you will never have to buy another one again.
Guaranteed Safe Checkout