Indestructible Magnetic Cable
Regular price $0.00 $18.99
If you order within
Arrives by
Designed for power
on-demand
Are you and your friends always fumbling around for an extra charger cord? Or is that one charger cord you've had for only a year starting to show wear and tear? Time to upgrade to our Indestructible Magnetic 3-in-1 Cable. It's sturdy, compact, and reliable for powering up your devices when you need it.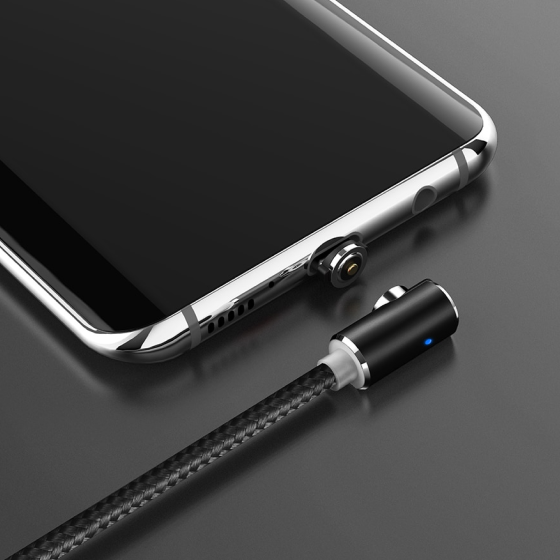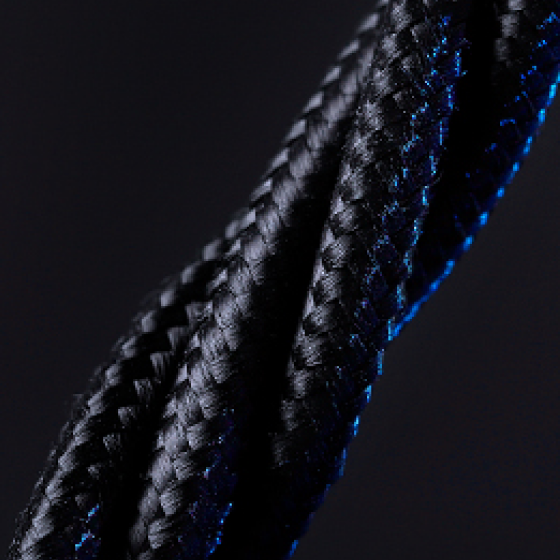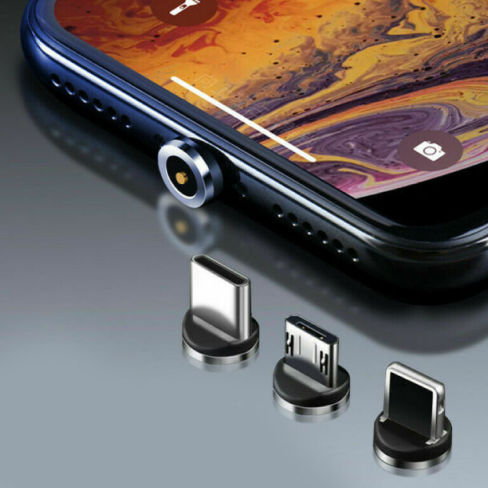 Micro USB
Charge up GPS devices, digital cameras, and more.
Lightning
Plug in for iPhones, iPads, and any Apple device anytime.
Type C
Power up Google, Samsung, and Huawei devices.
Charge up from any angle
Our unique charger design makes charging your phone or tablet a breeze. Our 360-degree rotating cable head allows you to power up from any direction. No more annoyingly twisting and turning your cable to fit in your charging port at one angle and position.
Light up in the dark
A small LED light indicator on the charging head lets you know where your phone is at all times. When detached, the charging cord itself also illuminates to let you know where it's at (even in the dark).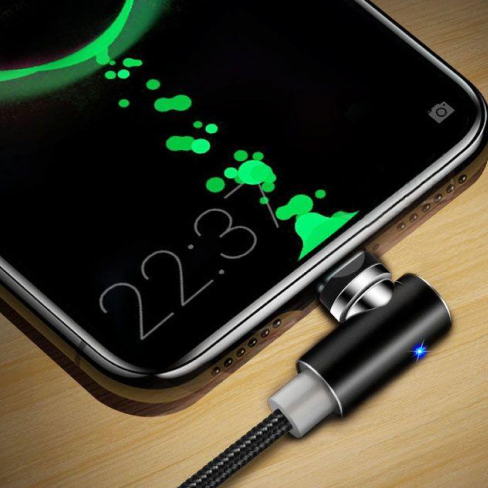 It can go for miles
No more suffering with short cables. Our high-quality cord measures 39.4 inches (100 cm) in length. Charge from the bed to desk with ease.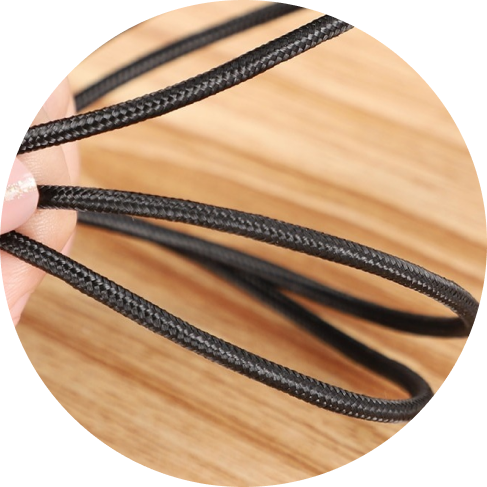 Very practical, makes charging multiple devices relatively easy by using magnets.

Pretty good deal for the money. Lightning plug needs yo be correctly installed, as it's only one sided

Ideal for charging if you have a few different devices. The tips stay tightly in place in the charging socket and the magnetic system works well and clamps onto each tip really easily and stays attached well. For me it is ideal as I have an Android phone using USB Type C, my iPad uses the lightning type and I can charge all my other bits that use a micro USB connector. The carry pouch is a nice addition to keep everything together if you decide not to leave the tips in your devices and also keeps the cable wound up well. The cable itself is good quality. Overall I am very happy with this product, it does exactly what I needed.

I got it for my holiday trip and found it very convenient to use! save for carrying all the cables of my electronic devices and it's a problem solver when a certain cable was forgot to take. I have been constantly use it for over three weeks and have not found any problem yet. a worthy purchase.

I have a real difficulty in plugging my charger into my phone and always end up with pulled/damaged wires. This cable works for me, once in it stays in and the magnetic attachment to charger stays on and pulls off easily without damaging the wires.

Ordered usb-c and mini-usb plugs. Works phenomenally, took a while to arrive but once recv'd, no problem whatsoever. Would recommend to all.

The MicroUSB port of my tablet got damaged and I was told by a technician the repair was not worth it and suggested to better get rid of it... Then came across with this Marvelous product and, the rest is history! Very, very pleased with it's functionality.

This thing is great! Took forever to get it, but it was worth the wait. The plug fits flush in my phone case and does not catch/snag at all. Moved it to the wife's Surface and she loves it too! Magnet snaps right on and avoids trying to figure which was is up on my charger. Very cool!

The cable is excellent, 1A keeps it clear, at 2A the load slows the voltage to 4.7 v. the seller Thanks +++

The first time I ordered such a cable! Good weaving! Fast charging! How long will it work-time will show! Delivery is slightly less than a month. But I'm happy! Thank you very much, I recommend it to everyone!

The best solution to the multi-cord household. I'm an iPhone and the wife is an Android. Rather than have two types of cords in every room and car, we now have 1 cord and the tip stays in each device. This cord is always the right cord, every time!

Quick to get to madrid (spain) good cable and the light it brings is less annoying than others i have. A detail of the velcro you bring. The iman is powerful lets the hitch spin and holds quite firm. Regarding the hitch brings 8pins and only on one side (keep an eye on this that if you're wrong) it won't be loading. It is also somewhat thicker than the original apple, it is difficult to insert and extract it as well. Although now for a while i'll leave it on without having to take it off and put it on. When i try it more i will give my opinion of use. Thank you. For how little it costs in my opinion it is worth your purchase. Thank you.

Usually gimmicks and tech are usually rubbish but this one actually works. I am forever breaking connectors to my mobile by walking away forgetting to unplug them. However this new connector just stops all the dramas, simply walk away and it disconnects. Also you can just place the phone near the connector and more often than not the connector will connect it's self. The blue light is handy for finding the phone in the dark. I would recommend it. Also ideal for my 87 year old mother who has limited movement in her hands.

I ordered 3 cables for my iPhones (lightening connectors) and they work great. They did take longer than I expected to arrive, but they appear to be very good quality. At first I thought they didn't work, but I had inserted the adapter into the iPhone backwards. Once I reversed the adapter, it worked fine. One side of the adapter is blank, and the other side has the contacts, unlike a regular lightening connection that has contacts on both sides.

My charging ports on both my phone and tablet were too loose to hold a regular charging cable, so this solved the problem.

very durable charger. the connector can be inserted into the phone and keep it from dust. i and my spouse have different type of phone and we can share the cable easily and convinent.

Excellent so far, very easy to use. My 4 yo son loves it, he was amazed how easy it is to charge his devices now. No more broken lightning adapters. I'm not sure if we can buy extra magnetic adapters.

Love the cables. It make it a lot easier for charging your phone from one place to another. You don't have to unplug everyone and replug. The magnetic part is just genius.

I like the magnetic on this wires and how easy easy to use also I keep the tips plugged in phones that keep the charging port away from dirt and dust.

Great way to charge your phone and tablets and protect them from wear and tear.

I rated this low because of 3 things: 1. The magnetic connecter is round and sticks out of all phone cases. It's quite annoying. 2. The magnetic strength is weak and disconnects frequently. 3. My iPhones and android devices took much longer to charge. Except for this, the cable itself works okay.

Got it on sale and happy with the deal!

Fast shipping and good quality. I usually except less when buying online, but the magnet is strong, and charging works.

Good magnetic cable, very simple to use and convenient! I am glad I managed to find such a good value for money

Reasonably priced cable and actually works well.

I had a different brand and am happy that these cheaper cables match up to the plugs for those. The only downside to these is that the cable wrap is a little scratchy. It makes my arm itch where it rubs if I use my phone while charging.

Seems to be a great product, but I cannot charge my phone in my car. Just keeps telling me accessory not compatible with device. Came to realize, that the only time I had issues was when I was also running my diffuser (which I would run everytime I turned on my car) So if I don't run the diffuser, it's completely fine. Must not get enough power when I try to run it and charge my phone.

I absolutely loved this product for my phone (Samsung Galaxy S7). Lived up to my expectations - quick & easy ability to attach/detach phone to charger. Really only had to hold my phone near the charger & the magnet drew itself towards my phone & attached itself.

It's cool stuff. You can charge anywhere you want . It's very stable. You can switch different kind of phone. Very convenient.

I had a question, and they answered almost immediately. happy with the service!

I love these cables. The whole idea of detachable connectors and magnetic attachments is awesome. The only design flaw I learned hard way today: the magnetic tip of the cable may accidentally stick to some piece of metal (a pen in my case). Doesn't feel very safe.

This is a Great product but this is why i gave it 3 🌟 's. I would really give it 3.5 but 2 of the biggest things i have a problem with is the 3.3 ft cords are not really long enough. Also the magnets are not really strong enough and the little adapters are a little bulky.

corresponds 100% to the description. thanks! The charging is slower, than with not-magneting ones.

These are really awesome! One of the neatest things is being able to charge different incompatible devices using the same cords.

The magnet functions perfectly, no fiddling required at all. Charges quickly too. So easy to use in the dark, but be aware, the led light is powerful enough to see around your bedroom at night lol

SOOO easy to use! Stick the magnetized plug into the device, then find a glowing power cable, then the the magnets connect! NO more rat's nests!
Guaranteed Safe Checkout