Integrated Handheld Mobile Game Controller
Regular price $0.00 $59.99
If you order within
Arrives by
Bid sore fingers and cramped hands adieu with this handheld controller reminiscent of those from game consoles. Our controller holds onto smartphones perfectly for elevated gameplay like never before. With two clip-on triggers at the top and a mechanical button made of conductive silicone and zinc alloy to stick onto your screen, fire away in any mobile shooter game with greater ease.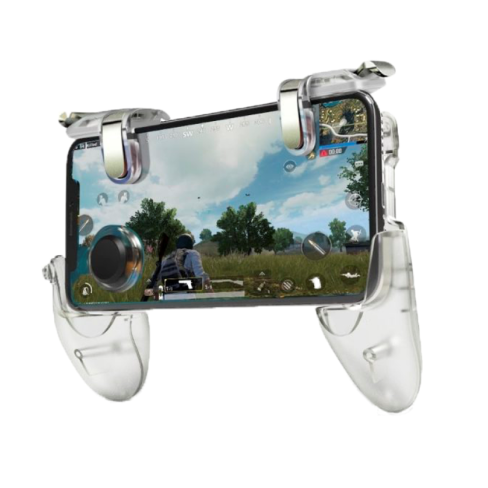 Four fingers, working all at once
Tired of not being able to fire or reload as quickly? Let's get two more fingers in on your mobile battle game. Two clip-on triggers on our Integrated Handheld Mobile Game Controller allow you to simply tap down to perform functions such as tap-reload or weapon-switching (things you often have to lift your hands to do). With our controller, you can now simultaneously shoot from both sides or switch shooting angles for a smoother gaming experience.
Adjust to your level
Our game controller can also stand and is multi-angle adjustable if you prefer to hold your phone at an angle on a surface. Or, when you're not gaming, you can use the controller as a phone holder stand to watch movies or just keep your phone in place.
A great team player
Our mobile game controller is compatible with any phone make (Apple, Android, Google, and more), as long as the device is 4.5-6.5 inches in length (without cases or covers on). Remember: your phone is sideways on the controller (in landscape mode), so you have to consider the length of your phone to ensure compatibility, not the width.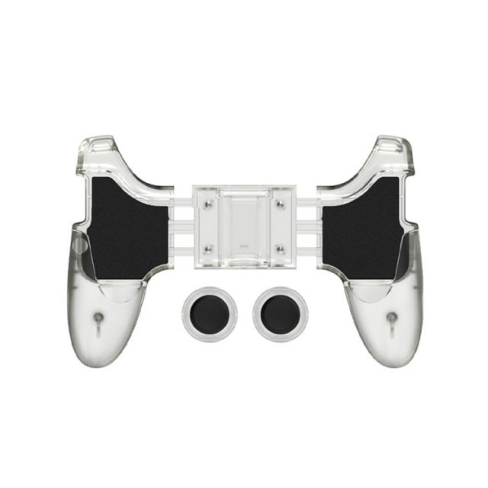 Grip with ease + comfort
Our controller is ergonomically-designed for a comfortable hold and grip, so you can play better longer – all without cramps of pain. Our built-in clip-on triggers are also made of soft-touch silicone for precision and zero scratches to your phone screen. Your phone will also never fall out of place thanks to a built-in magnetic hold
 (note any phone cases or covers have to be taken off for the magnet to connect).
Works with big-title games
Level up your skill on popular mobile games such as "Critical Ops," "Rules of Survival," "Knives Out," "CrossFire," "Survivor Royale," and "Terminator 2: Judgment Day." Our controller works with many shooter games, so check your game to see if controls line up.
Can not describe how much I love this controller! Works great, and the fan on the back helps keep my phone cool. This is a must for any mobile gamer!

Battery for fan lasts for a long while. Some phones it holds them weird. But otherwise taking the case off is worth it when using this.

Fast shipping and good quality. Holds phone fine and even cooling a little.

It is a very nice controller but couldn't make it work with the game I wanted to play

Overall it gets the job done, the placement of the buttons are a little off I think, not for left handed.

Works perfectly fine with android phones.

Controller looks and feels awesome, but somehow not compatible with my phone. Didn't bother check it before, and now i'm returning it.

Contains the phone base with an attached joystick, very well

The goods arrived on time, whole, was very well packed. It keeps clicking either the Bixby button or the power button on my Galaxy S8, so I needed some time to get used to it.

Gamepad arrived on time. Good store. Gemapd works just es expected

I researched various versions of the controllers built for mobile gaming and decided to get this one because of the reviews and price point. I must say I'm genuinely impressed with how well it works. I was worried for the price it was going to be too cheap and not last long but it even using just plastics it's built very well and feels solid. Fan works like a charm to keep the phone cool and the built in battery is a good back, screen control arms are super responsive and I've had 0 issues with missed clicks.

My son loved this! Fan helps prevent the phone from overheating so he can play for a long period of time.

Love this game remote it's easy to use not hard to figure out. Batter life is amazing. Keeps my iPhone XS Max cool.

This controller is awesome love how it keeps my phone cool after playing hours of call of duty mobile. Best money I spent feels like my playstation controller on the weight of it feels good in hand an very comfortable to hold. Highly recommended this to anyone trying to have a fun experience on there phone an if they are having trouble keeping their phones cool this will keep it nice an cool won't make your phone an hot pocket I believe. Made my gaming on phone so much likable though I was playing good now i play even better.

This thing is pretty awesome and cools eeethe phone like crazy. It also allows you to charge and not block the ports

I gave this as a gift and my cousin loved it! This comes in very handy when playing COD. It fit his iphone xr perfectly and the fan works great. He did have to remove the phone case to be able to use it but he didn't seem to mind since he immediately started using it and playing.

Bought this to use with COD Mobile on my Iphone 7 plus and works great! Just know you have to take your phone out of the case if you want to use this controller.

This is awesome!!! Works perfect and is easy to hold also comes with replacement rubber caps for the levers. The fan is amazing was charging my phone while playing cod mobile and my phone barely heated up. 10/5 stars you will dominate with this controller!!!!!

It is a no brainer that this product is 5 star rated. I had 7-10 kills per match guaranteed after playing with this for a while! But i have a slight doubt the left joystick imitator will break easily! If that breaks, i will update my rating as a 3 stars! Till then, it is a 5 star product for sure

My buddy bought a nice expensive one for COD mobile and he hates it! Ended up buying this one after he saw how awesome and how I became dominating with this controller! Definitely recommend! Gateway prices and a great product!

Great little controller. Allows for longer game play and less hand cramping, very ergonomic. Easily fits in my bag for in the go gaming. Would reccomend for shooters.

Changed the way I pay my mobile games. The fan definitely keeps my phone cool. The battery has a decent life span. I just always keep it charged when not in use. No complaints

Absolutely enjoyed this product. Bought one for myself and one for my fiance for PUBG mobile. Its a little difficult to hold if you have smaller hands like myself because it is as thick as an Xbox controller and I dont have the thumb span to be able to still comfortably touch the screen as needed. He frequently uses his. My only complaint would be that the fan doesn't do a very good job cooling the phone so it makes more noise than its worth.

It's a nice little device and easy to use. The fan actually does a good job keeping my phone cool and performing at its best.

I used this product for PUBG Mobile on my iPhone. I liked what you guys are doing and making product for mobile gaming. The product broke within two days. But for the price I got what I paid for. Nonetheless not sharing any negativity. You guys do a good job but I'll have to purchase a different brand controller or model. Much appreciated.

It takes some getting used to at first, being that I'm used to to tapping with my thumb to shoot, but I enjoy using this when I play, except when hackers cheaters ruin the fun. My phone is a Samsung A70, and the screen is 6.5inches long, and it does fit. The edges of the screen do stick out a little bit and makes it a little awkward to hold, but it's really not that much of a problem at all. The fan is nice, keeps my phone cool. The triggers feel nice, and the charging point comes in handy.

Playing claw with a phone is hard. This enables you to scope and fire without limiting mobility at the same time. It takes some getting used to, but now I can't play without it.

This controller has really stepped up my mobile gaming experience. NGL works finer, than I expected.

Great idea! Comes in a good package, fits perfect for my iPhone XR. Great for Call Of Duty mobile. Great item to purchase I would highly recommend this controller!

This works great for playing pubg mobile. When I'm. On lunch break at work!

This controller is really awesome to play pubg with! The phone fits comfortably and snugly in the docking port of this pub g controller. Love that it has a cooling fan and it charges phone while playing. The triggers give me an advantage when playing pub g against other players.

I'm works great! I use for cod mobile and it works great. I'm not too much of a fan of the joystick, but it's not a deal breaker. Fits my iPhone 8plus perfectly. I recommend removing your case or having a very thin case on your phone when using the game controller, because the triggers won't reach if the case is on.

I love it. Im dominating the COD app now. Works great with my Note 10 plus out of the case.

The fit is a bit off for my hands but overall has everything you would want from a phone grip. Very good.

This is exactly what i needed for my mobile game. The buttons are perfectly placed without getting in the way. The cooling fan is adn awesome added bonus that works so well and helps drastically reduce my sweaty palms

I bought it for playing Stadia and other streaming services. It fits my Google Pixel 2 xl perfectly. When attached it's more comfortable to play than a Nintendo Switch. It works well with Android games too.

I can't express how excited I am to have this amazing little piece of tech. Pros: IT FITS MY RED MAGIC 5G - this phone is HUGE so the fact that it fits is the biggest pro for me Button mapping is simple and intuitive. Very lightweight Cons: I wish it had more mechanical feeling buttons.
Guaranteed Safe Checkout