Jacob's Musical Car Charm Chime: Buddha
Regular price $0.00 $18.99
If you order within
Arrives by
Jacob's Musical Car Charm Chime: Happy Buddha
It's quite important to release tension while being stuck in permanent traffic jams, etc. This is the reason why Happy Buddha Musical Car Charm is designed!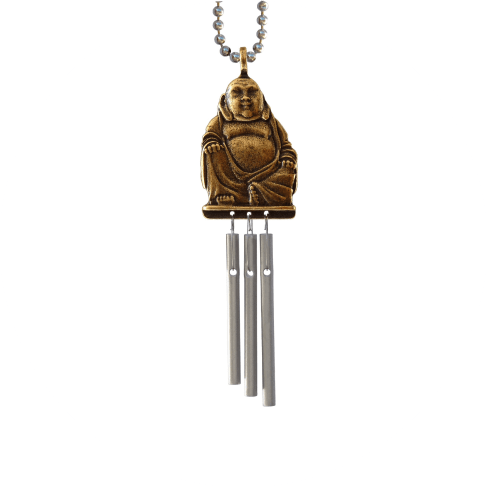 Happy Buddha Car Charm Chime
Always perfectly tuned!
Eye-catching car accessory
This car accessory helps you style up whatever you want: nothing stops you from hanging it on the rearview mirror, decorating your spice cupboard, placing it on a door knob, using it as a holiday ornament, etc.
For car's soothing climate
The blending of the chime's three notes, all tuned in the pentatonic scale, will help you create a pleasant & musical effect while on the road, in a traffic jam, and so on.
Made by Jacob Sokoloff, musical instrument maker
Made by musical instrument maker Jacob Sokoloff. Approximate measurements: 3-in tall x 3/4-in wide, on a 9-in ball chain. The longest pipe is 1-1/4″. USA-made.
Perfect as a gift for yourself and your closest ones
The manufacturer paid particular attention to the package: Jacob's Musical Car Charm Chime is packaged nicely, so you can give it as a gift or delight yourself.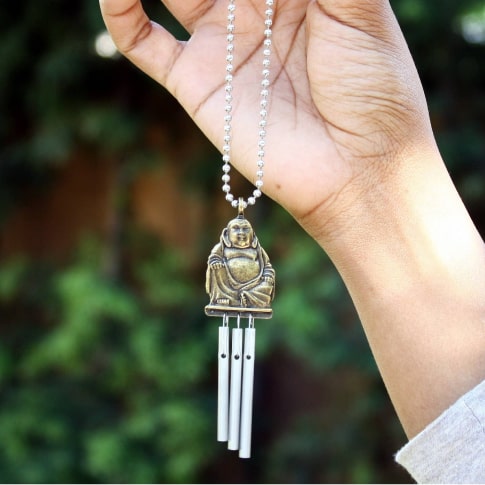 Keep calm & drive on!
Simply hit your musical car charm and chill down all down the road. Remember: Jacob's car charm contains three musical notes: F#, A and B. Guess what they spell? FAB… So just be FAB and enjoy the peace and relaxation of pleasant chime music in your car!
About Jacob's Musical Chimes
Musical instrument maker Jacob Sokoloff has been making tuned wind chimes for over 30 years. Jacob first found success with his magical sounding steel pipe chimes. Later on, he found a way to capture the magic in a series of affordable, miniature, tuned chimes (led by the "car charms" series), which he now offers to the wholesale market. Every product comes smartly packaged, and POP displays are available for most lines. The company is proud to make 100% of its products in the U.S.A.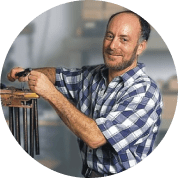 Designed In
Long Beach, California
It's the perfect size for the rear view mirror and it's perfectly detailed, the only thing is that I think they could have fit 2 more chimes instead of only having 3

My boyfriend bought me one just because. I absolutely love it!

Love this. It is perfect for the rear view mirror of the car.

Love it. Just wish the face a lil more detail

Love my car chime! Saw it in a friend's car and loved the quiet chimes!

Compact and fun. Looks great in my car. Noise level is just right. Thanks!

I expected bigger… but sounds great anyway

It's a great little charm. Makes music 🎶 when you hit a speed bump

I bought this to hang around my rear-view mirror to remind me to be more mindful of my driving. I have seen some improvement.

Got this for my bestie for her car.. 50th bday present. She loves Buddha's and charms. Good quality.

I love it!!!! Sound is fantastic! Sweet and gentle. It's not so loud. It not disturbing and not districting. 👍👍👍👍👍👍👍

People love these. had to buy another to have one for each car. They have a really soft jingle and Hotei is just soothing to look at for some reason.

In tune, hangs out with me all day. "Why yes, Buddha, I also enjoy traffic." Image is on both sides, chain is short steel balls, wires holding chimes appear delicate but have held up. No complains.

This was a perfect purchase. As someone who was nicknamed Buddha back in the mid-90's, I couldn't have asked for more. I hung the chime from the rearview mirror of my SUV and I love it.

LOVE my Happy Buddha! Purchased more as gifts for dear friends who like peaceful, zen-like items as do I. The chimes are not loud and are pleasant to hear. Plus who could resist this Happy Buddha!!

Came as described and on time. Love it so much that I am going to be buying more for presents. It's not too loud of a sound for the car, and looks great hanging from the mirror. I am so glad I made this purchase!
Guaranteed Safe Checkout