Laptop & Phone Holder Stand
Regular price $0.00 $26.49
If you order within
Arrives by
All you need at the arm's length
Use your laptop to the fullest capacity with this holder! It's more than just a laptop holder as it comes with a phone bracket attachment. So, you can have any devices next to you whenever you need them!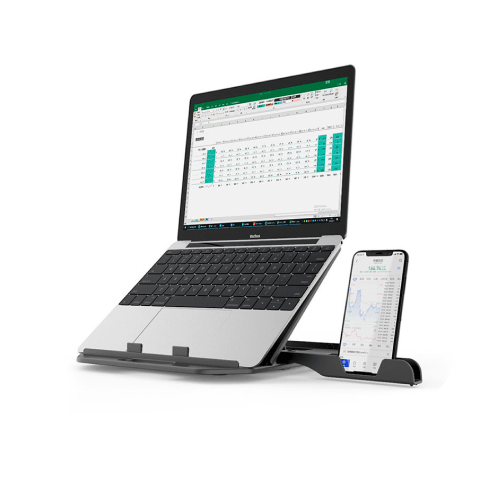 A helper for any laptop user
Using your device has never been more comfortable
Thought-through design
Adjust the laptop position's angle any way you want. 360-degree rotation on the bottom makes it easy to move. The hollow design provides heat dissipation.
Any device will fit it
Laptops & other devices of the size between 10 and 15.6 inches can be placed on the holder. Attach the phone bracket to any side – so convenient!
Durability on point
It's durable – made from ABS plastic, it has a rubber on the bottom that keeps the construction in place. Your laptop is safe and sound!
Product specifications
Unfolded size: 10.62 x 6.69 x 0.78 (up to 7.59) inches. Folded size: 10.62 x 2.36 x 0.39 inches. Max device weight: 44 lbs.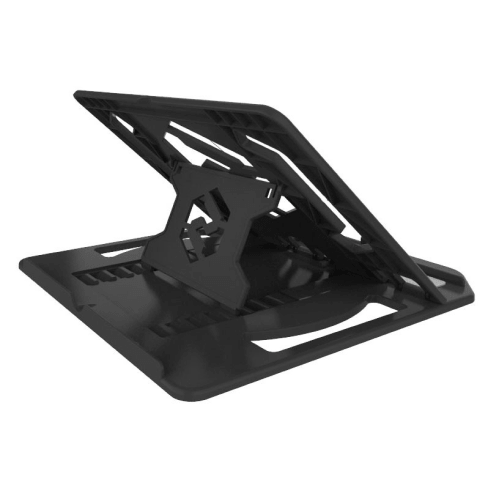 A holder everyone needs
Enjoy using your laptop even more with this holder. It reduces the impact of improper sitting on the neck and the back, makes you feel better while protecting your device, and gives you incomparable convenience. Capable, durable, trusty – just what we all love.
I ended up liking this stand so much I got another for my office. Perfect angle for me at its highest. The plastic is sturdy and I really like the swivel. My stand at home is usually folded away so I appreciated that the phone stand clips in place for carrying and you wont end up losing it when you put it in a bag. I have a fairly thick shell on my MacBook Pro and it fits just fine. Folds up pretty flat. Good design and I hope it lasts.

I wanted to get something that can elevate my laptop and this works really well. I use the medium level and it is perfect for typing and it raises my camera for the perfect angle for video conferencing. It feels sturdy when I'm typing, it takes some time to get used to it but it's fine. The best part is the slot on the side where I can place my phone. It's a nice add on!

I recently bought this and am happy that I did. I wasn't sure how I was going to use it (laptop or drawing tablet) but it looks like I'm going to use it for my drawing tablet. Two things I love about it are that it has a holder for my phone and that the thing where my tablet is held turns. This lets me get those angles that it's a little hard to get with just rotating the page.

I normally don't write reviews but I actually really love this stand especially for the price. I'm working from home now and this stand has been great for video calls and helping keep my neck from hurting. My camera is at the bottom of my laptop so by putting this on the highest setting makes video calls much better quality without the unflattering angles.

There's a handle on the front that sticks out a bit. It's unnecessary and takes up desk space. In my situation, it also interferes with the mouse by clicking the right mouse button if I accidentally bump the mouse into the handle. They should have minimized the amount the stand sticks out in front.

I ordered this for my child's school laptop (we homeschool) and she needed a solid ergonomic stand. This seems to do the trick. And I like that it can swivel if she needs to show me her screen more easily. I'm not sure yet how it will withstand the daily use of a grade-schooler.

It raises my laptop camera about 7 inches higher so I can get the perfect angle for my video podcasts. Product is sturdy and super easy to use and adjust.

It's perfect for raising the camera to the appropriate height for online video meetings and virtual happy hours.

I had doubts about it supporting my laptop but it is proving to be strong and mighty. I highly recommend.

This stand is great for presentations, online meetings and organizing your desk space.

Seems rugged and sturdy enough that I'm not worried about the computer falling.

Provides wonderful ergonomic positioning and could not be better designed!

It is very lightweight but sturdy, with just the right range of adjustability.

This laptop stand is awesome! You literally cannot beat the price.

Great for watching videos but not great for typing.

I had a hard time with placing the phone holder.

Perfect for my laptop extended desktop.

This does not sit firmly on the desk.
Guaranteed Safe Checkout