Lazy Snack Bowl
Regular price $0.00 $18.99
If you order within
Arrives by
For the couch potato in you
Sunflower seeds. Chips. Popcorn. Nuts. We all have our favorite go-to snacks to grub on when we're lounging in front of the TV or on the phone. Now, you can enjoy your munchies right in front of you, with space to throw away shells and bits without ever needing to get up to the trash can. Discover the ultimate convenience with our Lazy Snack Bowl.
Keep your eyes on the screen
A convenient phone slot is built into this food-grade plastic bowl so you won't have to pause or miss a second of your game, movie, or livestream while enjoying a snack. Our phone slot fits phones up to 6.7in/17cm in height (remember, the height becomes the width when you place the phone in landscape mode), making it great for just about any phone make. The bowl works great too if you are just watching something on your laptop or TV.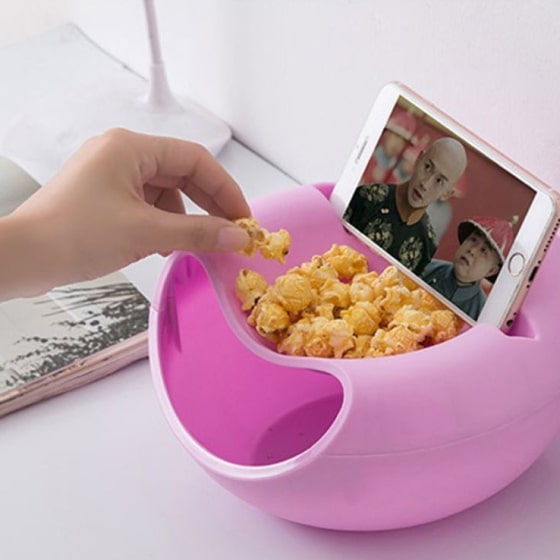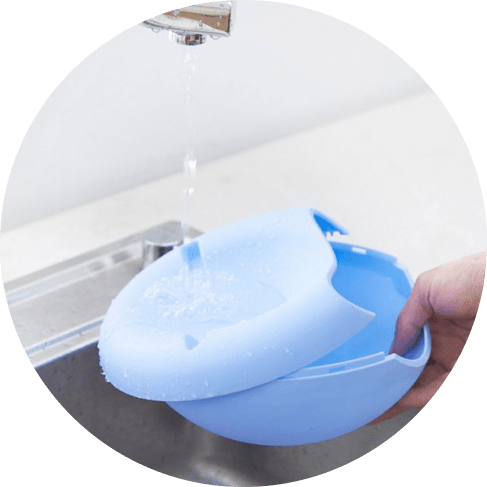 Spatially aware
Our bowl measures 7.9 x 7 x 4.7 in (20 x 18 x 12cm) for a perfect, bowl-sized snack holder you can carry with you. Keep nut shells, fruit stems, and other waste all in one place without cluttering your couch or coffee table.
Cleanup is easy
The top and bottom portions of the bowl easily detach for washing.
Not snacking? Double it up as a multifunctional holder.
When you're not snacking with this bowl, you can clean it and use it to hold household things, such as car keys and parking passes to personal jewelry (or even coins). The sky's the limit with such a convenient bowl.
This was a home run for pistachios. My family got shells everywhere and this solved the issue. Great product and great gift

I bought this item for my boyfriend because he would always use either cups or paper plates for his sunflower seeds and he'd always end up making a mess. He loves this product and used it last night after it arrived. It also opens up for easier cleanup.

It is so cool! I like eating sunflower seeds using this bowl. But it is perfect for any snack!

My husband loves this while working at his desk! It isn't the greatest plastic, as it's thin. It does the job though!

I really like this 😂 my fiance' I bought it for ended up really liking and he uses it all the time. It's a lil hard to clean since you have to take it apart but it's worth it. It's plastic so it doesn't feel super sturdy but it is!

This thing is amazing! My daughter loves to eat pistachios and sunflower seeds. It's way sturdier then I though. Comes apart easy for cleaning, however it's bigger then I thought. Also a bit odd shaped for storage, hence the four stars for cleaning. Over, amazing buy!!! Highly recommend

Bought this because we are a family of sunflower seed eaters. We all love this.

My husband loves pistachios, and he likes to buy the ones in shells so it takes him a little longer to enjoy them. He has a seriously strong "too much" gene, so rather than sit down with a whole bag and make himself sick, he can pour them into here and it fits many fewer nuts due to the size of the shells without him having to think about portioning. Then the bottom of the bowl houses the shells safely until next time one of us gets up and can throw them away. Very easy to pop apart and toss in the dishwasher and put back together.

Its ok my phone does not fit but its good for the sunflower seeds

Bought this as a gift for my husband, he loved it!! Easy to clean. And easy to store.

Got it as a gift for my friends birthday. She is obsessed. Great gift for all ages and something you never knew you needed until you get it.

Bought it as a gift and my husband thought it was goofy - but I bet he'll use it!

The bowl itself is awesome. I've been wanting one for a long time. I love to eat sunflower seeds while playing Gin Rummy on my phone. The only problem is the bowl is so lightweight, when you put your phone on it, it flips over if you don't have something heavy inside of it. Sunflower seeds aren't heavy enough! So, I don't really use it unless it's propped up in my lap. For heavier snacks, I'm sure it's great!

Bought for my co-worker and I to eat our sunflower seeds. Works great. Keeps the seeds hidden from neighbors and is easy to clean

It arrived faster than I expected and well packed. Overall quality is good. I'm satisfied with my purchase and store work.

I got this mostly as a gag gift for my mother. She loves eating sunflower seeds while playing with her iPad. I was happy that her iPad mini fit because the pictures show a phone. Can't really set it down when she has her iPad in it because it topples over but that doesn't bother her. The only thing that really bothers me is that it was a little defective. The top piece and bottom doesn't fit perfectly.

Best idea ever and perfect for both holding your phone and eating snacks.

A very clever way to eat shelled nuts and not make a mess. The two piece bowl is a lightweight plastic. The size is perfect for me, but it can be a little difficult for people with larger hands to toss the empty shells in. I am very happy with this purchase. It easily comes apart for cleaning. This would maje a cute gift, along with some shelled nuts!

Greatest invention since sliced bread!!!! I love eating sunflower seeds and this is perfect if you're lounging and watching tv or something on your phone

My product arrived in time. Thanks!

I was so surprised. This is a lot bigger than I expected. I use it for cherries and pistachios. I need one to take to the office.

I bought this on a whim on a lightning deal because my husband eats sunflower seeds all the time and I thought it would help alleviate some of the mess he leaves behind him! It works pretty well and he seems to like it, he uses it a lot!

Its perfect for eating sunflower seeds which is why I got it for my mother who is a sunflower seed addict! The only thing that I didn't like about it is that it is two levels that connect (the bowl in the bottom and the phone holder and smaller bowl in the top) did not like up and have a weird hanging edge that sticks out. Nevertheless it is still useful and a great gift which is why I'm giving it 5 stars!

gave it as a present to my colleague. instant happines!

I bought this sort of as a joke for my dad but he really likes it. It's very sturdy, definitely feels and looks more expensive than what I paid for it. Great item!

I love the idea however execution is little poor, it flips easily if you use plus series iphones... Easy to clean, the bowl could have been larger and the bottom part little smaller, also for easier storage top part could have been inserted upside down when you dont use it. love it anyways...

This is the item we never knew we needed! My husband has used it almost every night since I gave it to him. Easy to wash. It's not "cute" and it's a bit bulky for storing, but those are my only complaints.

Much bigger than I realized - easy to clean out and holds my phone up nicely.

For the better part of a year i was fighting to eat sunflower seeds around my home and other areas without making a mess. After I discovered this product I thought it would be well worth it. It cleans really easily and you can finish more than one pack of sunflower seeds without even having to empty it out. Straightforward product but the real value is the ease and convenience of being able to pickup a pack of sunflower seeds without having the hassle of finding a nearby trash bin, napkin, etc. You'll love it and the color choices are always a great addition

I don't really use the phone feature of it because it doesn't fit unless I take the protective casing off. I'm a bit of a seedaholic and it's a great place to put the shells and then dump out when I'm done. It cleans very easy.

I love these. They are cute. Bigger than I expected. Phone fits in even with the phone cover which made me happy because most phone holder items wont support the thickness of the cover. Bought extras for gifts.

Cool bowl, quality matches the description.

I love this! It's an amazing multi use product and has alot of room in the inside. I didn't think it was going to be as big as it is and I am happy it is. Awesome for snack lovers.

Amazing lazy bowl! Very good material. I`m super satisfied!!

Not all cellphones fit. But easy to clean.

Purchased for a friend who loves sunflower seeds. She loves it!!!

I enjoyed this bowl. It's nice an large. I don't use the phone feature on this but I can see how one could.

Very clever but it doesnt grip all phones

Brought it for my sister. And she loves it.

If you are a sunflower seed addict like myself, you will LOVE this bowl!! Also very nice that it comes apart for cleaning and can go in the top rack of the dishwasher!
Guaranteed Safe Checkout