LED Backlit Keyboard
Regular price $0.00 $29.99
If you order within
Arrives by
A colorful accessory for your desk
Add a bit of spice to your user experience with this bright gadget
Do you need a capable keyboard that will give you not only great fun and convenience, but also aesthetic joy of accessorizing your desk perfectly? Check this beautiful and versatile keyboard out!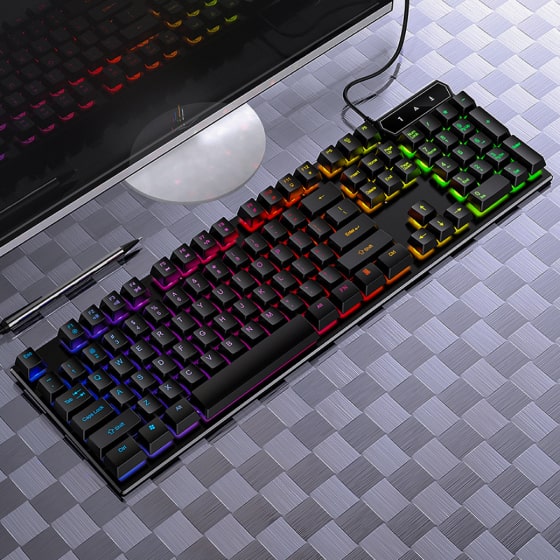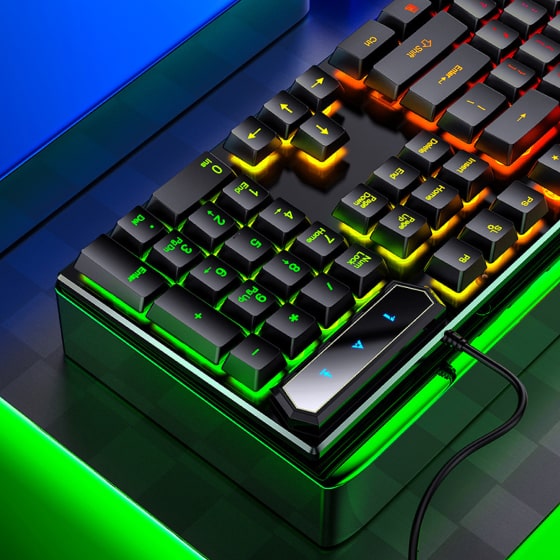 The keyboard for the most demanding users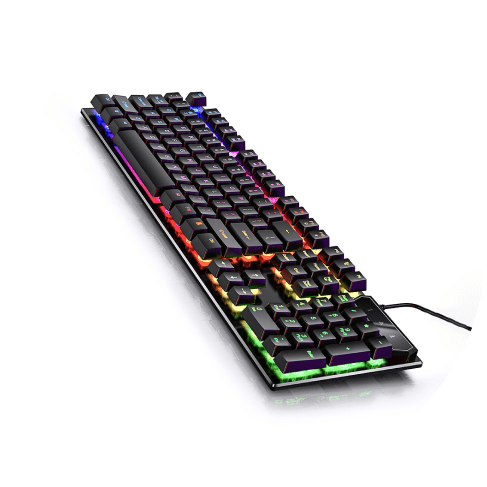 Lively mood at any time
LED lights can give you up to 18 different variations that will delight your eyes and create an immaculate atmosphere in your room. Change the colors and their brightness however you please!
It's waterproof
And dust-proof as well. Have your keyboard always clean and presentable, even if you happen to make it dirty. It's impossible to use a device and not make it even a little bit dirty, after all.
The keyboard of your dreams
Let yourself enjoy the convenient, colorful, and most importantly, reliable and durable keyboard. Don't be afraid of it catching dirt – you can always rinse it and have it looking brand new! You'll appreciate the ergonomic design and beautiful vivid colors of the LED lights, and immerse yourself into the gaming process. This keyboard is ready for anything a keyboard might deal with.
I am a mom, in her mid 50's, and work from home. I am not a gamer by any means, however, I am on the computer all day for my job, and it is an extremely stressful job! My son bought this same keyboard for himself because he is an extreme gamer, and when he showed me the color and what the keyboard can do, I was very intrigued. I tried the keyboard to see if it could keep up with me, and to see if It was comfortable, and I fell in love. I've had it for a few weeks now and it is still working great. Seeing the colors on the keyboard sometimes, not always, keeps me from stress when I am dealing with a customer from hell. Anyone with a stressful computer job should consider this keyboard.

I'm a bit older, 59, so a gaming keyboard seemed to be a silly idea, however the colorfully backlit keyboard and the raised keys have greatly improved my typing skills. Newer keyboards with lower keys have contributed to a rise in my misspellings, and this has helped to resolve that. The keyboard also looks very sharp and in most cases can be used even when the lights are off due to the backlit numbers.

Nice feel. The stroke is a bit long compared to my last keyboard but the feel is excellent. Just while writing this review I have gotten used to the longer stroke. Heavy back plate. This puppy is not sliding around without me intending to move it. I am not sure if it is a mechanical keyboard but it sure feels like it.

I didn't get this for gaming or for the lights. (I turned the LED lights off first thing). I type a lot, e-mail and documents. Using it for a few days so far, feels solid and durable, and has a satisfying amount of travel in the keys and tactile / audible feedback.

This keyboard is the most phenomenal keyboard on how it is built. Each of the keys' responsiveness is perfect. I type loud and fast. Hearing the clicks of the keyboard keeps my typing going. The keys are very bouncy.

I love this keyboard! It is so smooth and the keys are amazing! The LED lights are beautiful. It is amazing for gaming and it makes a really nice clicking sound! You can't beat the price and quality!

I needed a keyboard and thought this would be a short term use keyboard, but I really like this keyboard. I like the feel of the keys. They have good contact. Its a really sturdy keyboard.

I got this because I've been missing the textural "oomph" from a nice, clicky keyboard, having been using my laptop's. I plugged it into my laptop's usb port, and it works just fine!

I love this keyboard, I love the sounds it makes, and the aesthetics. But, I bought some keycaps for it and they don't fit. I was kinda disappointed, not gonna lie.

Very heavy and sturdy-feeling keyboard with mechanical typing feel. The LED lights are impressive... Typing is accurate, responsive and enjoyable.

I've had this keyboard for about a month now and I like it very much. It isn't that loud and its lights are bright. Overall a good keyboard.

It feels less cheap than I expected. But the enter key and spacebar are a bit rattly.

Love this keyboard! This is my first gaming keyboard and it is solid!

Been using it for a few months now and have had zero problems.

No macro keys, programmable or otherwise.

I wish it had a solid color for the LED.

A*******r on Aug 25, 2022

The paint job is a bit sloppy.
Guaranteed Safe Checkout