LED Hippo Night Light
Regular price $0.00 $37.99
If you order within
Arrives by
LED hippo night light
Ready to ensure full-day play, fascinating color learning, and endless joy
LED hippo night light from LumiPets® is the most technologically innovative, kid-friendly, and parent-loved childhood companion that is offered on the market nowadays. Due to such features as changing lights and modes available, this night light from LumiPets® can offer your children round-the-clock play, entertaining color learning, and hours of joy!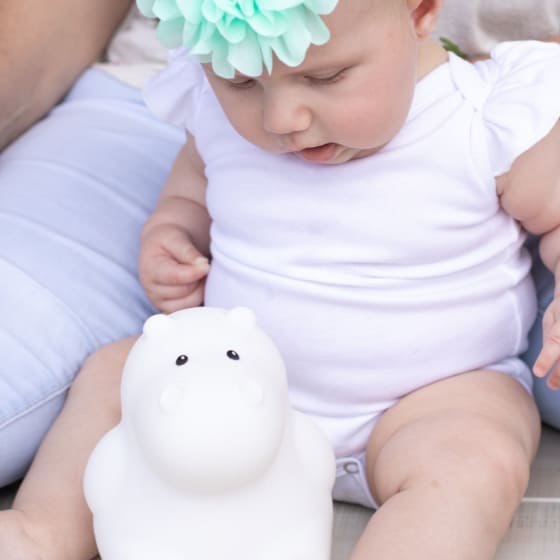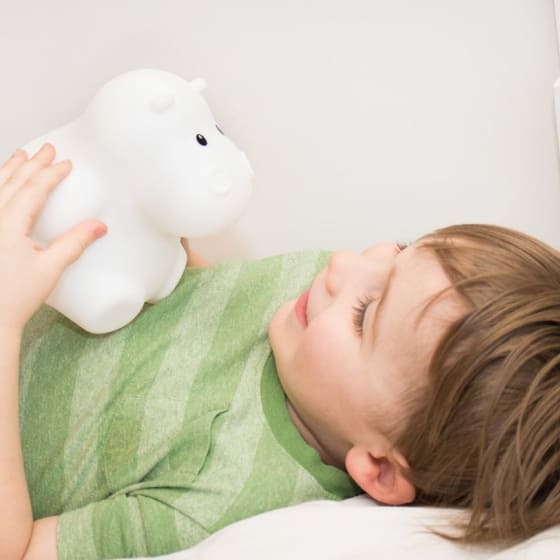 LED hippo from LumiPets®
Created with entertainment & education in mind
Soothing LED night light
Our soft silicone night light for kids casts a gentle glow designed to calm children of all ages whether used as a cute lamp or cuddly companion.
Safe & soft to the touch
This is a unique nightlight for children because it's made of premium-quality, soft silicone that always stays cool. Meantime, it's absolutely safe for your children since it's BPA-free!
Enlightening
Let your children easily learn colors as they play with this lamp! Our tap light features 9 glowing colors that can be changed with a single touch or with the remote.
Ready to travel with you
This LED hippo night light is compact and cordless, so you can easily take it from bedroom, to hallway, to bathroom. Battery-operated LED lamps can be charged via a micro-USB outlet.
Play and study all day long
The LED hippo from LumiPets® supports full-day-play. The devices from LumiPets are created to glow up to 12 hours on a single charge or can be used continuously while plugged in. Moreover, you can choose a brightness setting and 15-, 30-, or 60-minute sleep timer using the remote. So it's ready to ensure non-stop fun and education!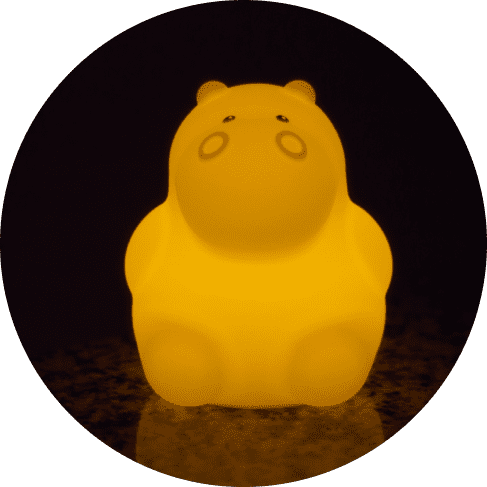 About Lumieworld
Lumieworld was founded with the mission of providing children with the comfort, security and confidence to sleep through the night on their own. We pride ourselves on being the most technologically innovate and safe night light on the market today. As we continue to grow we are so happy to have developed a product that children, parents and even teachers love. We were originally founded in Bellevue, WA where our new head- quarters are still located. We strive to provide the best quality products and services to our customers and vendors.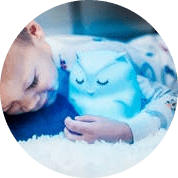 Designed In
Bellevue, Washington
Such a great and adorable product!!!

We use it daily! Recommend it!

My daughter LOVES this. She has to have it every night. Great quality!

It's pretty, it works great but IT'S NOT BLUETOOTH, the regular version arrives, only with remote control. I did not return it because it's nice otherwise, take it into account before buying it

Such a cute light but the dim white light could be a little brighter.

I let the grandkid pick his color when going to bed. You can control the brightness and time it stays on. Works great and grandkid is excited to go to bed.

My son loves it! It's super soft and the colors are beautiful! I love how you can set how bright it gets and also tap it to change the color. Easy to charge and easy to use.

I got this cute hippo for an all night night light for my almost 2 year old. It is so so cute. It is soft and snuggly and I don't worry about it being in her room 24/7. I love all the different colors and settings. We use the lavender color on the lowest setting and leave it on all night plugged in. It's on for about 13 hours at a time. The one gripe I have is that the remote stops working. One I click the on button and the hippo has color the remote works. You can change the color, brightness, timer, and color change mode. In the morning when I go to then the hippo off the remote won't work. And in the evening when I want to turn it on the remote won't work I have to click the power button and then the remote works again. I posted a question above so if I get a fix I will update the review and make it 5 stars because I really love this adorable hippo nightlight.

I've never used the timer function for it, but it is quite bright, adorable and has different color options!

I haven't had it long, but so far, so good! It's soft and it has many color and brightness options. My toddler says, "it's sooo cute!" I hope it holds up for a while.

This is a great nightlight! It's very handy that it can be charged and unplugged during use. One charge lasts a few nights. The brightness is also adjustable, which is nice because the brightest setting puts off a fair amount of light.

A good night light for a toddler or a school aged child scared of the dark. I have both and they love the night light. Super easy to charge and the remote is a cool feature. I have recommended to friends and others.

My son loves it & quality appears good especially compared to similar ones I've bought in the past that lasted a week or two. Love the colors & cute design. My son adores this for nighttime

I like that my son can still have a night light without having to plug something into the wall or him knocking it over or pulling on the cord. I also like that it changes colors. The battery life is really good. I think it takes a few nights before I have to plug it in. But when I need to I just charge it during the day.

Beautifully made product with just the right level of brightness adjustments. Remote control is great too - my only grouse is that i still need to press the on/off button (On the light itself) to first turn it on, after which the on/off button on the remote will work.

My college age child bought one and then I bought for grandson to use in crib at my house. He LOVES it! He taps it on and then taps to get the various colors. I like the small remote to change colors and turn it off.

I never leave reviews! However, I love this nightlight too much not to leave one! I searched everywhere for the perfect nightlight for my kids (7yrs and 3yrs). I tried several cheap battery operated nightlights...I went through so many batteries! I bought another nightlight and returned it because it wasn't wireless and so over priced and the kids didn't love it. Then I came across these. I first bought it for my 3 year old. She loved it!! I loved it. So I came back and got the Hippo for my 7 year old. She loves it!! She has an anxiety disorder and this nightlight has helped her sleep and relax at night. She can keep it right next to her bed, change the color depending on her mood, even hold it if wants. And I feel safe with it. It is silicone and soft so it won't break if it's dropped. It does not get hot. It's wireless. And you can use the remote to change the color, brightness and even set a timer. I am so glad I found this nightlight, it was exactly what I was looking for, it's affordable, and comes in so many different pets to choose from. The Hippo is super cute!
Guaranteed Safe Checkout