LED Motorcycle Signal Light
Regular price $0.00 $15.49
If you order within
Arrives by
Where safety + style collide
Safety is paramount when on a motorcycle, so elevate your visibility as a driver with this LED Motorcycle Signal Light.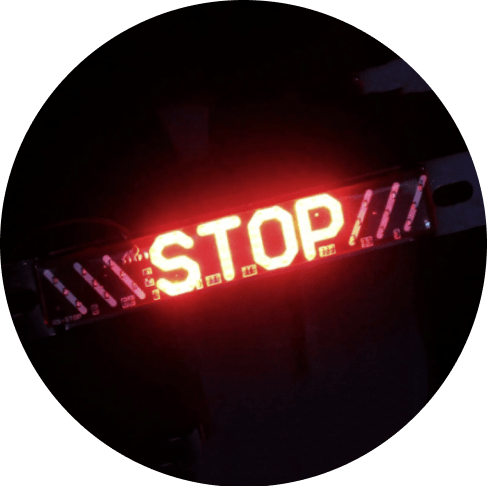 Read all the signs
For greater safety
Stop, literally
Bright red LED light illuminates "STOP" on this add-on sign to notify other motorists and drivers on the road.
Watch the signals
Built-in yellow blink signals for left and right turns are also programmed into this signal light for visibility to everyone.
What a bright idea
Full-LED light lamp beads ensure maximum visibility when the night is dark or it's foggy or rainy outside.
Stick, connect, light up
No fancy tools or bolts required. Just remove the sticky film on the back of the light, adhere it to your bike, and connect the two wires to power up.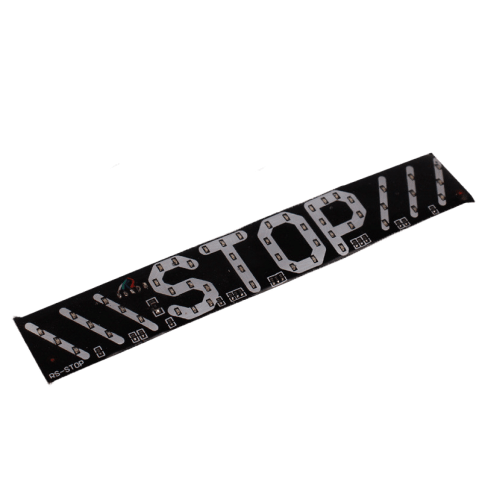 A stylish safety solution
Kick your safe smarts into high drive with this cool LED Motorcycle Signal Light.
This LED sign is pretty nice! I attached it to the back side of the passenger peg mounts. It worked perfectly. I wired it up into my brake system and it works very well in tandem with the tail light. It really helps to add to the riders visibility. Cars are much more likely to see you when you have more running and brake lights than just the single factory tail light.

Used it to rebuild/refurbish a set of golf cart rear lights that quit working. Was able to remove the original LED board from the housing and adapt this sign for tail light/brake light/turn signal function. Much brighter than the original LEDs and resolved a strange voltage feedback issue with the original LED boards.

I put it inside my oem incandescent 3rd brake light housing, used the adhesive to attach it to the lens. One of the strips fell off the lens pretty quickly so I'll have to take the rear deck apart and super glue it onto the lens. Not quite as bright as my LED tail lights, but a great value and plenty visible, more so than the incandescent.

I didn't end up using this for the intended purpose but it still worked great! I needed to replace the 3rd brake light in my truck's cap and this fit the bill perfectly! This light is far brighter than the original halogen bulb that was there previously.

Nice bright light, but not too bright. I'm using it for "mood" lights in my suburb. Great light was -20 during the nights and close to 50 during the day, and it is still sticking. So I'm happy and will think of other uses for them and order more in the future.

So, a new OEM third brake light for h3 is around $100, and after reading few reviews on this led light decided to try it out. Took about 30 min to install, added a few silicone on the light bezel where few cracks are. Work great!! I recommend it!!!!

I added a couple strips to the back of my motorcycle for conspicuity and they're almost too bright. The stock brake light now seems dim compared to these. The adhesive is good, but I reinforced it with a couple zip ties just to be safe.

Very bright leds. Used on the back of my toad mirror to replace the one that came with the SMI DUO brake. Couldn't see the original leds, but these show up much better.
Guaranteed Safe Checkout