LED Pool Lights
Regular price $0.00 $26.99
If you order within
Arrives by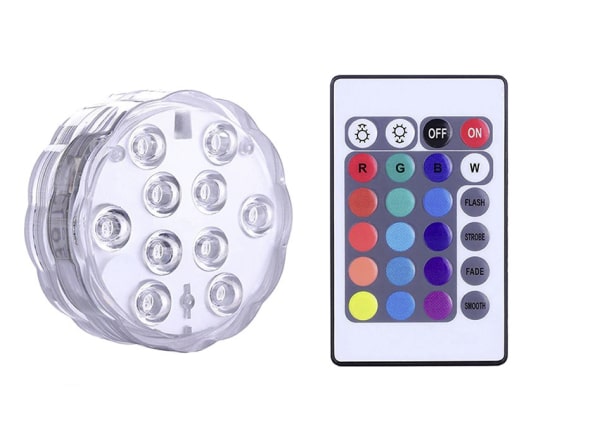 Welcome to the water light show
Bring dark swimming pools, ponds, and fountains to life at night with our beautiful LED Pool Lights. Illuminate the night and brighten up outside walkways, center courts, and backyards with this easy-to-use solution to create a homely, inviting environment.
16 colors. Four lighting modes.
Light up the night with lights that encompass a rainbow spectrum of different hues of red, green, and blue (plus white). Light up the night with lights that encompass a rainbow spectrum of different hues of red, green, and blue (plus white). Create your mood and feel with flash, strobe, fade, and smooth light-up settings.
Versatile design for any space
Our LED Pool lights feature a watertight design with a silicone O-ring to ensure no leaks into the battery housing. Powered by three AAA batteries each (not included), our lights will stay safe while submerged in any water. Each light measures 1.1in x 2.7in (2.8cm x 7cm), making it sleek enough to fit in not only swimming pools and fountains, but bathtubs, fish tanks, ponds, hot tubs, and more.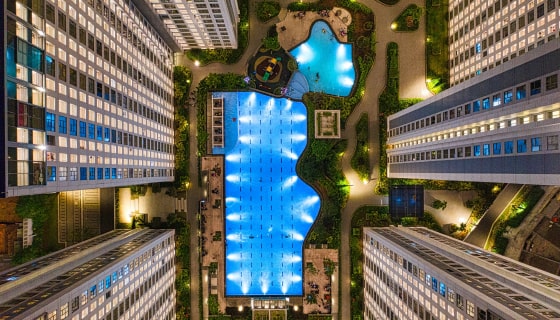 One simple controller
Each order comes with one controller that can power up, change light colors, and switch light modes. You can also increase and decrease brightness for a custom water show or mood-boosting however you please. Note: package includes 1 controller and 1 lamp.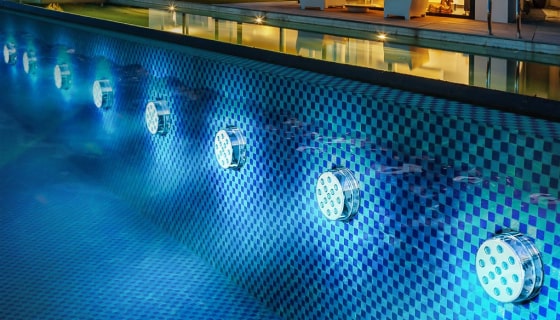 Light-up indicator
When batteries run low on a lamp, a red light will illuminate letting you know.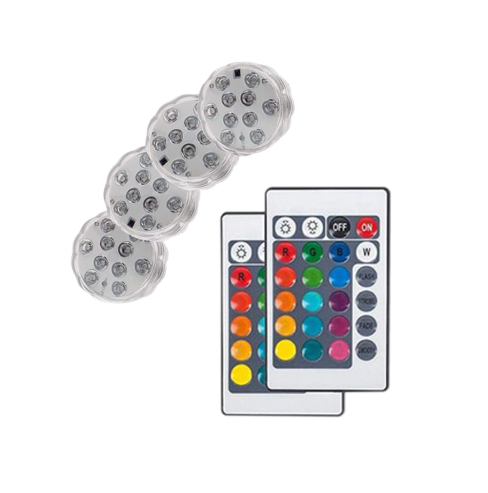 Maximize your "wow"
We recommend not exceeding water depth of 2m (6.6ft) for the best light visibility. This way, you'll get the best use out of these lights.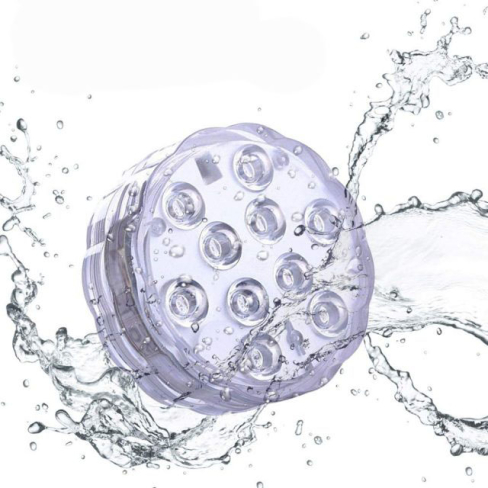 Great value for an LED multi-color, multi-option light. We purchased the submersible LED lights to replace the non-working $400.00 fixed light. They fit perfectly in our floating drink holders and where we have the light pointing up or down into the pool.

Just got these "installed" last night. Took a minute to throw in the batteries and then set them next to landscaping. Can't speak to durability just yet but the seal seemed great as I was closing the devices. Hope I get more than 6 hours per battery load. They look GREAT, as you can see.

Highly recommended for parties and fun occasions. Many shades of colors and modes (dim, flashing, or fading) and very versatile for the price. We also were a bit rough with these, by throwing them in the pool, sometimes they changed mode when splashing in the water, but they did not break or leak. These also can be used as great night lights or mood lighting inside. Completely satisfied.

I like the different colors to choose from. The lights are bright and is waterproof. Light MUST be tightened, otherwise they will leak water! It brightens up my 24 ft above ground pool!! Love these and wouldn't buy anywhere else!! Definitely recommend!!

I purchased these LED waterproof lights for my pond. The O-ring keeps them nice and water-tight, unlike other products without this feature. The lights are bright and add a nice spot of color to my yard. The variable light settings are a fun feature. They are super easy to set up (just add batteries) You can also use these lights on your counters, on party tables, just about anywhere. I would recommend this product for purchase.

I bought a set last year and they are still working. They're fun little lights to throw in the pool either right side up, picture 3 or upside down where they cast the light on the pool floor. Lots of modes to use - solid, fading, blinking, multicolor, etc etc. I'm really surprised at how well they hold up considering they are in the water. (Just make sure you screw the cap on tight after inserting the batteries). Good value for the price. Nice inexpensive way to jazz up the pool at night!

Got these lights for my daughter's upcoming luau pool party and I must say these will be a hit. Out of the box everything has been working perfectly and I look the different colors the lights can change to. Will be purchasing again!

The items do seem very sturdy and should work well under water. I have not tried them yet. I did read the few reviews of leakage but I believe those were operator error. They do screw on tightly but you must screw them as tight as possible without using a wrench. This should keep them dry. They are bright and have numerous adjustments. You could have multiple of them doing different things but will have to use the remote away from the others to make one or more operate differently.

I bought these based on stars and reviews. I did use thread sealant tape on the threads just to be safe; to guard against leaks. Probably not needed if you close them tightly and properly, but I'm all for taking care of my stuff. Working great; we just put them in the pool face down and let them float around. Remote(s) are a bit tricky, but it's the same remote for pretty much all LED strip lights and they are all that way. Infrared remotes never work well anyways if your not in perfect direct line of sight. Small issue that I don't worry about at all. We just turn them on, set them how we want them and send them on their way. Just remember to take them out of the water after use, will last much longer.

I love them! You can't see them very well in this picture. I have one in the center of about ten sego palms in my backyard so at night the entire palm is lit up. These lights are bright, too! Just last night assembled my fountain which has only white lights in it. I dropped in one of these lights on each landing and set them to changing colors. I took several pictures but the lights were so bright they were blurry in the camera. You're gonna love these! I bought two sets and will get more for the next stage of landscaping.

Very bright little light. I bought 2 and I will buy more. For reference, I used in a above ground 4 ft X 24 ft pool, you would need atleast 4 to light it up. The kids loved them, these submersible lights light the water better then the ones that float on top. I bought the basic rechargeable batteries we have used these lights twice without the need to recharge yet.

We just got ours and only had enough batteries to use one the first time. I was very surprised how much light just one of these puts out! We put it under the water near the top with the light facing out from the side of our pool. Very happy I bought them.

These little LED lights are very bright and water proof as long as you don't screw them too tightly together. I Purchased some magnets and attached aCoded magnet to the back of each then place them on the inside of my pool and put the other half of the magnet on the outside of my soft sided pool to hold them in place. Works like a charm! Once it comes with three remotes but you only need one to control them all.

I love these lights! i had them floating around in my pool the first night I received them! whats really cool is if they are face up, the light shines out and you can set them to flash, strobe, fade, whatever you want. if you flip them over, they shine in the pool water changing it colors! Made for a fun time with pool lights off! I live near a military post that trains helicopter pilots. I have a few friends who were flying that night and they said the lights showed up amazing at 600ft!sorry the video isnt the best quality ( iphone night video stinks), but you get the idea. i had set the tempo of the lights to my music and had a great workout in the pool!

Lights were just what I wanted for my hot tub. Lights were bright. Endless selection of modes. Looks fantastic. It came with 4 remotes which probably weren't necessary since one remote controls all the lights. I'll just save them for when I need them.

These lights are amazing!!!!! They are so bright and its day time. I ordered the two pack and they come with their own remote, so my kids can pick their own color. They have a power off option on the option so I don't have to physically take the light out of the pool to shut them off. I'm so glad I found them. They're going to make nights swims a whole lot more fun!!

Love these lights! We used them to light up our pool, waterfall and surrounding landscaped area. They work great, shine bright and hold up in the water! The remote doesn't work from very far away, but it definitely gets the job done. Lots of lighting options, can't wait to get more! Note - each light takes 3 AAA batteries, which are not included, so make sure you order those too.

They are well built, they feel solid and waterproof. You get 4 remotes but you can control all lights with just one. Different settings for a great lightshow. Love these lights . A great value !

Lights were used for a wedding reception. The centerpieces came to life with bright colors. Just remember to tighten back up and take out of water completely after taking batteries out.

I made a night light for my new great grandson. Using vellum paper to print off the pictures, the light is diffused from the inside using tulle. The changing colors is fascinating to him. I am making a few others for Christmas gifts and these lights are terrific!

Love these lights they added just enough lights for the kids to swim underwater at night. They are about the size of a hockey puck and so far after 2 uses they have remained water resistant. I would definitely recommend these.

I really love this product ! It really does what it suppose to do! I purchased them for my pool! They can also be used as Christmas lights! Wonderful product! Love the different ways you can use the remote to change the colors! Amazing!

They were smaller than expected but still are very bright. I got the four pack and I thought that would mean that they would have one remote but it came with four remotes. Luckily one remote works for all four of them.

I loved this product so much, loved how bright and how many different colours there were in these. They are waterproof and no water leaks in, also neatly packaged and came in a Day before! Very much recommend buying!

Love these. They do exactly what they say they do. I've used them before for events, lighting ice sculptures, cakes, etc. Just bought these for my home to throw in/around my hot tub. Love it and love the remote.

I absolutely love these lights. I put them as an accent light in my potted palm trees on my patio. When the kids want to go in the pool at night (we dont have a pool light) the just take them out of my pots. Totally cool!! So bright too!

After a really disappointing couple of tries with some other lights I tried these. I wish I had tried them sooner! How awesome to get for lights all of which can be a different color. It's made our Cue pond looks super cool. It comes with four remotes. You can use one remote for each light if they are far apart or one remote will work for all four. You do have to get close to use the remote but it works well. If you use one remote you can coordinate all the lights to be the same and go on and off if you wish.

I opened the package and put 3 AAA Batteries inside only one light (to try one out) and it works nice. There are four lights and four remotes. They have a nice array of colors. Also, there is a button on the remote that says "strobe" - yeh, they don't strobe. They just kind of change colors like Christmas lights. Still, they're pretty cool and I will definitely enjoy them.

This actually came in better than expected. I mean I thought it would be fine, but would it be bright enough? Yes, it is and the color choices are super cool. The kids absolutely love swimming in the evening and this has made it 10 times more fun! I highly recommend you give this product a try. Side note: To the people that drowned their remote.. it comes with one remote per unit and you can use the remote on any unit. So you have plenty of spare remotes just don't pull the battery tabs off, store them away so you'll have backups for YEARS!

These are extremely bright lights! Very cool looking and the remote has an array of options. Only reason I didn't 5⭐ it, is because it doesn't sink. It's not heavy enough. Also, I didn't notice until I got it that your supposed to take it out of the water every night. Now I don't know what the long term effects of leaving it in the water will do. I very well may be just fine. Just going on what the instructions say. I just don't think it should say "submersible" if it doesn't actually sink. Otherwise great product.

Lights themselves great. Remote only works if product out of water....and once submerged in the hot tub, we found the unit fills with moisture and ultimate stops working after a few days. So, now I don't use them in the water, but we LOVE the mulit light function. Use them for all sorts of fun things. Like Halloween, put in the bottom to glow green like a caldron brewing. Fun stuff.

This is a cool product overall. There is a problem with a couple of them leaking. but the real issue I have is that once the lights are submersed, they cannot respond to the remote control. In fact, the remote control seems to be rather finicky. Sometimes it works. Sometimes it doesn't. I'm not sorry I bought them, and will use them in the garden most of the year. Maybe in the pool during swimming season. But we have to retrieve them each time as they cannot be turned off from where they are.
Guaranteed Safe Checkout