LED Selfie Ring 6 inches
Regular price $0.00 $43.99
If you order within
Arrives by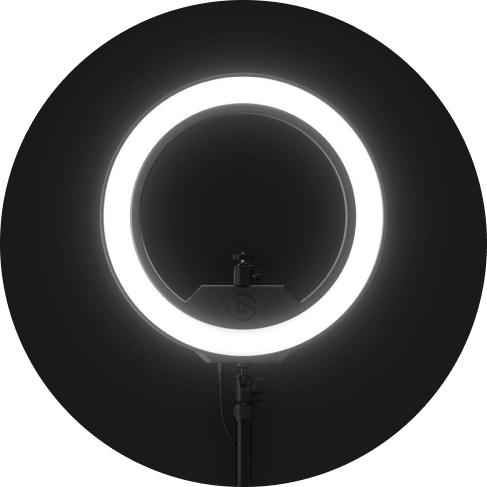 Camera, action!
If you can name what goes in that blank, then you can name the absolute must-have for FaceTiming, livestreams, and making social media content. Our LED Selfie Ring is a must-have for any social media manager or aspiring influencer to elevate her selfie game or product shots. Shine bright in front of the camera for stellar photo and video quality that's an essential in today's quality-demanding media world (yes, the answer was "lights," in case you haven't figured).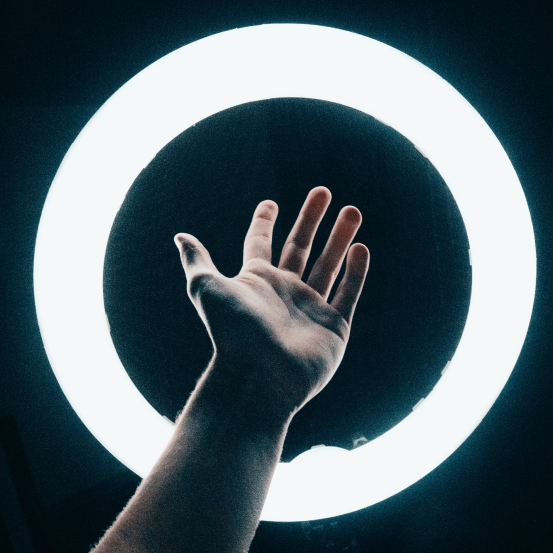 From makeup tutorials to up-close instructional crafting videos, everything needs good lighting for optimum visibility. No one likes to watch something grainy or poorly-lit, so invest in this tripod-propped ring light. It will up the quality of your video and photos, which in turn can attract more viewers and clicks. This will pay back in tenfold when you gain greater brand exposure.
Your reliable camera crew in one handy accessory
Bright LED beads on the ring and a tripod stand crafted from aluminum and ABS plastic deliver stability and quality that doesn't break the bank. This light ring also features a convenient built-in smartphone holder that's fully rotatable for your video- and picture-taking needs.
Three light modes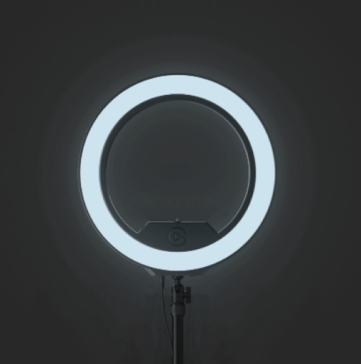 Mode 1: White
Go full-on bright with white light.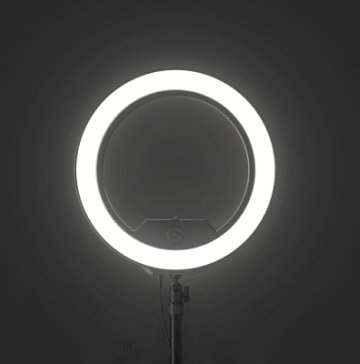 Mode 2: Yellow
Turn up the glow with yellow light.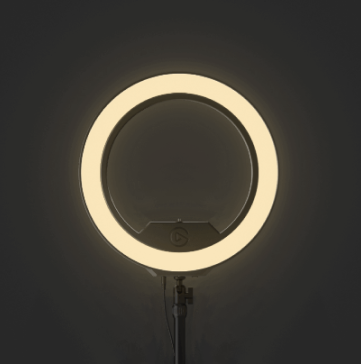 Mode 3: Warm-Yellow
Combine warm and bright with a warm-yellow light.
Flattering light that's 180-degree adjustable
The head on the ring light is front-and-back adjustable at 180 degrees through a fixed knob, allowing you to angle your lighting when needed.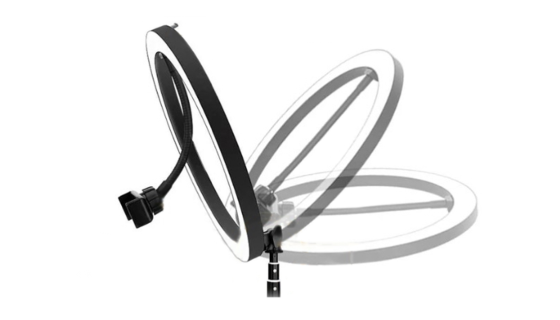 This is such a high quality product. The design was very well thought out and each piece can be adjusted for a custom fit - the phone holder adjusts to phone size, the ring light and the tripod can be adjusted to sit and angle any way you want. It's exactly what I've expected from a ring light and more! Seriously such a great product! Very easy to put together and comes with instructions as well.

The light illuminates perfectly and prevents shadows. Has easy push button control and usb power supply. Adjustable phone holder to fit any cell phone. Recommend it!

I make videos and brand reviews/makeup trials and I typically use my lighted mirror on my vanity. My sister showed me one of these. I decided to buy one to try it out while videoing. Wow, I'm so impressed! I love the different lighting options and the ease of switching between the three different options. The only critique I would give is the directions, they're not quite as clear as I would have liked, but it's a very easy assembly and you shouldn't have any problems putting it together. However, I haven't figured out how to use the remote yet. Nice, clean and greatly packed with lots of padding to ensure the light doesn't break in transit.

This is the perfect little light ring! My others are too big for counter top filming like for face washing videos. I mounted this one to the mirror in my spare bathroom using command strips. That way I can take it on and off as needed. It's big enough for my phone to fit in the center and bright enough for what I need it to do! Great price!

I own 2 very high end ring lights as I am a traveling makeup artist and hair stylist. This light is comparable to more expensive lighting. I purchased it for my daughter and she loves it! Do yourself a favor......GET THIS!

We ordered this to play around with for several reasons. My daughter (9 yo) loves to play dress up and with makeup, and the lighting in her room isn't the greatest. This makes her feel fancy - like a star. We even found a mirror that will work in the cell phone holder, which is perfect. I like that this is USB-powered, and that you can adjust the intensity of your lighting. Best of all, it folds up so small; all the parts collapse down into the base, and even the cord and switch fit nice and neat around it. I think we'll get a lot of use out of this.

Flexibility is ahead of all other ring light sets. Basically you can put it everywhere like the floor, desktop or handbag when you're not using it. It's the ultimate all-in-one of ring lights.During this pandemic,I always do a lot of videoconferencing.I face the challenge of lighting at home.So I decided to order this ring light,which is a great purchase.

Cute little ring light. Still trying to figure out how the remote shutter works but definitely a good purchase!

С*******a on Oct 13, 2022

High quality item, the LED lighting effect is very good, easy for use, also can be changed LED light colors, I love it !!!

Very easy to assemble. Great on the desk for small business owners for photos and selfies.

I bought this light to help light up my face while streaming on Twitch, and I couldn't be happier! Set-up was as simple as plugging in the USB chord into my computer and done! The three colours are great to match the rest of the light in my room, and the tripod stand is just the right height. Love the quality too, feels well made and durable. Would recommend!

This ring is just what I needed to use with my desktop for all these video meetings. The tripod is short for behind the monitor but I was able to easily put the folded tripod in a shelf just above and the ring works just fine. Love the size for my large monitor. Great price, too!

I do not have a lot of experience with this item, but i can say it was easy to set up and use even for someone who doesn't really know. I think the light could be brighter but I'm sure the more expensive the brighter clearer the light. For my purpose of just taking more professional looking pics and videos it does a fantastic job.

So so easy to setup! I love that there are 3 different light settings...they all cast such beautiful light! We used it for a birtbday party photoshoot, and we also used it to do homecoming makeup...such good lighting!

Extremely pleased with what I received as we took some beautiful pictures of our family. Upon received, it literally took us 3 minutes to assemble and it was ready to use. It also has three different brightness as described and easy for storage since the panel is flat.

This is a nice little ring light for doing makeup or recording videos sitting down or at a table top! Also travel friendly. It's a great size. Highly recommended!

Really good light set up for beginners. I love this product and use it for a lot of different projects.

I have been taking way better photos! I am learning new makeup but couldn't show it off the way I wanted. This has changed that in seconds. Easy to use and worth the money!!!

I bought this ring light to take better pictures with my phone. I chose it because it has a tripod stand, a phone holder that can fit my phone, a two different light types (cooler and warmer). I like that it includes a remote for taking pictures. The remote was very easy to pair with my phone and allows me to be more far away from the light (and the phone) when I take pictures. The quality is good for the price and for the use I make of it (I am not a professional photographer).

I really love this. It's bright and has a remote so you can take your own pics. Only issue was that the legs were wobbly and it kept falling over. I made it work

Let me just say this ring gives awesome light! Just wished is was rechargeable. Other that that totally recommend this light.

I bought this for my daughter because she likes to post videos on her social media. She seems to like it a lot. The light is really bright. It was pretty easy to put together. It goes on the table. The only thing that I didn't like was that sometimes it would tip over if the stand was not perfectly placed. Maybe it could be a bit more sturdy. But for the most part it works well. Also the phone light fits perfectly on the phone.

Thanks for it! Everything is fine! A good product for a reasonable price!

Wow, I'm very impressed with this light!! It's so bright and makes my pictures look so amazing! The stand is a bit smaller then expected but that don't matter in photos. I love the little key that adjusts the brightness. I wasn't sure if it would be good because it's a pretty cheap price for a ring light but you get the quality! Your pictures will look professional!

This is my first time ever owning something like this lol gotta admit it's pretty cool...the stand itself is a little flimsy but it still works as intended! I really like it, the different modes of lights is the best feature!

We got this for are little girl as she recently asked for one, didn't want to spent too much for it so opted for this one and daughter is very happy with it. Thanks!

Not tested yet, but looks great, thanks!

Come clean, very good protection, 5 *. Arrived in 2 weeks

I love this ring light! Everything that came with the ring light are also really good! I use this for taking my videos and full body pictures like photo shoots! It also came pretty quick in the mail! I 100% recommend! It was worth every penny! Thanks to my mom she brought this for my birthday!

This ring light is very easy to install even without reading the user manual, my daughter has already set it up and took some selfies!

The quality of this product is great for the price. I absolutelly satisfied with the purchase.

Superior quality and service! All the features are amazing, you are able to control the light intensity. It holds even large phone. The legs could be little longer.

This is a very good product. Basically there are a ring light, a tripod, and a phone holder. The product was made with good quality and very easy to install if you follow the manual. The light was designed to have 10 levels. And there are 3 color temperatures: white, yellow and natural. The reason why I didn't give five stars is that when I tried to take a selfie with it since I'm wearing glasses I could see the reflections of ring light in my glasses from cellphone, which looks very funny. But it's ok since most of the time I wear contacts. Maybe in the daytime there won't be reflection. I definitely need to explore more. Compared to the price it is a high quality product with good design and practical functions. I recommend this item.

Really easy set up and easy to use! Love the 3 different light settings, cool, really warm and medium warm which is my fave! On each setting the brightness can be adjusted as well! It's perfect for a good selfie or make up tutorial or other videos!

After seeing so many similar products, I wasn't sure which one to get, but I made the right choice. The light is easy to put together. The remote is easy to set up and works without a problem. The ring light for my phone is a little bright, but considering it is an extra, it makes the whole bundle well worth the price. I'm pleased with the purchase and would buy this again.

Omg! I love this light so much! I used to have a big one but this one is perfect for my you tube videos ! It is so easy to set up and props right one a desk! The lighting is perfect. It was also delivered so fast ! My old ring light broke so I needed a new one and I am so glad I came across this one I took a chance and I am so glad. This light seems like great quality and exactly what I was looking for

The light works well but it doesn't hold my phone very well. The light keeps falling over when I'm trying to record. Maybe my phone is too heavy.

The light is bigger than expected and has a good brightness to it. Unfortunately, the tripod is underwhelming and inadequate to hold up the light. The weight of the ring light and my phone kept causing the tripod to slip down. Overall, I still think it is worth it for the price.

I like everything about this ring lamp. It's easy to assemble. I like the different degrees of light it gives off. I like to adjust the light. The height of the tripod is perfect. I took it out of the box and started to use it right away. I'm very happy about this purchase. Ring lamp is a great value and I highly recommend it. I ordered this for my cosmetics business.

Overall, I'm really happy I made this purchase. The only downside is that the legs of the tripod don't tighten up. It's more of a problem when you put your phone into it. Other than that, it does what it says and has worked well for me.

This is a nice LED selfie light.It's big, but it's not heavy at all.I love this switch. It lets you choose between different shades (blue, white, pink, etc.).I shoot videos indoors and my walls are painted in bold colors, so all of my videos have some funky colors on my skin and throughout the video.This light helps to illuminate things and even out the tone.This selfie light has been a great help to me and I highly recommend it.

This ring light helped solve my lighting issues on Zoom meetings. I would like a longer cord but was not willing to pay more.
Guaranteed Safe Checkout