Lumipets® LED Dragon Night Light
Regular price $0.00 $31.99
If you order within
Arrives by
A LED Dragon light from LumiPets®
Keep the monsters away all night long
LumiPets® are the most technologically innovative, kid and parent loved childhood companions offered on the market today. With the changing lights and modes, LumiPets® offer all-day play, engaging color learning, and hours of endless fun!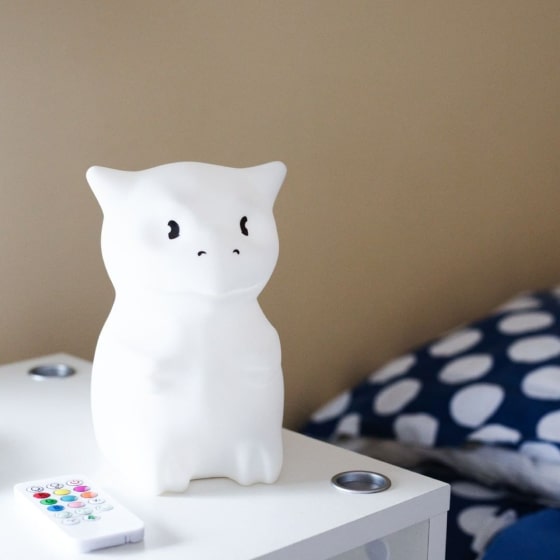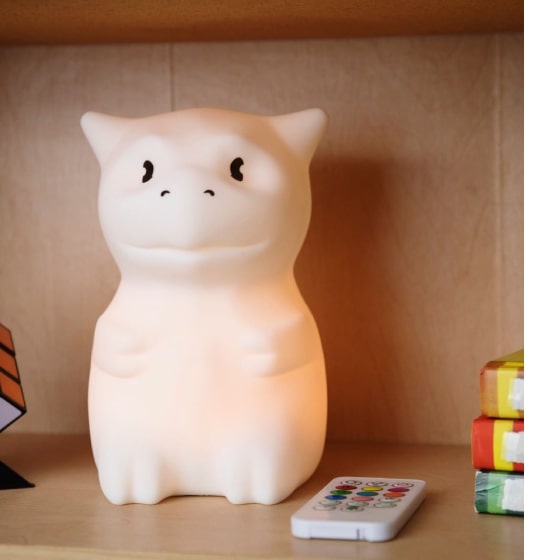 Soft, safe and portable
A great children's companion
Soothing LED night light
The soft silicone night light for kids casts a gentle glow designed to calm children of all ages whether used as a cute lamp or cuddly companion.
Safe & soft to the touch
The unique nightlight for children is constructed from high-quality materials such as soft silicone that always stays cool.
It is educational
The light features 9 glowing colors that can be changed with a single touch or with the remote. Children will be encouraged to learn their colors as they play with this kid's lamp.
Supports all day play
The LumiPets night light is designed to glow up to 12 hours on a single charge or can be used continuously while plugged in.
A nursery essential
Allows for easy diaper changes and bathroom breaks in the dark. There are no sharp angles or parts and it doesn't get hot to provide safety to the little ones.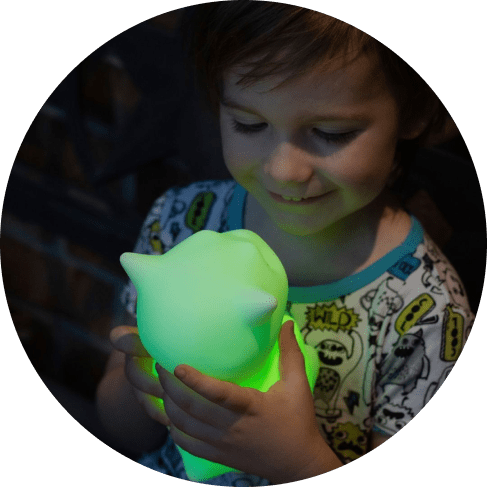 About Lumieworld
Lumieworld was founded with the mission of providing children with the comfort, security and confidence to sleep through the night on their own. We pride ourselves on being the most technologically innovate and safe night light on the market today. As we continue to grow we are so happy to have developed a product that children, parents and even teachers love. We were originally founded in Bellevue, WA where our new head- quarters are still located. We strive to provide the best quality products and services to our customers and vendors.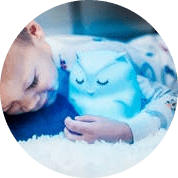 Designed In
Bellevue, Washington
My four year old has low vision due to a rare medical condition. His vision is really bad in dim light or in darkness as his eyes can not adjust to no light. For the longest time he has been co-sleeping with me because he would wake up in the middle of the night and cry because he couldn't see. Sadly there aren't much low vision tools aimed for young children that are suitable or easy for them to use. When I stumbled on this product I thought I would give it a go. After it charged my son immediately fell in love with "Lumi". It was easy for him to tap on and off. He usually falls asleep with it on but after a while it turns off automatically. When he wakes up he taps it back on and falls back a sleep. He also puts it on to navigate my house to go to the bathroom and back to bed. He prefers the brighter setting but even the lighter settings illuminates well. It is light weight for him to carry up and down the stairs. So soft and flexible that he can fall asleep with it and I do not have to worry about him getting hurt with it. As a mom, I highly recommend this product, especially for the children who are afraid of the dark.

On a full charge on the dragon it lasts two nights. The various colors are really neat-both my 2 year old and 6 year old approve. Certainly has been tested for durability (thrown and even chewed on). The taps to adjust colors or stop on a color do not always work, but I keep the remote out of kiddos reach & it has always worked. I really like the feature to dim the light. Often this is the only light source needed for our nightly book reading.It is another thing to have to keep up with Charging, but I really like the ability to take with us on trips. My son even likes carrying it around to hide with.

We LOVE LumiPets!!! We first bought the dragon one for our daughter before she was born. She has loved it since day 1!!! The color change feature is wonderful and the bottom electronic part comes out of the silicone pet so it can be washed and sanitised!!! We now own 2 and just bought a third as a gift for a friend's baby. Super fast shipping, rechargeable battery has lasted and holds good charge even after using it every night for 10 months!!!

Our oldest son just recently had regular nightmares in the past year so we needed something that would help lessen this and be up less during the night. Since we got this we are down to about one every other week if that so it works perfect for what we wanted. Not only is it just wanted we needed but he loves it and is able to turn it on and adjust the brightness or color how he wants it.

My daughter uses this as a night light. I like that there are different options for colors and how you want them to change. The part I like most is that there are a few options for the timer so I can set it longer if it's taking my daughter longer to fall asleep. She's 6 and likes using the remote to change the colors. The character is pretty light and squishy. My daughter can squeeze it and it'll slowly pop back to normal. Charging is easy.

Easy to use, very bright, great remote and love that these are rechargeable. A win!

We have it on all night long to protect from "monsters". My son loves playing with it and tucks it in bed with him sometimes. We are in love!

This is an amazing nightlight for kids !

I purchased this for my nephew's 2nd birthday as a solution to his fear of the darkness when traveling in the car. He absolutely loves it and it's bright enough for him but dim enough to be safe for the driver. He of course takes it everywhere with him. I am about to purchase another for my baby girl for when we travel during dark hours.

It's so cute! Super soft, my 7 year old squishes it. And tapping it on the head turns it on. Loooove!

Bought this for my dragon themed nursery, and I love it! It fits the decor wonderfully, and I really love the ability to turn the light brighter and dimmer. The color options are great as once I put the baby down I can set it to red or purple light so that I can still move around the nursery but it doesn't bother the baby.

This thing is awesome. My son always asks me to turn his dragon on for him before bed.

But honestly, it holds a charge great. I initially bought it so the oldest could read in the bedroom without waking the other child by turning on the overhead light. It's not quite bright enough for that, but it is great for entertaining children so everyone else can sleep an extra few minutes. My kids don't need nightlights, so I can't speak at run time. We don't use it every day, and have charged it twice in about a month. We don't use the remote because I don't trust the children with it. It works great to light up their blanket and sheet forts.

I have the dragon for my son and the cat for my daughters. They both love these! They are easy to use and charge. The colors are awesome, and I love that we can change the brightness. I'm very happy with these purchases.

The nightlight is cute and very bright. My daughter likes the changing color option. However, when on, the nightlight will automatically change colors when bumped or jostled, making it impractical to have it in bed with her or on her headboard.

It was a great help getting my little one to sleep in his own bed! He actually thanked me for helping him not be afraid of the dark.

The dragon is adored by my 3.5 year old daughter. The color changing mode is her favorite and the brightness is great. The texture is soft and squishy which is perfect for when she squeezes it because a little poof and it restores shape. The only downside so far is the remote.. it didn't work upon delivery. I have note yet tried to replace the battery, but I'm gonna guess it won't matter because some of the buttons don't push in like the others. It would have been awesome if the remote worked, but overall it's still a cute nightlight and worth the buy.

We love to change the colors and use the remote. The brightness can be turned up or down depending on your needs. So fun especially for camping!

My daughter has one and she loves it. Just purchased the dragon for my son and the remote will not work. I even replaced the battery. Don't want to return but may have to in order to get a remote that works. He's going to be so sad :(

We really like this product. Our son has had sleeping problems with the dark lately and he loves his stuffed animals so we thought this would be perfect to help him get to sleep. He has been doing much better with the dark. The remote could be better. I have to go into his room to mess with it. It'd be great if you didn't have to get so close. If you could control it through the door that'd be great.

I absolutely love this LED light. It is very cute,soft and squishy and so bright! We ordered the dragon one. It has options to change colors or pick a programmed color or light show. It also has 3 timer options, 15 minutes, 30 minutes or an hour! It has so many different options on the remote and even the light itself. It comes with remote, LED light, charger cord, and instructions manual. The only issue/problem I had was the light came broken . Like the Led lamp inside that is supposed to be attached to the bottom is broken. However, it still charges and works so far. Hopefully the light being broken won't cause any issues in the future.

Only had it for a week but so far I love it! Very durable with young kids who are extremely hard on things. I've only charged it once and they use it daily. Wipes clean easily and they love all the colors.

My kids fight over who gets to hold the dragon, who gets to use it on their bed to make a tent, and who gets to disassemble it against my wishes.

You have to keep charging it. It's very cute. It lights up the whole room with a soft light. If it would just stay ON longer.

Works great for my son and is soft and indestructible.

A total hit with the kids in my family. From a 10 month old to a 10 year old. They all love it.

Bought four different night lights. This by far was a favorite. The remote was a big hit with my great nephew who is 4. His younger cousin want to play with this instead of the one he bought. It is very Durable

Easy to use and charge. Stayed lit all evening and was still nice and cool when I turned it off in the morning. Fabulous night light.
Guaranteed Safe Checkout