Magnetic Adjustable Stand-Up Phone Holder
Regular price $0.00 $18.99
If you order within
Arrives by
A slim, stand-up solution
For easy use
Keep your phone in place with confidence with the Magnetic Adjustable Stand-Up Phone Holder. It's high-performing help that'll provide hands-free convenience.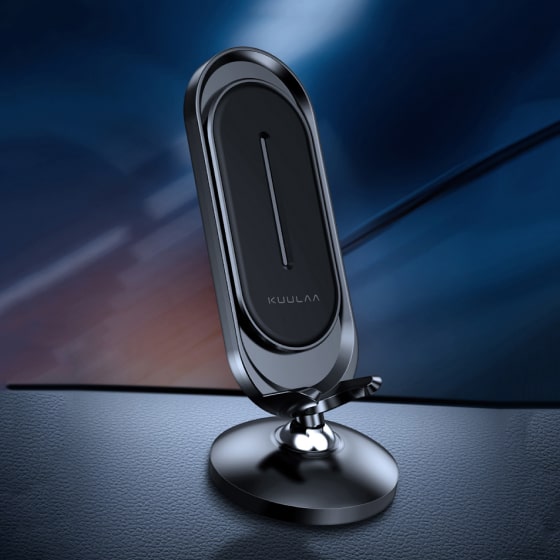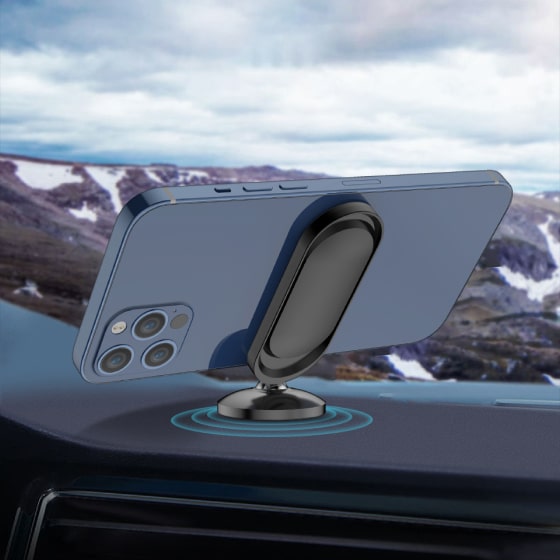 Peel on, stick on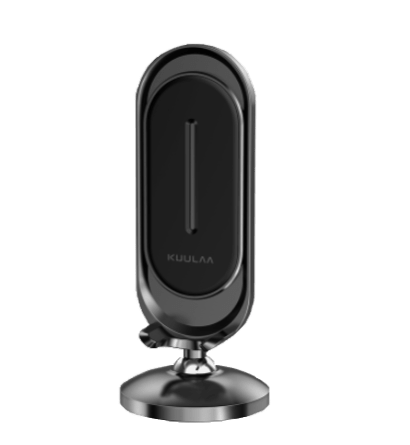 Easy operation
Your purchase includes a sticker-backed magnet to adhere to your phone; this sticker will help attach your phone right to the phone holder's magnetic back.
Long-lasting, convenient performance
Built of solid zinc alloy, this phone holder is sturdy and features a 360-degree rotating base so you can stick the holder to any surface in your car.
Steady, still, and solid
An acrylic-glue bottom provides solid adhesion onto your dashboard while the holder's six built-in magnets provide a rattle-free hold no matter what road you're on.
I bought this to take calls while working from home and it has worked well for that, but I also realized that it works pretty well for taking time lapses and videos with my phone as well. It even works with the back camera by placing the screen "face-down" onto the stand.

I absolutely love this stand. It is perfect for all my needs. The base is heavy enough to keep it stable without it actually being heavy. The angles are adjustable and the space underneath allows for cables to hang without getting tangled or being in the way. You can have your device vertical or horizontal. That's great!

Easy to use, I wish the bottom shelf that holds the phone up was a little deeper so my phone with a thick case would sit a little more stable. I've found a way to make it work, and it definitely has a balance that works well for a phone. I thought it was adjustable in height, but it will work well for my office desk.

I purchased this stand for my cell phone and was pleasantly surprised when I opened the box. The materials are very durable and sturdy. Some assembly is required, however, all tools needed for assembly are in the box. The item does not pivot, so if that is a concern you may want to purchase something else. Other than that this product is wonderful and I may buy another to keep on deck if I lose this one! :-)

This phone stand is simple yet extremely useful. I purchased the stand to help keep my phone from getting lost in the piles of documents and folders on my desk and it has done the job nicely. The stand is lightweight yet sturdy. I can set my phone on it either horizontally, or vertically. It's easy to reach over and respond to messages/emails, and I find my hand doesn't get sore from holding all day. I am happy with my purchase and especially the price!

I love this. I bought this one and a similar one to see which I liked better. This one won hands down. It's sturdy, the rubber type material keeps the phone from falling off easily, and works great for video calls. I have an iPhone and it doesn't block the plug for my headphones when it's on the stand. It will also hold my tablet, which is of course bigger, but when I use it vertically instead of horizontally, I just have to be more careful, but it still works.

I'm getting a new phone Wednesday and I've wanted a phone stand for some time. I read a lot of reviews and got this one. I like that it's got a solid base and won't tip. It's quite sturdy. I like watching and listening while washing dishes and eating and this makes it safer and easy. My new phone is waterproof but I was always worried the old phone would fall in the dishwater where I had to place it. Now it's safe and easily visible. Really love it!
Guaranteed Safe Checkout