Magnetic Clip-On Sunglasses Case
Regular price $0.00 $19.99
If you order within
Arrives by
Sleek, slim support
Keep your sunnies safe
Got a collection of sunglasses stuffed in every compartment of your car? Let's organize -- and at least get your go-to pair stored away -- with this clutch, designer-inspired Magnetic Clip-On Sunglasses Case.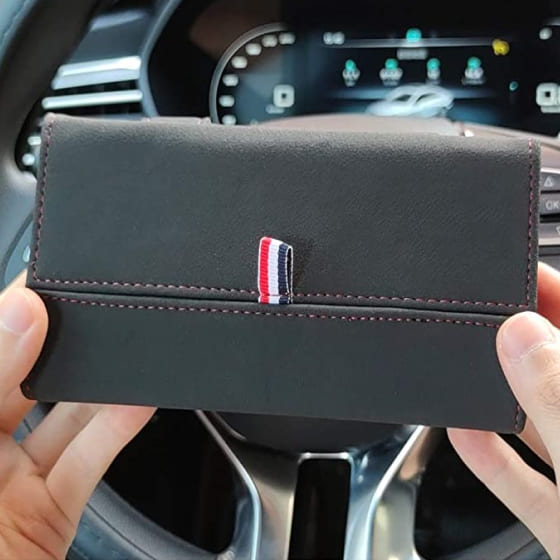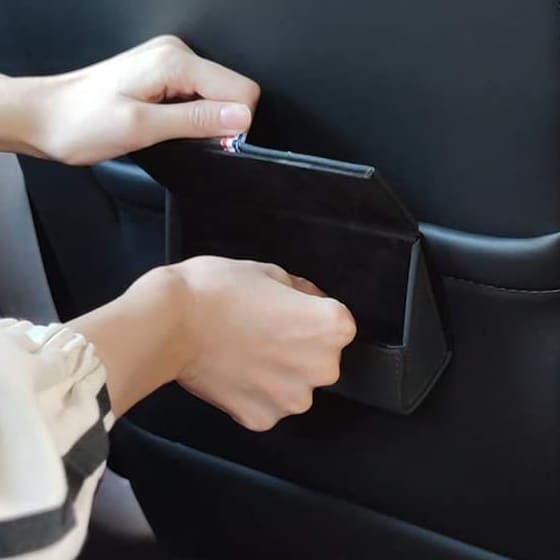 Store & protect
Keep your sunnies safe
Perfect for any style
Measuring 3.3" x 6.3" x 2" (L x W x D), this Magnetic Clip-On Sunglasses Case keeps just about any pair of sunglasses securely in place.
Elegant design + feel
Polyurethane leather and fabric, along with stitching detail and a flap-flag detail, create a designer-like look for this case. A built-in magnet provides secure snap closure.
Eye protection that's within reach
Instead of fumbling around your cup holders or center console, simply reach above to your sun visor to find your sunnies. Or clip this case to anywhere else you want -- from seat-back pockets to your driver-side door.
Non-obstructive design
This triangular shape of this sunglass case ensures if you clip to a sun visor, that there is no blockage of your behind-the-wheel view, for safety and peace of mind.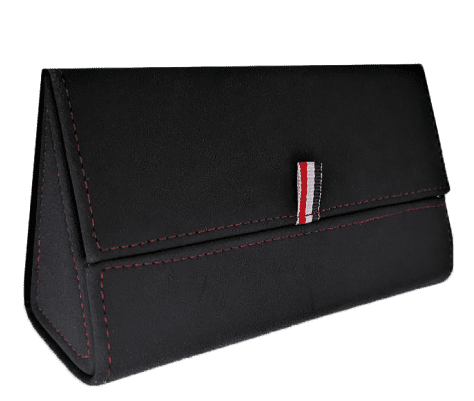 An elegant touch for anyone
Get convenient yet stylish support with this Magnetic Clip-On Sunglasses Case; it's the perfect gift for any sunglasses collector.
This is a great car interior organizational tool. The quality of the materials and manufacture is excellent - it feels sturdy and substantial, yet still lightweight enough to hang on the car visor without issue. The interior is made from a soft, velvety fabric that does a great job of protecting sunglasses from scratches. The well thought-out magnetic clasp makes it easy to open and close one-handed and still holds the case securely closed when not in use. Installation and removal are a cinch - just clip it to your visor and go. If your car doesn't have a sunglasses holder - or even if it does and you just need another one - this is a great choice. Highly recommend!

This is a very nice glasses case for my car. The leather appears to be good quality and the stitching is excellent!! The case fits snug to my sun visor with no slippage at all and the magnetic latch holds my glasses securely in place. I wear aviator style glasses and the case will hold two pairs of my glasses (sunglasses and night driving glasses) without the magnetic latch releasing. For me, one of the features I really like is the black leather case and red stitching match the interior of my 2018 Nissan 370Z Nismo. I wish I had bought an additional case for the passenger side for my wife's glasses...... GOOD PRODUCT!!!

This product is quite nice. The look and feel are premium, and the best feature is the minimal design that gives a modern and distinguished look. Most glasses protectors of the same robustness leave something to desire in the looks department, but this product appears mature and elegant. The clips have a nice closing strength and are also covered in the case material. The product doesn't appear to leave any noticeable discoloration, but I do not live in the warmest or most humid of climates. I would recommend this to anyone looking to store their glasses while not giving the appearance of immaturity.

Pretty simple sunglasses box that can be attached to a car sun visor or side pocket. I tried out both and I ended up putting it on the passenger side visor (my Toyota visor is thicker than most others) so it's out of my sight line while driving. It's pretty easy for me to access my sunglasses and put my prescription glasses inside. I have a larger pair of glasses and they fit very nicely. The inner material and outer material are made out of a soft fabric so it won't scratch. Magnet is pretty strong and the flap doesn't move even when using the sun visor. Pretty satisfied with the overall box so far, much better than fumbling for my glasses case every time

This sunglass holder is super useful. I always have prescription sunglasses in my purse, but when my fiancé rides my car he never remembers to bring sunglasses and any pair that I keep in the car always ends up following him back inside or he loses them. I got this so that I can always keep a spare pair of sunglasses in the car. I did find it's a little cumbersome because the clips are too widespread so in order to have it not block the passenger visor mirror I need to have it hanging off the visor a bit.

This product is the perfect size for storing glasses in a vehicle. Glasses can be inserted and retrieved using one hand and the magnetic catch is just strong enough to stay closed even on bumpy roads. It clips to attach so it does not sag like those with straps. I have no complaints and can think of nothing to criticize this product. I recommend it to anyone looking for something to store their eyewear in while in a vehicle.

I needed a way to store my sunglasses. I was upset that my new car didn't come with the sunglasses holder. This sunglass holder was easy to install. The sun glasses have to be put in an angle just like the case is shaped. If you do not then you feel some resistance but if you put it in the correct angle then there is no problem. I definitely recommend this.

I really love this product. My car does not have anywhere to store my sunglasses and this is such a handy solution. I never scratch my glasses by storing them in the glovebox and always know where they are! The design is very nice as well and looks good in my car!

I bought this case for my Acura RDX for use as a second glass case. One for sunglasses and this one for my eyeglasses. Very sturdy. Well made. Easy to open and very attractive. Excellent product. Highly recommended and very easy to install

I was concerned that this would be awkward to get to, or cover a portion of my mirror on the passenger side of my 2021 Honda CRV. However, it is easy to open and use, securely attached, and still allows the visor mirror to be used.

Nice case: sturdy, easy to open but stays closed well with the magnet. Stays on the visor well. It doesn't fit larger glasses, but fits thinner profile glasses well.

I bought this case a couple of weeks ago; It is of nice quality. However, it doesn't fit bulkier glasses, like Oakley Holbrook glasses without squeezing them more than I'd like; it does fit my Ray-Bands Wayfair nicely. I also have a smaller car, and it hangs down a little more than I'd like, but it's overall not too intrusive in my sightline, and the magnet holds well if the glasses fit inside.

So, disclaimer: I live in a southern desert. It gets VERY hot where I live. That being said: the adhesive at the seam of the closing flap did come undone within a year of me buying this, and I had to glue it back together. But I still gladly use this product, as it's a simple, aesthetically pleasing, and useful tool to keep my sunglasses in place in my car.
Guaranteed Safe Checkout