Magnetic Triangle Phone Mount
Regular price $0.00 $14.99
If you order within
Arrives by
Performance within reach
For safer operation
Keep your phone in place while you're behind the wheel with the sturdy and dependable performance of this Magnetic Triangle Phone Mount.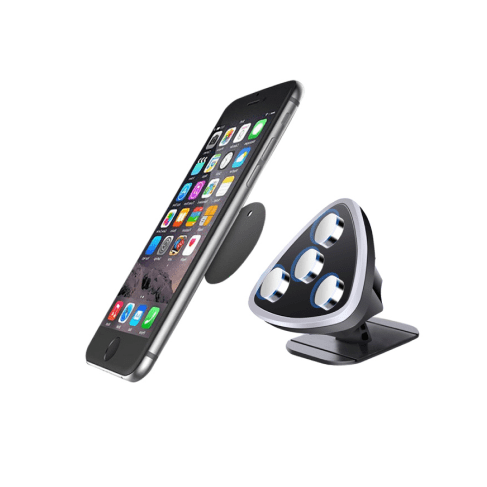 Convenient, compact, and cool
(It's just the add-on you've been looking for)
Small + compact
Measures 1.6" x 2" for a phone holder that isn't bulky.
Find your angle
The base of our mount features a ball joint that lets you rotate the hold of your phone for better viewing.
Magnetized wonder
You get a sleek, circular magnet you can place inside your phone case, while four built-in magnets on the base ensure a strong attraction.
Keep your phone at eye view
Our Magnetic Triangle Phone Mount features a sticky bottom that adheres soundly to your dashboard with ease.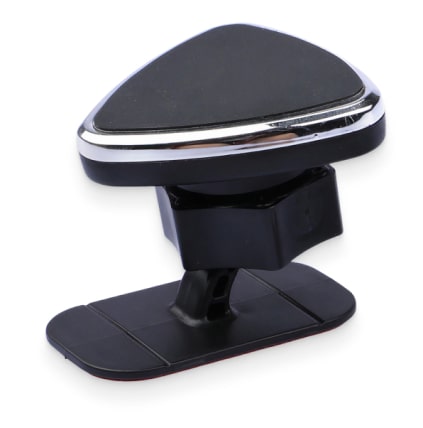 A quick, easy solution
If you're tired of your phone falling off a traditional clamp holder or weak air-vent holder, harness the power of magnets with this Magnetic Triangle Phone Mount.
This phone holder was super easy to install and is so convenient to use. I love it. It's one of my all time favorites and I have owned a lot of them. So much so that my sister, brother, mother and friends have all also bought it. The magnet has no problem holding the phone up even through my phone case which was my biggest concern before buying it. (I have it attached to the phone, not the case.) They offer quite a few options for metal pieces to attach to the phone and extra sticky pads to hold the holder to the car. Would absolutely recommend.

I don't know why I didn't get one sooner. I used to have a magnetic phone mount that was attached to the A/C and heat vent. The issue with this is that it blocks the vent, making it hard to see the phone screen because the angle of the screen wasn't adjustable, and my phone would fall sometimes when there were bumps in the road. This one mounted great on my Hyundai Sonata. Both the magnet and the adhesion are very strong. And can't beat the price!!!

I use this to mount my iPhone or iPad in my vehicle. I tried to mount it on a leather surface and that didn't work well. But when I found a hard plastic spot to mount, it stuck perfectly. I was glad the kit came with an extra sticky pad so I could remove the first one and install the new one. The metal plates that go on the iPhone and iPad are very thin and both cases easily fit over it. One downside that I already understood and it's not the product's fault - you can't use a charging pad if you have the metal plate on the iPhone.

This is a great little phone holder! My phone case has a magnet built in and sticks to this perfectly. It is very easy to install as it already has a self-stick label on it and it can be adjusted to swivel at the perfect angle. I added my own self stick stylus holder to it for convenience. I purchased two packs so I had one for both the driver and passenger seat. When I am riding as a passenger and taking zoom calls for work this perfectly holds my phone at a great angle as well.

Perfect, the one I had before hooked to the vents but kept falling off, these aren't going anywhere and their small so won't block your vision, the magnet is so strong it holds your phone even when hitting bumps or rough areas in the road, I just wish I had found this before buying the other ones I had first. Love it!!

This magnetic car holder does a great job holding your phone. It's easy to install and use. You have to find a flat surface for better installation. I find that my phone is secured. I have a heavy iPhone 8 plus.

Simply the best holder I've ever owned. I have two phones, one for work and one personal). I do a lot of driving for work and not once have either phones fallen. The magnets are strong and the base is easily adjustable. I just bought a second set for my wife's car.

I just installed it and it looks nice. The magnet is strong. I love it.
Guaranteed Safe Checkout