Magnetic Wireless iPhone Charger
Regular price $0.00 $16.99
If you order within
Arrives by
A device you always needed
iPhone is a great device, no disagreements here. But come on, Apple, what is up with your batteries? Every iPhone user would agree that their battery life is not long, to say the least. We need to carry all those cords and turn our blind eye to how uncomfortable it is to use the phone when it's charging. Not with this charger! This guy will make you wonder how you could live without it.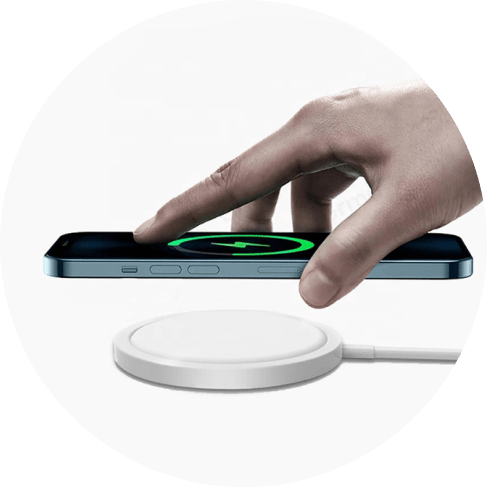 Usability and ease of use
You won't want to use any other charger when you have this one
0.39'' thick and 3.14'' in diameter make it perfect for carrying with you anywhere. A neutral color will fit any desk or interior and satisfy your eyes as well!
Power: 5W/7.5W/10W/15W input voltage: 9V/2A Output voltage: 12V/1.25A Output port: USB-C
Thought-through safety features
Don't worry about safety! The charger has magnetic field protection, overcharging protection, power protection, short circuit protection, under-voltage protection, overvoltage protection, short circuit protection, overcurrent protection, and overheating protection, too.
Wireless chargers are useful for sure, but this one is on another level! Because it's magnetic, you can use the phone when it's charging. The magnet positions perfectly on the phone by itself. No need to take your case off, it works perfectly no matter if you have a case on or not.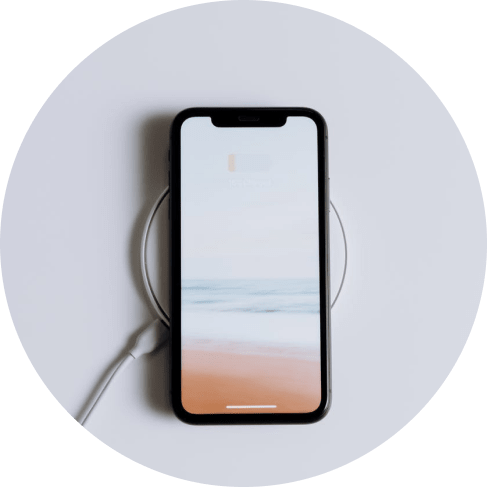 Charging has never been any simpler
Compatible with iPhones supporting Qi standard (iPhone X, XS (Max), XR, 11, and 12 models), this gadget is an ultimate helper. Easy to use and reliable, it won't let you down. The ultra-thin body is barely noticeable. Therefore, the user experience will be even more pleasant. Enjoy your favorite device, and don't get distracted by anything else!
Works great, even with a relatively thick case! I also confirmed with a meter that it is quick charging at the maximum 15 watts and sometimes peaking at 17-18 watts. The only difference I could tell is that it is slightly thicker and the magnet seems slightly weaker than Apple's. These very minor differences are only noticeable if you compare them very closely.

This is a great gadget. It's a small compact charger that magnetizes to your phone so your phone remains equally functional while charging as it would be otherwise. For those of us who are on our phones a lot, having to take a break in order to charge a battery can be very inconvenient.

WORTH THE MONEY! I have seen the other iPhone chargers and most of them are overpriced or cheaply made! Buy this to see what everyone is talking about here in the reviews section!!! You won't regret it!

The charger works perfectly with my iPhone 12 even with the silicone case! The magnets on the charger grab the back of the phone in the correct spot and the phone begins charging.

I really like this charger and consider it to be a "next generation" charger compared to what I had before. It's much smaller and magnetic operation is much better!

This works amazingly on my iPhone 12 Pro Max! Great fast charging and I can move my phone around while wirelessly charging it. The quality is amazing!

Charger works fine as long as your phone does not have a case with a built-in metal kickstand or pop socket. No metal can be placed on it or it overheats.

I highly recommend this charger to anyone wanting a wireless charger but does not want to spend the big bucks on the name branded one.

Easy to use, adhered strongly via a magnet link to the back of the phone and immediately started charging. Hopefully I'll last long!

I just received this today and am impressed. It works through the Apple silicone skin on my 12 ProMax, and works with Airpod pros.

I'm so happy that their charging box is compatible with my iPhone 12. Great price for the quality. Super happy about my purchase.

I put it into my overnight bag when traveling. It's really small and fits in with all the other necessities while traveling.

Sleek form factor. Charges just as fast as the official apple charger. Great price, great purchase! Love it.

The magnetic connection is very weak on my iPhone X. The phone barely stays on the magnet.

This is exactly what I have been looking for. It does everything they claim it does.

Excellent charger! I like it so much I purchased another as a gift for my dad

It is clean and lean. White and aluminum. Great magnetic power.

Very plug and play friendly, a good buy and no regrets so far!

It works even through a very thick OtterBox case, nice!

Very satisfied since it works as said on the description.

If you're on the fence buy this one. It works flawlessly!

Very nice alternative to the official apple charger!

K********r on Nov 02, 2022

Great product. Definitely would purchase again!!
Guaranteed Safe Checkout